Erin Stern Elite Body 4 Week Daily Fitness Trainer Day 21
Today is a rest day. That means you should spend the day giving your muscles time to recover, not running an extra couple of miles. Growth happens outside the gym!
Take a moment today to appreciate what you've done in the last three weeks. Whatever progress you've made so far, you should feel proud of yourself! Reflection is a very necessary aspect to reaching any fitness goal.
What we're doing every day is not easy; you're doing things in the gym that some people may be too afraid to try. Use that fact as motivation to absolutely kill it next week!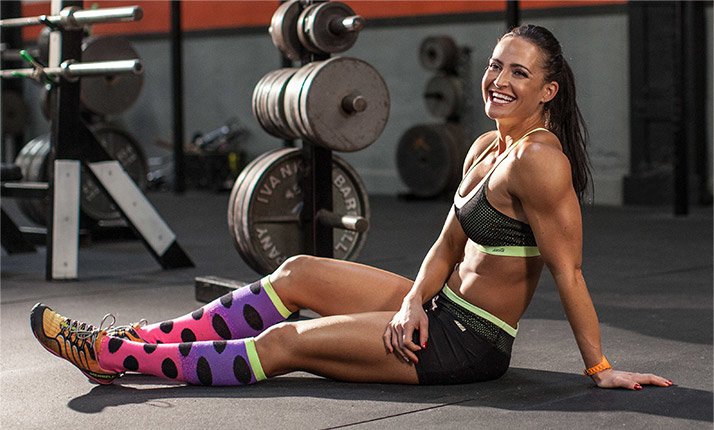 Whatever progress you've made so far, you should feel proud of yourself!
Elite Body Meal Plan
Check out the table below to see what Erin eats on a daily basis. You don't have to follow these meals exactly, but take some cues from Erin's template: Eat 5-6 times per day, eat protein at every meal, stick to complex carbs, don't skimp on healthy fats, and taper your carbohydrate intake as the day goes on. Follow these rules to build your own elite meal plan.
Because each of us has particular caloric and macronutrient needs, feel free to add or subtract calories, increase the protein, and make other adjustments. Be smart about your choices, stick to the same food categories, and try to adhere to the schedule. What you eat is just as important as what you do in the gym, if not more. There are a lot of healthy options in these example meals, so you shouldn't ever feel deprived or hungry.
breakfast

---
---
alternative breakfast
---
snacks

---
---
lunch

---

cooked brown rice
1/2 cup
---

---
lunch alternative
---
snack

2% greek yogurt
1 serving
---

---
Dinner

---

---
alternative dinner
---
Snack
protein shake
1 scoop of casein protein in water or light almond milk
---

Peanut butter or almond butter
1 tbsp
---
* These statements have not been evaluated by the Food and Drug Administration. This product is not intended to diagnose, treat, cure, or prevent any disease.