24/7 Customer Service 1-866-236-8417
Arnold Schwarzenegger Series:

Iron Pump
Concentrated Creatine Free Pre-Workout Powder*
Delivers Explosive Energy And Intensity And Skin Tearing Pump And Vascularity*
Supported Goal: Improve Workout
Main Ingredient: Agmatine
Arnold Schwarzenegger Series Iron Pump Product Guide
Stacked Savings! Get additional savings when you purchase Blueprint to Mass Stack!

Promotional savings will NOT apply when each item is added to the cart individually.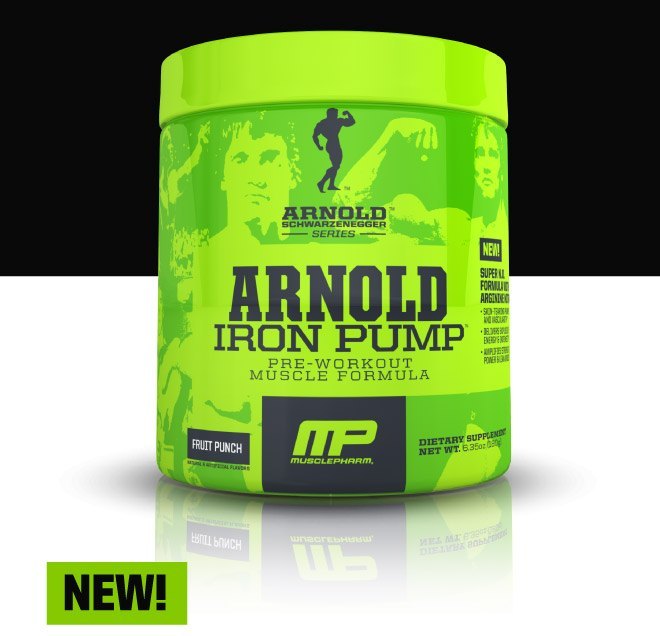 iron pump™
"SUPER NITRIC OXIDE" FORMULA WITH ARGININE NITRATE*
SKIN-TEARING PUMPS AND VASCULARITY*
DELIVERS EXPLOSIVE ENERGY & INTENSITY*
AMPLIFIES STRENGTH, POWER & LEAN MASS*
CREATINE-FREE*
EXPERIENCE THE ULTIMATE MUSCLE BUILDING PUMP*
When MusclePharm's world-renowned scientists teamed up with legendary fitness icon Arnold Schwarzenegger, they looked at how to bring a superior muscle building product to market. Arnold famously described the pump as "the greatest feeling you can get in the gym" – a sure signal that the body is growing, fast. And let's be honest, no feeling is greater than muscle pumps that last all day. Nothing is more motivating than looking in the gym mirrors and seeing veins you never knew you had. Iron Pump™ was formulated to be the perfect muscle building and pump pre-workout product precisely engineered to deliver massive pumps, muscle fullness, vascularity, explosive energy and enhanced size.*
Iron Pump utilizes "Super Nitric Oxide" ION-3 Nitrate Technology to open up blood pathways into the muscles, improving the effectiveness of the ordinary molecule. As the world's first molecularly-modified arginine, L-Arginine Nitrate is a fusion of l-arginine and nitric acid that increases blood flow to enhance distribution of nutrients. (In general, nitrates open up blood vessels to help promote nutrient delivery and amplify athletic performance, supporting improved strength, recovery and muscle mass.*) Arginine creates nitric oxide to support vascularity and strength while supporting healthy growth hormone levels. Highly-absorbable nitrate, a derivative of nitric acid, enlarges muscles' blood pathways, activates smooth muscle tissue and enlarges arteries, veins and capillaries.* This maximizes blood flow to areas like your biceps, triceps and quads.*
Iron Pump™ leaves you primed, ready to attack your workout and experience mind blowing-pumps, vascularity and explosive energy.*
Arnold Schwarzenegger Series Iron Pump Purchase Information
Order today using our 100% secure server and get it at the lowest prices in the world with our fast, inexpensive 2-3 day shipping! NOBODY beats our overall price!
30 Servings

$49.99

$26.38

Flavor
Taste
Availability

Fruit Punch

8.7
In Stock

Raspberry Lemonade

9.0
In Stock
Recommended For You

More Info
Optimum Presents:
Supports Healthy Heart Function, Joint Flexibility, and Cell Production*

More Info
Cellucor Presents:
Great Tasting Protein with Minimal Fat and Carbs and Added Digestive Enzymes*
Do You Use This Product?
Arnold Schwarzenegger Series:
Iron Pump
30 Servings

$49.99

$26.38

Flavor
Taste
Availability

Fruit Punch

8.7
In Stock

Raspberry Lemonade

9.0
In Stock
Manufacturer information:
This works well with:
What's in Arnold Schwarzenegger Series Iron Pump?
30 Servings

Fruit Punch

Serving Size: 6g

Servings Per Container:

30

Amount Per Serving

%DV *

Calories

5

      

Total Carbohydrate

1 g

1%

Vitamin C (as Ascorbic Acid)

250 mg

417%

Niacin (as Niacinamide)

60 mg

300%

Vitamin B6 (as Pyridoxine Hydrochloride)

15 mg

750%

Vitamin B12 (as Methylcobalamin)

25 mcg

417%

Calcium (as Calcium Silicate)

24 mg

2%

NITRIC OXIDE BLEND

2,075

mg

**

L-Arginine Nitrate, L-Glycine, Agmatine Sulfate, Beet Root (Beta Vulgaris) Extract High In Nitrates, L-Ornithine Hcl, Hawthorn Berry (Crataegus pinnatifida) Powder.

ENERGY & CNS BLEND

2,051

mg

**

Choline Bitartrate, L-Tyrosine, Caffeine Anhydrous, Vinpocetine.

* Percent Daily Value Based on a 2,000 Calorie Diet

** Daily Value Not Established

Other Ingredients:

Glycine

, Natural & Artificial Flavors

, Sucralose.

, Calcium Silicate

, Red Beet Juice Powder (for color).

ALLERGEN WARNING: This product was produced in a facility that may also process ingredients containing milk, eggs, fish, shellfish, tree nuts, peanuts, wheat, and soybeans.
Directions For Iron Pump: As a dietary supplement, mix one serving (1 scoop) with approximately 8-10 oz. of water 30 minutes prior to training.
Warnings: This product is only intended for use by healthy adults over 18 years of age. Consult your physician before using this product if you are taking any prescription or over the counter medications or supplements. Do not use this product if you are pregnant, expect to become pregnant or are nursing. Do not use this product if you are at risk or are being treated for any medical condition including, but not limited to: high or low blood pressure; cardiac arrhythmia; stroke; heart, liver, kidney or thyroid disease; seizure disorder; psychiatric disease; diabetes; difficulty urinating due to prostate enlargement or if you are taking a MAO inhibitor. Discontinue use and consult your health care professional if you experience any adverse reaction to this product. Do not exceed recommended serving size or suggested use. DIETARY SUPPLEMENT KEEP OUT OF REACH OF CHILDREN.
* These statements have not been evaluated by the Food and Drug Administration. This product is not intended to diagnose, treat, cure, or prevent any disease.