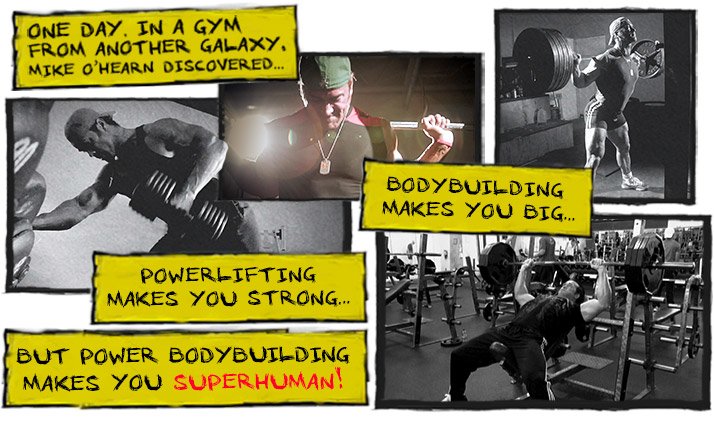 You'll have to excuse me for thinking I'm a superhero. But I rip it up in the gym, and have for years. I destroy the weights. It's not the other way around.
People have often wondered: How could Mike O'Hearn have THAT physique - the one that's been on more fitness magazine covers than any man in history - and be THAT strong?
Here's how:
Power Bodybuilding
The Trailer
Watch The Video - 2:16
Your Mission From Mike O'Hearn
The answer lies in my Power Bodybuilding workouts, a program outlined here for the first time ever. The foundation is the three crazy-ass, heavier-than-hell power-lifts: bench press, deadlift, and squat. Those are surrounded by bodybuilding moves. The result is a body that's not only show-and-go but also show-and-dominate, superhero style.
Twelve weeks. That's all I ask for. In return, bodybuilders will receive more muscle than ever, strength athletes will receive more power than ever, and athletes will receive all of the above.
But all of you must prepare to go heavy, heavy, heavy. We're talking superhero heavy. Got it?
Don't be me. Be better than me.
Signed,
Superman
Step one
Power Up
Step two
Fuel Up
Step Three
Exclusive Emails