24/7 Customer Service 1-866-236-8417
Arnold Schwarzenegger Series:

Iron CRE3
Creatine Powder to Support Muscle Growth*
Rapid Absorption for Increased Strength, Power, and Recovery*
Supported Goal: Build Muscle
Main Ingredient: Creatine
Arnold Schwarzenegger Series Iron CRE3 Product Guide
PROMOTION
PROMOTION

Stacked Savings!

Get additional savings when you purchase Blueprint to Mass Stack!

Promotional savings will NOT apply when each item is added to the cart individually.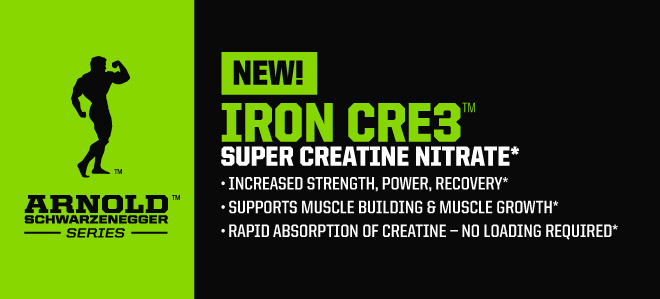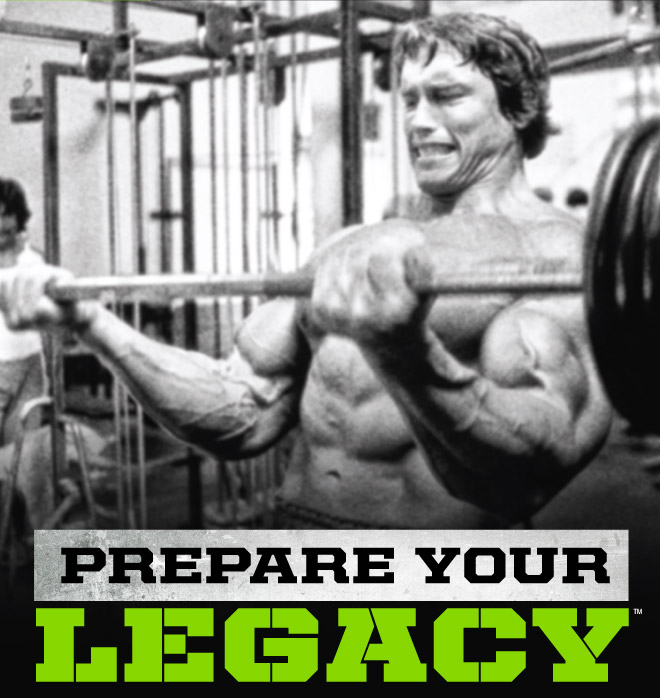 iron cre3™
super creatine nitrate*
INCREASED STRENGTH, POWER, RECOVERY*
SUPPORTS MUSCLE BUILDING & MUSCLE GROWTH*
RAPID ABSORPTION OF CREATINE—NO LOADING REQUIRED*
Experience Freakishly Intense, Longer-Lasting Workouts! INCREASED POWER. FULLER MUSCLES. IMPROVED STRENGTH.*
IRON CRE3 as the world's first molecularly modified creatine, is more powerful than "regular creatine."
An effective dose is just 1/10th the size of a standard dose of creatine monohydrate. Iron CRE3 swells the levels of your intramuscular creatine, which supports muscle growth without leaving your body looking smooth, soft, and bloated. You get that freakish vascularity and heightened pump we all want!*
Since your muscles will be super-saturated with creatine and will remain pumped for hours, your athletic performance will become athletic dominance. Hard-training athletes need the newest innovation in creatine science to help pound through set after set with unrelenting intensity. Smash through training plateaus. Pack on more MASS and POWER. Get Iron CRE3 today!*
Fueled by U.S. patent-pending Creatine Nitrate.
Introducing a scientific breakthrough: molecularly modified creatine, better known as "SUPER CREATINE" Nitrate. Featuring cutting-edge ION-3 Nitrate Technology, Creatine Nitrate is the result of the fusion of highly-soluble nitric acid and creatine. Thanks to the addition of nitric acid, this unprecedented formulation improves the effectiveness of plain creatine molecules by fueling more efficient pathways into the muscles.*
In terms of water solubility, a university study suggests that Creatine Nitrate is superior to Creatine Monohydrate and most other forms of creatine. It can simultaneously help support the body's nitric oxide and ATP levels. Nitrate opens up blood pathways into the muscles which may help promote nutrient delivery and amplify muscle performance, resulting in improved strength and muscle mass.*
Arnold Schwarzenegger Series Iron CRE3 Purchase Information
Order today using our 100% secure server and get it at the lowest prices in the world with our fast, inexpensive 2-3 day shipping! NOBODY beats our overall price!
7 Servings

$9.99

$6.99

Fruit Punch

In Stock
30 Servings

$44.99

$19.47

Flavor
Taste
Availability

Blue Razz

9.3
In Stock

Fruit Punch

9.1
In Stock
Recommended For You

More Info
Optimum Nutrition Presents:
Ideal for Between Meals and Before Bed to Feed Muscles and Fuel Recovery*
Do You Use This Product?
Arnold Schwarzenegger Series:
Iron CRE3
7 Servings

$9.99

$6.99

Fruit Punch

In Stock
30 Servings

$44.99

$19.47

Flavor
Taste
Availability

Blue Razz

9.3
In Stock

Fruit Punch

9.1
In Stock
Manufacturer information:
This works well with:
What's in Arnold Schwarzenegger Series Iron CRE3?
30 Servings

Fruit Punch

Serving Size: 4.1g

Servings Per Container:

30

Amount Per Serving

% DV *

Calories

5

  

Total Carbohydrate

1

g

1%

Vitamin C (as Ascorbic Acid)

500

mg

833%

Vitamin E Blend (as dl Alpha Tocopherol Acetate, Mixed Tocopherols including Gamma, Delta, Beta Tocopherols)

500

IU

1,667%

Calcium (as Calcium Silicate)

18

mg

2%

Creatine Nitrate

1,000

mg

**

HydraFuel Matrix

800

mg

**

Taurine, Coconut (Cocos nucifera) Water Powder, L-Glutamine

Other Ingredients:

Natural & Artificial Flavors

, Citric Acid

, Red Beet Juice Powder (for color)

, Sucralose

, Acesulfame Potassium

Percent Daily Values (% DV) are based on a 2,000 calorie diet. *Daily Value (DV) not established.
Directions For Iron CRE3: As a dietary supplement, mix one serving (1 scoop) with approximately 6-8 oz. of water 30 minutes prior to training. IRON CRE3™ Can be taken on an empty stomach or with food.
* These statements have not been evaluated by the Food and Drug Administration. This product is not intended to diagnose, treat, cure, or prevent any disease.