The launch of the CrossFit Games is always a momentous occasion, but especially so in 2021, after what was for many athletes a lost competitive year in 2020. With a new men's champion guaranteed and the dominant women's and team's champions aiming to hold onto the throne, every day has been intense.
Check back for highlights and video recaps daily!
CrossFit Games 2021 Final Day: Sunday, August 1
The biggest day in competitive fitness is August 1, when we get to know who the fittest woman, man, and team on Earth are. This year, some of those questions were easier to answer than others.  
Tia-Clair Toomey-Orr was so dominant in this year's CrossFit Games that by the end of the first event on Sunday, she had the title clinched. The men and teams were a little more competitive, but still saw some familiar names rising to the top. Here's how Sunday's action shook out.  
Event 13: Four rounds
This event was a combination of bodyweight, strongman training, and manual labor, with the fastest time determining the winner. The "curd" in question was a heavy, round sandbag—one of several innovative uses of sandbags at this year's games.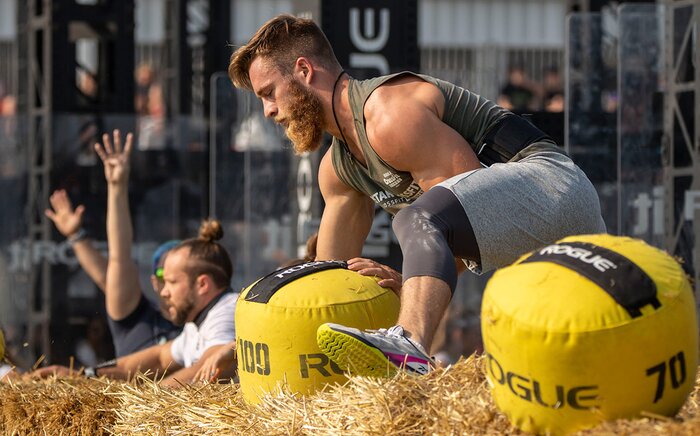 The men's winner was Björgvin Karl Gudmundsson with Pat Vellner finishing three seconds later. Third place went to overall leader Justin Medeiros.
Toomey-Orr won the event by five seconds on the women's side over Gabriela Migala. With this victory, the Australian fitness legend mathematically clinched her fifth CrossFit Games title with two events yet to come. Laura Horvath rounded out the top three. 
Event 14: 6-10-14 reps, 7-min. time cap
The deadlift is the simplest—and perhaps the hardest—barbell movement there is, and doing it on a short bar makes it slightly more difficult because the bar is stiffer. Freestanding handstand push-ups are the most difficult version of an already brutal bodyweight exercise, a world-class combination of strength and balance.
Together, they provide quite a challenge. Vellner and Former Fittest Woman on Earth Annie Thorisdottir were the winners of this event. Vellner needed the victory if he wanted a shot at the title, while "The Queen of Iceland" was hoping to reach the podium on the women's side.
Event 15: For time
600-m row
90 chest-to-bar pull-ups 
36-ft. back-rack walking lunge 
36-ft. front-rack walking lunge
36-ft. overhead walking lunge
Men: 185 lbs. on a short bar
Women: 135 lbs. on a short bar 
This is one of those innovative CrossFit workouts that could work well—with appropriately scaled-down intensity—as a full-body workout for the rest of us.  
After the rows, athletes had to perform 15 pull-ups on six different bars, for 90 total reps. They then had to perform various forms of walking lunges. With Toomey-Orr solidly in first and now Horvath clinching the runner-up spot, the women's side was looking to complete the podium.  
Medeiros clinched the title, while Saxon Panchik finished in second for the second straight event to grab fifth overall. Jonne Koski rounded out the top three.
The women closed out this year's Games, and as expected, Toomey-Orr won the final event of the CrossFit Games and celebrated her 5th straight title by immediately kissed her husband, Shane Orr.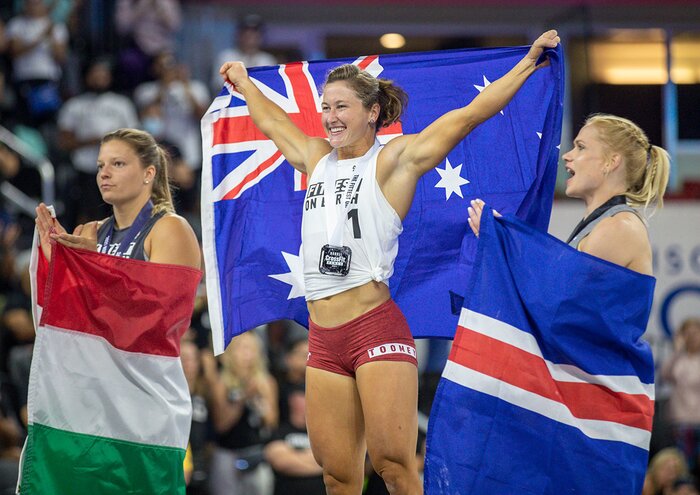 Final Points Standings
In the end, Toomey-Orr cemented her legacy as the G.O.A.T., and said in the post-event interview that she wasn't going to stop at five. Expect her back in 2022! As for Medeiros, he is now hunted instead of a hunter. This is the second time that Vellner finished as the runner-up. 
Men's Final Standings
Justin Medeiros, 1,134 points
Patrick Vellner, 1,102 points
Brent Fikowski, 998 points
Women's Final Standings
Tia-Clair Toomey, 1,435 points
Laura Horvath, 1,179 points
Annie Thorisdottir, 1,099 points
Teams Final Standings
The fans in attendance at Madison also saw the conclusion of the Teams competition for the Affiliate Cup. For the fifth time, a team led by Rich Froning leaves the Games as champions. CrossFit Mayhem wins again! They also set a record by winning eight of the 13 events this year. CrossFit Oslo comes in second, and the bronze spot on the podium was filled by CrossFit Genas of France.
CrossFit Mayhem, 1,137 points
CrossFit Oslo, 918 points
CrossFit Genas, 852 points
CrossFit Games 2021 Day 5 Highlights: Saturday, July 31 
With the end of a competition in sight and the field shrinking, athletes must give everything they have. The competitors in the CrossFit games know this—and on Saturday, they knew that their ranks would be reduced to just 20 men and 20 women. Who stays in the competition would be decided by three events, combining classic CrossFit events with more recent obsessions—like distance running.  
Event 10: For time 
The two alternated tasks for this event total 3 miles and 90 toes-to-bar. The last set of 30 toes-to-bar were brutal, but, Lazar Dukic completed the task in an unbelievable time of 21 minutes and 10 seconds. Bayden Brown was the runner-up, and Uldis Upenieks finished third.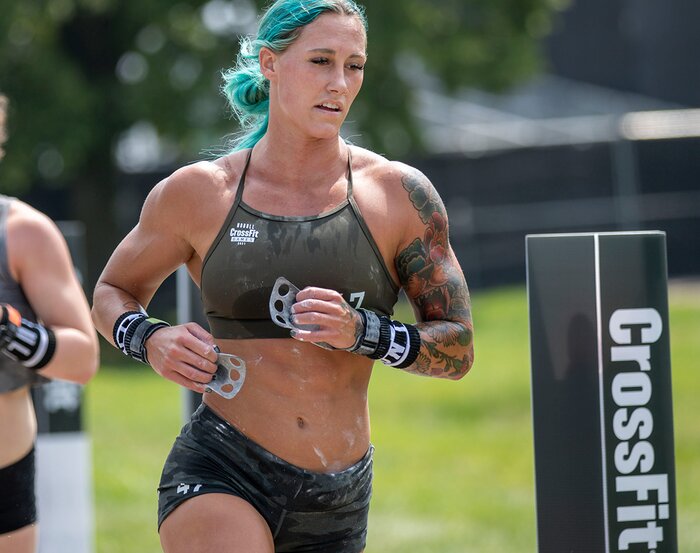 As for the women, the winner was Emily Rolfe, who finished only two seconds after Dukic did on the men's side. Kristi Eramo O'Connell and Haley Adams rounded out the top three. 
Event 11: AMRAP (As Many Reps as Possible) in 11 Minutes
This event saw the return of the pegboard, which made its debut in the 2015 Games, and it involved a classic CrossFit program, the AMRAP. The competitor that does most reps in 11 minutes wins. Pretty straight and simple, but far from easy.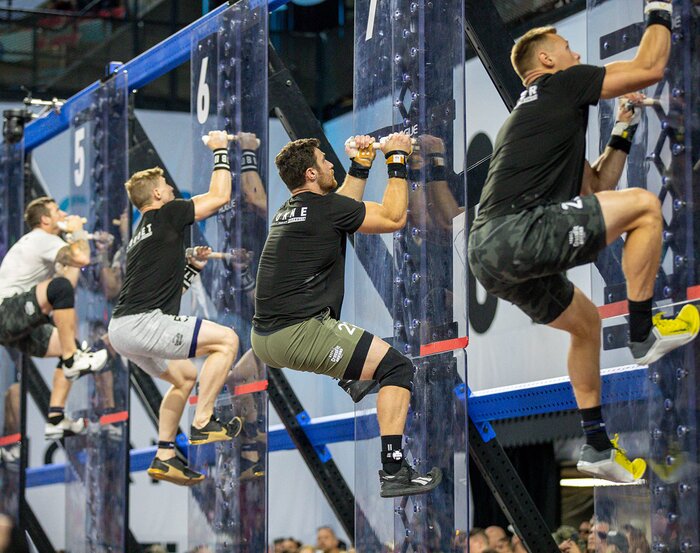 Cole Sager made this event appear simple, and won it by doing 276 total reps in the time cap. Dukic continued his strong day, finishing in the second spot with 269 reps.  
Over on the women's side, four-time champion Tia-Clair Toomey-Orr set history by winning her unprecedented 30th event, making her the all-time individual events winner in Games history for both women and men.  
Event 12: Perform a One-Rep Max on the Snatch
One-rep max strength has always been a component of CrossFit, but at recent incarnations of the games, it has provided especially high drama during the weekend. This barbell snatch-off between highly fatigued competitors was no exception.
The women went first, and former Olympian Toomey-Orr was of course the favorite. However, she and former two-time Fittest Woman on Earth Annie Thorisdottir both missed the heaviest weight of 205 pounds, so it came down to a tiebreaker, where Toomey-Orr prevailed.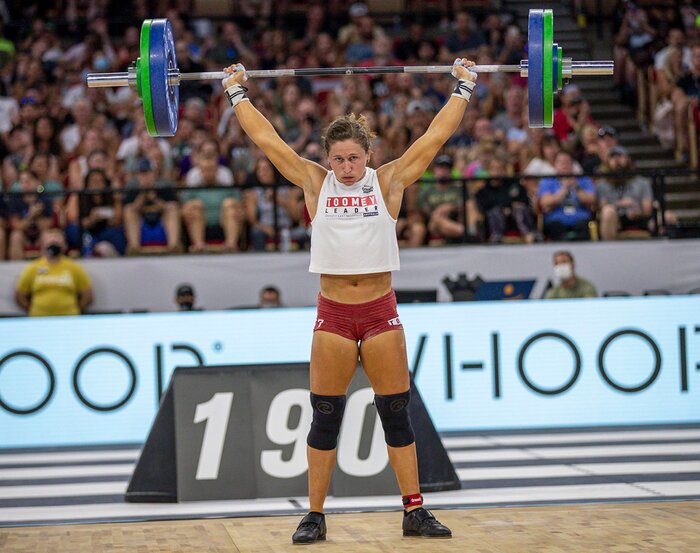 Another legend of the sport, Brooke Wells, actually suffered an elbow injury during this event and had to be escorted out of the arena. She later withdrew from the games.
The men went next, and Guilherme Malheiros went a perfect nine for nine on weights attempted. His best of 305 pounds was good enough to take the victory. Second place went to Royce Dunne, who was able to lift 300 pounds successfully. Third place went to Patrick Vellner with 295 pounds.
Point Standings
At the end of the next-to-last day of competition, Toomey-Orr is over 200 points ahead of the rest of the field. Barring the unexpected or tragic, it appears very likely that she will leave Madison, Wisconsin with her fifth career Games title.  
The men's side is a lot closer. American Justin Medeiros holds a 42-point lead on Vellner from Canada. Brent Fikowski is closing in on them as well in third. The spots on the podium will be filled at the end of competition on Sunday, and we will officially know who the Fittest on Earth will be. 
Men's Standings
Justin Medeiros, 949 points
Patrick Vellner, 907 points
Brent Fikowski, 888 points
Women's Standings
Tia-Clair Toomey-Orr, 1,145 points
Laura Horvath, 939 points
Kristin Holte, 834 points
CrossFit Games 2021 Day 4 Highlights: Friday, July 30
After a day of recovery, the individuals returned to competition on Friday to face an onslaught of familiar foes—more SkiErg, anyone?—and a couple of the type of insidious programming twists that only happen in CrossFit. After a triumphant-feeling first few days, everyone seemed to be working with their serious "no-fun faces" on.
Event 5: Four rounds for time
20-foot rope climb: 4 times
SkiErg: Men - 500 meters, Women - 400 meters
42 foot sandbag carry: Men - 200 pounds, Women - 150 pounds
If you've never carried a 150-200-lb. sandbag, consider yourself lucky. These sandbags were extra hard to hold on to, obviously being modeled after the legendary Husafel stone carry from strongman competitions. And doing it after a rope climb and a SkiErg sprint? Oof.
The men went first, and contestants operated in heats. After all heats were completed, Patrick Vellner won the first event of the day by just eight seconds over Brent Fikowski. Royce Dunne came in third place by less than three tenths of a second.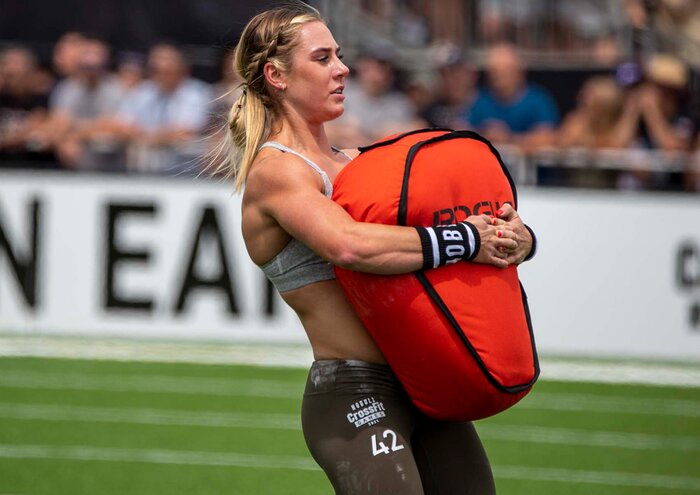 On the women's side, this was the first event that Tia-Clair Toomey-Orr finished out of the top five. The winner was Laura Horvath, with Gabriela Migala and Haley Adams rounding out the top three.
Event 6: Five rounds for time
Any track athlete can tell you that 200-m is a special kind of gut punch. Athletes were tasked with doing it 5 times, alternated with escalating heavy clean singles with a short bar:  245, 265, 285, 305, 315 lbs. for men, and 165, 175, 185, 195, 205 lbs. for women.
This event came down to the wire at the end. Jeffrey Adler won by just 1.5 seconds over runner-up Bayden Brown. Travis Mayer came in five seconds behind for third place.
Reigning Tia-Clair Toomey-Orr, a barbell specialist who represented Australia at the 2016 Olympics, found her groove and took the win. Kristi Eramo O'Connell finishing second. Third place went to Kristin Holte.
Event 7: Event 6, Only Heavier

Sometimes, being ready for anything means being ready to do the same thing over and over again. For event seven athletes were tasked with doing Event 6 again after just a few minutes of rest… with weights that started where Event 6 had topped out: 325, 335, 340, 345, and 350 lbs for men, and 210, 215, 220, 225, 230 lbs for women.
On the men's side, Guilherme Malheiros was able to power his way to victory by eight seconds over Jeffrey Adler, who had won the previous event. Toomey-Orr dominated again, this time winning by almost 13 seconds over Horvath.
Event 8: Handstand walking course for time
This event was a full course that had to be done while walking on the hands. This was a daunting task for many of the competitors, but seemed to favor seasoned Games veterans.
Soon to be retired Scott Panchik, a five-time Games vet, came away with his second victory this year, while blue-haired Danielle Brandon won for the women managed with the fastest time out of both fields. Seven-times Games competitor Brooke Wells managed third, and Toomey-Orr managed fourth.
Event 9: 21-15-9 for time - Echo bike (calories), barbell snatch (reps)
Tensions were high for the last event, right before the first cuts of the Games. This popular CrossFit rep scheme was a combination of speed, technique, and endurance. The men went first, with Fikowski again showing why he's a contender for the crown this year. Amanda Barnhart took first, besting CrossFit legend Annie Thorisdottir, and third place was taken by Horvath.
With two days left in the competition, the fields have been reduced to 30. Here are the top three in both groups.
Men's Standings
Justin Medeiros, 744 points
Brent Fikowski, 723 points
Patrick Vellner, 674 points
Women's Standings
Tia-Clair Toomey-Orr, 861 points
Laura Horvath, 723 points
Kristin Holte, 684 points
CrossFit Games 2021 Day 3 Highlights: Thursday, July 29
Thursday at the 2021 CrossFit Games saw the crowning of some inspiring champions. The Adaptive Athletes finished their remaining events today, and history in the sport of fitness was made. But they earned it the hard way, with a grueling circuit of CrossFit WOD staple movements:
Upper Extremity: 16-minute cap
30 burpees to target 
40/35-cal. SkiErg
135 double-unders
24 burpees to target
30/25-cal. SkiErg
108 double-unders
18 burpees to target
20/15-cal. SkiErg
81 double-unders
In upper extremity, the men's and women's first place winners got it done in dominating fashion.
Men
Casey Acree, 655 points 
Josue Maldonado, 490 points 
Logan Aldridge, 305 points 
Women
Sabrina Lopez, 575 points 
Eileen Quinn, 435 points 
Anne-Laure Coutenceau, 415 points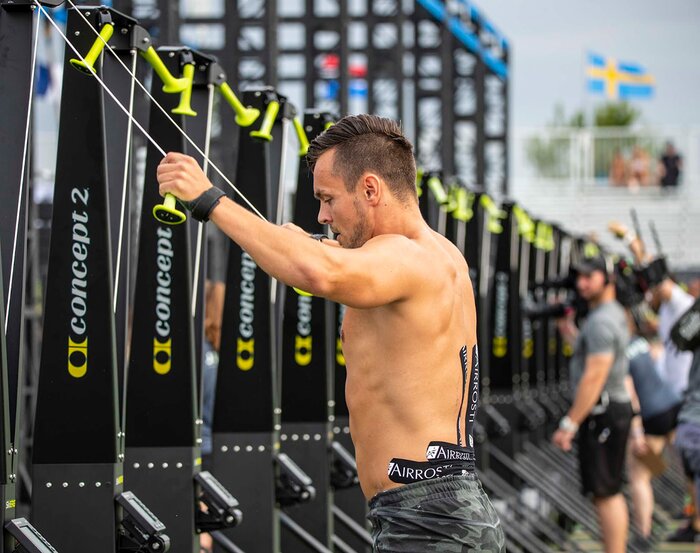 The Lower Extremity Division performed a similar circuit, but with 15/12/9 bar muscle-ups instead of burpees. The results were also tight, with Norwegian competitor Ole Kristian Antonsen and American Valerie Young coming out on top.
Men
Ole Kristian Antonsen, 565 points 
Séraphin Périer, 510 points 
Elliot Young, 415 points 
Women
Valerie Young, 655 points
Natalie Bieule, 470 points
(tie) Sarah Rudder and Beth Tennant, 345 points
The Neuromuscular competitors performed pull-ups in addition to SkiErg and double-unders on the final day with the same brutal 16-min. time cap. American Brett Horchar was the dominant winner, while on the women's side, Shannon Ogar managed to hold on and win the overall contest by 15 points over runner-up Letchen Du Plessis in a nail biter.
Men
Brett Horchar, 675 points
George Simonds-Gooding, 365 points
J.Cruz Gudino, 365 points
Women
Shannon Ogar, 515 points
Letchen Du Plessis, 500 points
Alisha Davis, 395 points
The Teams Begin Competition
This day was also important because it kicked off the Teams competition for the 2021 Affiliate Cup, with a brutal gauntlet of swimming, synchronized muscle-ups, and pulling around a legendary multi-person sled known as Big Bob. Rich Froning's Team Mayhem has won four of the last five contests, and they started this year on the right foot by getting the brooms out on Thursday.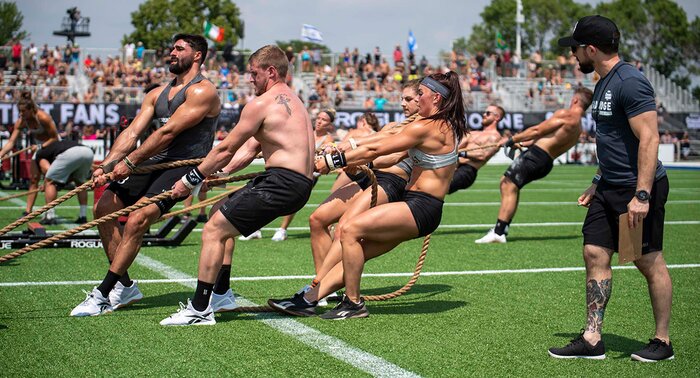 CrossFit Games 2021 Day 2 Highlights: Wednesday, July 28
Wednesday saw the start of open-class individual competition, and could be summed up in four words: Tia-Clair Toomey-Orr. The four-time champion started off in dominating fashion, while the men's side saw a lot more drama in the early going.
Event 1: One-mile swim with fins, 3-mile kayak
As has been tradition for the last few years, the opening event started in water. It was a combination of swimming and rowing for the competitors in Madison, Wisconsin. On the men's side, Jonne Koski took the victory, while Toomey-Orr kicked off her title defense with a victory by 8 seconds.
Multiple workouts in the same day? That's when fast-digesting carbs between sessions can keep you performing.
Event 2: Drag, flip, muscle-up medley
Meet the 2021 Games' first cruel multi-movement combo from the mind of Dave Castro. It consisted of:
126-foot sled drag: Men 220 pounds, Women 180 pounds
Five "Pig" Flips: Men 510 pounds, Women 350 pounds
12 ring muscle-ups
12 bar muscle-ups
Repeat events in reverse order
There was a 12-minute time cap on this symmetrical event, but the top finishers were able to do it in less than nine. Former Games' runner-up Patrick Vellner won on the men's side, while Toomey-Orr went two for two and claimed first place in this event by over a minute.  
Event 3: 550-yard sprint
Yep, a good old-fashioned foot race. Some events are simple, but can still provide intense moments. Athletes didn't know the time to beat, because there was no clock on display. The men's winner was Guilherme Malheiros while, stop me if you've heard this before, Toomey-Orr won on the women's side.
Event 4: Wall walk, barbell thruster
10-9-8-7-6-5-4-3-2-1 reps of:  
Wall walks  
Thrusters: Men 185 pounds, Women 135 pounds
The final event of the day was a 110-rep marathon for the shoulders. If the judge didn't approve the rep, it didn't count, so athletes had to pace themselves to be among the top finishers. The men's winner was Scott Panchik, who is retiring after this year. On the women's side, Toomey-Orr's perfect day was finally broken up by 17-year-old Mallory O'Brien, the youngest winner of an event in Games history.  
After Day 1 of individual events, here are your top three on both sides:
Men
Brent Fikowski - 322 points
Justin Medeiros - 313 points
Jonne Koski - 310 points
Women
Tia-Clair Toomey - 397 points
Haley Adams - 340 points
Kristin Holte - 331 points
Other Leaders: In the Men's Upper Extremity Adaptive division, the overall leader is Casey Acree, who won both events today. The Men's Lower Extremity leader is Ole Kristian Antonsen. Sabrina Lopez is in the top position in the Women's Upper Extremity division. Atop the leaderboard on the Women's Lower Extremity field is Valerie Cohen. Brett Horchar is in first place on the Men's Neuromuscular scoreboard while the leader for the women is Alisha Davis.
CrossFit-style workouts demand precise equipment from the ground up. Reebok's lifters and cross-trainers are designed with the toughest, most diverse training in mind.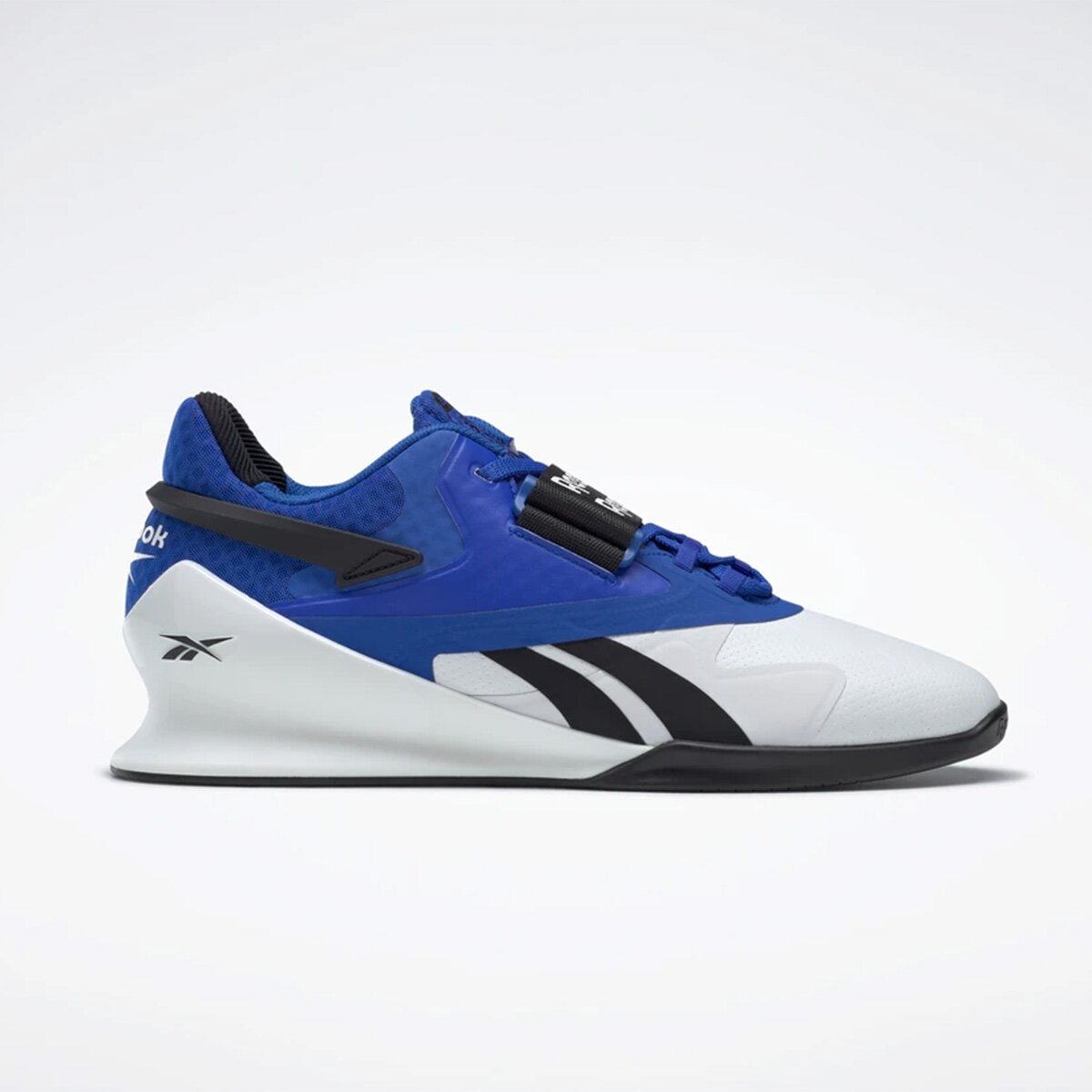 Better Shoes for Better Training
Serious Oly lifters know that a sturdy pair of "lifters" is a must. Our choice: Reebok's Lifter II blends the perfect heel height with a stable, grippy base for more power, better depth, and more productive training, period.
CrossFit Games 2021 Day 1 Highlights: Tuesday, July 27
Tuesday high points included the start of the Teens, Adaptive, and Masters fields. The open class and men, women, and teams all begin their competitions on Wednesday, July 28, but several developments on Tuesday will impact how this year's open-class competition plays out.  
Two Prominent Women Out for Positive Tests: Kari Pearce was going into the Games in Madison, Wisconsin, as one of the favorites, while Bethany Shadburne was considered a rising star in the sport of fitness. Unfortunately, both ladies will now be out of the competition due to testing positive for COVID-19. Shadburne's positive test was announced on Monday, July 26, while Pearce's test was announced early in the morning on July 28.
Scott Panchik's Final CrossFit Games: Ten-year CrossFit veteran Scott Panchik has been a fixture at the Games for the last decade. Before this year's competition, he formally announced that he would be retiring from the Games after this week. Panchik has only finished outside of the top ten in the men's field once and has reached as high as fourth in his career. His younger brother Saxon, a rising star in the sport at just 25 years old, will compete alongside/against his older brother once again this year.
Day 1: Adaptive Events Highlights
Event 1: The day started with endurance:  
Upper extremity: 4.5-mile run
Lower extremity: 6,000-m SkiErg
Neuromuscular: 3-mile run
Event 2: The battle continued with strength-endurance and power: 5 rounds for time of a rope climb for all classes, paired with either:
Be ready for anything with a full set of dumbbells in your home gym! This is the essential fitness accessory.
Event 3: Now it was all about strength. In just 6 minutes, athletes were demanded to set a one-rep max in a big lift:
Upper extremity: Deadlift (using equipment to add second point of contact, if necessary)
Lower Extremity: Barbell snatch (full snatch, hang, or hang power)
Neuromuscular: Barbell clean (full clean, hang clean, or hang power clean)