Yes, you can get in shape using only your body and a patch of asphalt. But, you can get in shape faster, and have a lot more fun doing it, if you have the right gear, a few key supplements, a solid program, and motivation to help you along the way.
The only problem? Every year you're inundated with hundreds of advertisements and articles giving you hundreds of messages about what to take/do/buy/think to get you to the body of your dreams. So, it takes a lot for one to stand out, be remembered, and become part of your routine. Mainly, it has to work.
These products, programs, articles, and influencers are the best of the best, the ones you return to over and over. If you want to know what thousands of fitness diehards can't live without, read on!
The Details
Why: We created the Bodybuilding.com Awards to showcase what people love the most on our site—and maybe help you find some new favorites. Over the years, we've heard time and time again that these recommendations are helpful year-round.
How: Our panel of editors helped narrow down the finalists into a handful of the best-performing, best-reviewed contenders. Then, we put it to our team of experts (see below) to choose the winners. However, we also had a Fan's Choice winner in 6 categories. That's where your voting came in!
When: Voting ended on 8/25/2019.  See the results and winners below!
Products of the Year
Some fitness products talk a big game but just end up taking up space in your gym bag. Then there are the ones that deliver. Here are the products that consistently prove to be worth buying!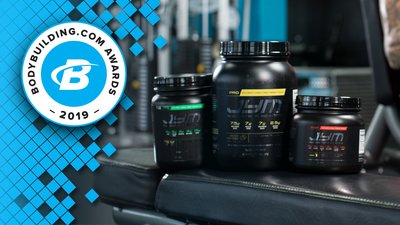 Brand of the Year
What supplement brands have the most die-hard fans and standout products? These are your go-to brands.
Protein Powder of the Year
Protein is king! And if you're going to take it every day, it had better taste great and work well. Here are your top picks.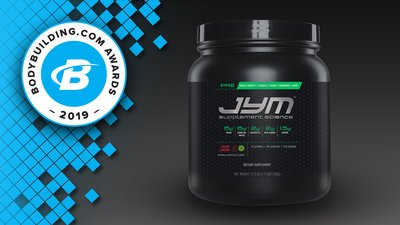 Pre-Workout of the Year
Your favorite energy boosters guarantee you bring your all each time you step foot in the gym. Which one is your go-to pick?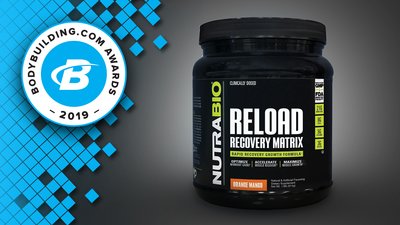 Post-Workout of the Year
These are the supplements you rely on to recover quickly and effectively. They're the reward for a workout well done!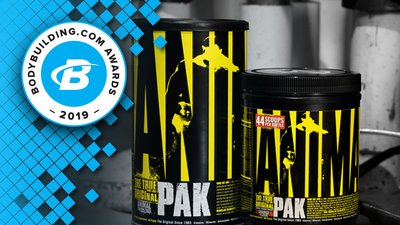 Health and Wellness Product of the Year
With so many options, which health supplements should you take? Start with the ones our customers stand behind.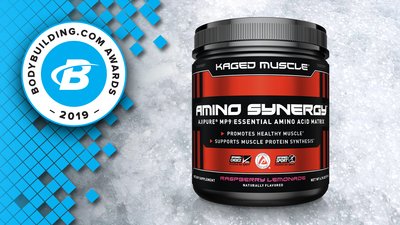 Breakout Product of the Year
Every once in a while, something new comes along that changes the game. These are the supplements to watch!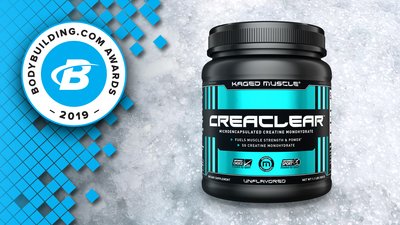 Muscle-Building Product of the Year
If you struggle to add lean mass, the right products can make a big difference. These are the ones you want to push the scale up!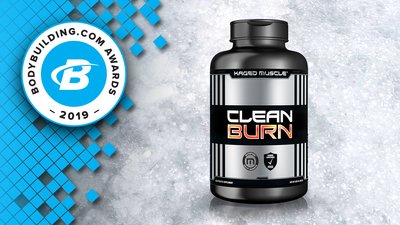 Weight Management Product of the Year
These are the supplements that consistently make weight control easier and less stressful for our customers.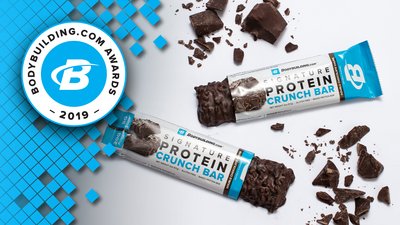 Protein Bar of the Year
Everyone has different tastes when it comes to protein treats, but these ones consistently rise above the rest.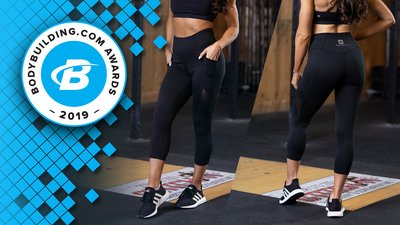 Clothing Item of the Year
Lifters are more discerning about their gym clothes than ever before. Here's what you keep picking first out of the closet—or even right out of the drier!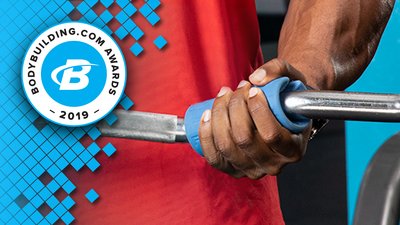 Workout Accessory of the Year
Some accessories are nice to have, but not totally necessary. But these ones are game-changers that enable better, more effective workouts.
People, Programs, and Stories of the Year
Lifting works your body, but it starts in your mind. Knowing what works and having the motivation to put it into practice week after week is more powerful than any supplement. Most importantly, success depends on a solid training plan. Find the best plans, stories, trainers, and transformations right here.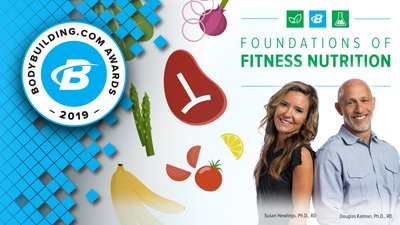 All Access Program of the Year
Choosing a quality program and following it faithfully is how you get results, period. See what programs worked the best for our members!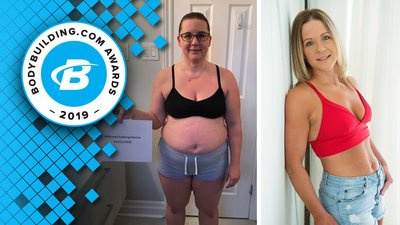 Transformation of the Year
There's nothing quite like seeing other people achieve crazy changes to get us up, moving, and excited about chasing our own goals. These are the stories that moved you the most.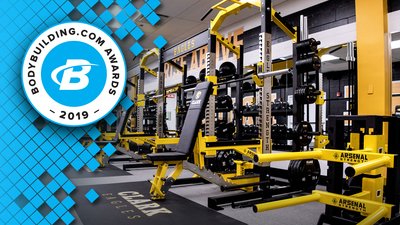 Video of the Year
These are the most-watched, most-shared videos on our channel. And given how many videos we publish and how many people watch them, that's saying something!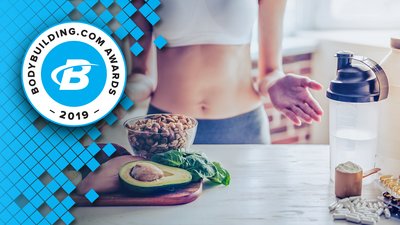 Article of the Year
Out of all the useful guides, workouts, and other articles we published this year, our readers loved these ones the most.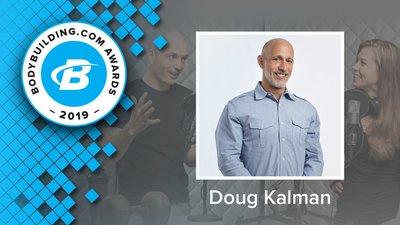 Podcast Episode of the Year
Our podcast is the perfect way to inject fitness inspiration and information into your commute, cardio time, or whenever you need a boost. Here are the year's standout conversations!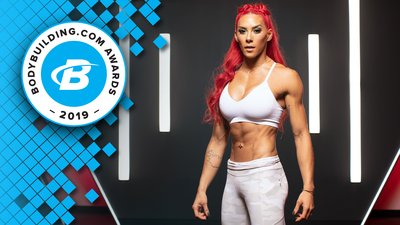 Influencer of the Year
Bodybuilding.com features a lot of strong personalities with huge followings. These individuals caught your attention more than any others.
About the Experts
As the founder and owner of Weik Fitness, LLC, Matt Weik produces content for numerous websites, magazines, and supplement and fitness companies. Before graduating from Penn State University with a degree in kinesiology and a business minor in 2005, Weik served as a high school strength-and-conditioning coach. Weik has held two positions within MET-Rx (a division of NBTY), including manager of the MET-Rx Team Sports division.
Roger Lockridge has been a fan of bodybuilding and fitness since he started training as a 17-year-old hardgainer in 1999. After achieving his own personal fitness success, he worked as a trainer and in a local supplement store, helping other people achieve their own goals. As an author, he's been contributing in the fitness industry since 2009, when he started writing for Bodybuilding.com. His work has been featured in many print and online publications. He lives in West Virginia.
Stephen Daniells, Ph.D.
Stephen Daniells, Ph.D., is the editor-in-chief of North and South America for William Reed Business Media, which includes the market-leading publications NutraIngredients-USA and FoodNavigator-USA. Stephen obtained a Ph.D. in chemistry from the Queen's University of Belfast, Northern Ireland, and held post-doctoral research positions in the Netherlands and France before taking the leap into journalism in 2005. In 2015, he received the American Herbal Products Association's Special Award for Journalistic Excellence. He has presented at numerous industry and association events, including conferences organized by the United Natural Products Alliance (UNPA), the International Probiotics Association (IPA), the Natural Health Products Research Society of Canada (NHPRS), CHFA West, and the Oxford International Conference on the Science of Botanicals (University of Mississippi). Stephen also acts as the editorial consultant and chair of William Reed's Probiota Americas event and the NutraIngredients-USA Sports Nutrition Summit. He lives in Chicago.
Shannon Clark holds a degree in exercise science and sports performance from the University of Alberta in Edmonton. Her love for physical activity began with her time as a competitive figure skater and she has since been working in the health and fitness field for over 10 years.
Chris Lockwood, Ph.D., FACN, CSCS
Chris Lockwood, Ph.D., earned his doctorate in exercise physiology, is a Fellow of the American College of Nutrition, and a NSCA certified strength & conditioning specialist. He is an assistant professor in the School of Exercise & Sports Science at the University of Mary Hardin-Baylor (Belton, Texas) where he teaches Performance Nutrition and conducts experimental research on the efficacy and safety of nutritional and dietary supplement interventions in combination with, or the absence of, exercise. He has more than 100 scientific publications and presentations to his credit. Dr. Lockwood has also authored four book chapters and hundreds of consumer and trade articles, edited many hundreds more, has been a featured speaker all over the world, and has formulated and been behind some of the best-selling products and brands in sports nutrition.
Fairman is a post-doctoral research fellow at the Exercise Medicine Research Institute (EMRI) situated within the School of Medical and Health Science (SMHS) at Edith Cowan University. Having received his Ph.D. from Ohio State University, his research focuses on the impact of exercise, nutrition, and supplementation in the management of muscle loss in individuals with cancer. He also holds several nationally accredited certifications through the American College of Sports Medicine (CPT, HFS, CET) and the National Strength and Conditioning Association (CSCS). Fairman is also a strong advocate of the dissemination of scientific research to a variety of audiences. He is the founder, CEO, and chief exercise physiologist at REACH (Research in Exercise and Cancer Health), a company designed to provide evidence-based guidelines of physical activity to medical professionals and individuals with cancer. Ciaran has published over 40 peer-reviewed papers, book chapter, and abstracts on sports nutrition, supplementation, and training adaptations.
Ruth Silverman is the managing editor at Digital Muscle Media and a veteran iron-game journalist. The former longtime senior editor of Iron Man Magazine, she covered men's as well as women's bodybuilding and chronicled the evolution of the women's physique sports as a reporter, profiler, columnist, and video correspondent. She holds a BS in communications from Northwestern University and had an eclectic career in publishing before coming to the fitness industry. Her work has also appeared in Muscle Insider, Flex, Muscle & Fitness, Men's Fitness, and at RxMuscle.com.
Benjamin Kane
Ben Kane is a "young veteran" in the supplement industry, having spent time in every area from retail to managing brands such as NutraBio. Now he cohosts the premium supplement "news, reviews, and interviews platform" PricePlow. When it comes to supplements, he is particularly passionate about open labels, transparency, and quality. Kane is also an avid powerlifter, having totaled 1,750 pounds with a squat, bench, and deadlift of 675, 410, and 665, respectively.