Health and Wellness Product of the Year | Main | Muscle-Building Product of the Year
Every once in a while, something new comes along that changes the game. These are the supplements to watch!
Essential amino acid formulas burst onto the scene this year and people love them because they provide a more complete amino acid profile for muscle building than BCAAs, but still have a minimal calorie count and none of the components that can make dairy problematic.
Amino Synergy stands out from the others because of the super clean, health-oriented formulation: The EAAs are fermented from plant sources, making them a rare vegan amino supplement. They're blended with PurCaf premium green coffee caffeine, coconut water powder for hydration benefits, and natural flavors. There are also options without caffeine.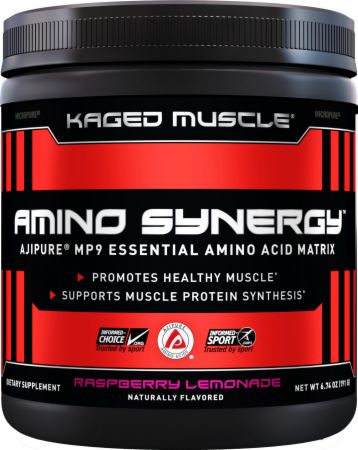 Kaged Muscle Amino Synergy, 30 Servings + Caffeine
Essential Amino Acids to Support Workout Recovery. Fermented and Vegan-Sourced.
Breakout Product of the Year, Fan Favorite: REDCON1: Total War
This intense supplement raises the stakes for pre-workouts, providing not just caffeine for energy but high-potency N.O. compounds and focus factors. Our customers love it because it flat-out works!
REDCON1 Total War Pre Workout
Extreme Energy, Unstoppable Power and Laser-Like Focus* Train and Compete With Lights Out Intensity and Energy*
Runners-Up
It's not just the taste, it's the texture. Crunchy, creamy, and chewy all at the same time, these game-changing new protein bars make hitting your macro numbers a joy, not a drag.

Xtend Pro is protein powder with extra BCAAs added, so your cells get the message loud and clear that it's time to grow.

This new iteration of C4 brings more mental-focus boosters, giving you energy you can harness and put to work.

Customers love adding this collagen powder to just about everything to promote joint health and more. You can't even tell it's there, but your body can.

This popular non-stim performance booster focuses on enhancing muscle pumps and endurance, letting you choose whether or not to combine it with caffeine for energy.

Vital Proteins is a big name in the collagen game, and their flagship peptide powder is unflavored, gluten free, dairy free, and paleo. Put it in any shake or liquid!
Health and Wellness Product of the Year | Main | Muscle-Building Product of the Year