Just in time to celebrate long sunny days and hot summer nights is our brand-new lineup of healthy and delicious Signature recipes. With a variety of protein ice creams and other low-sugar frozen treats to choose from, you can stay cool in the summer heat without straying from your diet. Fun new party recipes like protein trail mix and dessert hummus are sure to be a hit at your next backyard barbecue, and quick and convenient on-the-go pre-workout gummies and post-workout shakes guarantee you can still get your training in even with a busy summer schedule of fun.
Low-Sugar Red, White, and Blue Popsicles
Break out the stars and stripes, because this month we're celebrating the Fourth of July with healthy, zero-sugar-added popsicles featuring our favorite Signature BCAA flavors! In addition to deep red Cherry Limeade and brilliant Blue Raspberry, these popsicles also feature a tropical twist with a layer of white coconut in the middle and dairy-free coconut milk throughout. Whip up a batch today for a quick and easy patriotic treat!
Chocolate Cherry Protein Ice Cream
Fresh cherries are plentiful this time of year, but you can enjoy your favorite summer fruit year-round with this quick and delicious protein ice cream. Made with Signature Chocolate Casein for extra creaminess, this low-sugar homemade ice cream has only five ingredients and is ready in minutes, so you can enjoy this healthy, high-protein treat all summer long.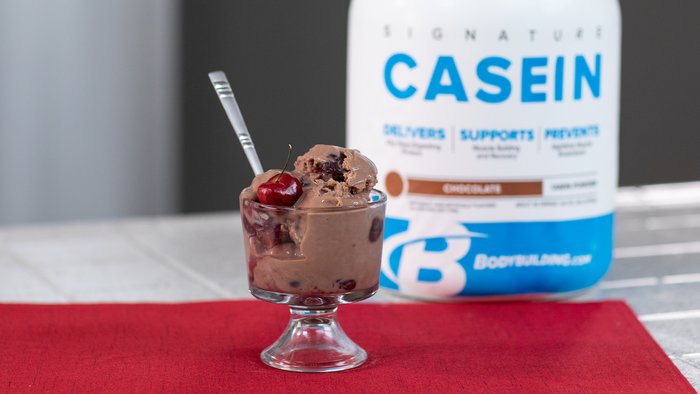 Chocolate Protein Pudding
If you've never tried using casein protein powder for your favorite IIFYM recipes, you're in for a treat. Casein is known for having a thick, pudding-like texture due to its slow-digesting protein, making this recipe the perfect late-night snack to curb those midnight cravings and help your muscles repair and recover while you sleep. All-natural peanut butter and coconut oil add richness, while a healthy dose of cocoa powder dials up the chocolatey goodness to eleven.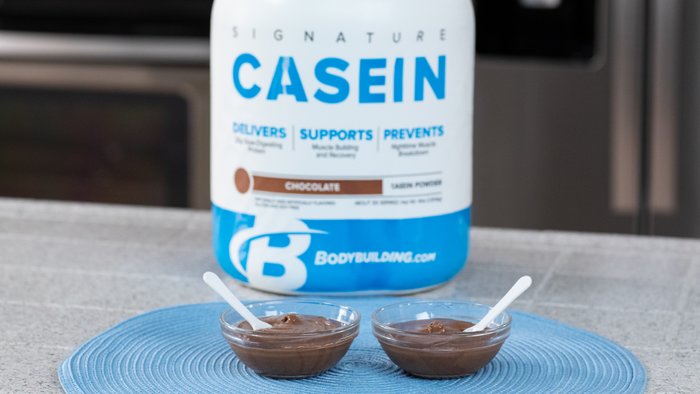 Protein Muddy Buddies
It's time to bring back this party favorite with a high-protein reboot that's even better than the original. Made with whey isolate, dark chocolate, and natural peanut butter, this Signature recipe delivers all the classic nostalgia with only half the sugar and carbs. All you need is a gallon-sized plastic bag to shake up this childhood classic in no time!
Crunchy Baked Granola Bars
By now we've all probably figured out that commercial granola bars are made out of sugar and spice and everything not-so-nice, so why not make your own healthy on-the-go snack instead? By using chopped dates in place of corn syrup and adding a heaping scoop of Signature Oatmeal Cookie Whey, you can take back control of your breakfast macros while still keeping the convenience you've come to depend on. These bars are so good, no one will ever know they're good for you, too.
Watermelon Sorbet
It's tough to improve upon a favorite summer treat like watermelon, but this recipe does it with flying colors. Real frozen watermelon acts as the base and Signature Watermelon Lime Amino Plus Energy adds a recovery boost to this tart and delicious all-natural sorbet. Fresh lime juice and honey round out the already stellar flavors of this dairy-free frozen dessert, and if you're thinking you need to jump online and order an ice-cream maker, not to worry—this quick and easy treat comes together in no time using a food processor or high-powered blender.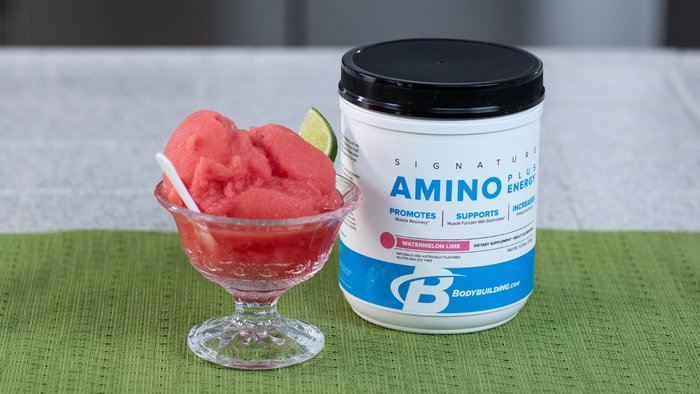 Sparkling Mint Lemonade
In addition to being a refreshing summer staple, lemonade made with fresh lemon juice offers many health benefits, including being a good source of vitamin C. If you're worried about the added sugars of making your own lemonade, the scoop of Signature Cherry Limeade BCAAs in this recipe helps keep those macros in check. Fresh mint and natural honey complete this quick and easy thirst quencher.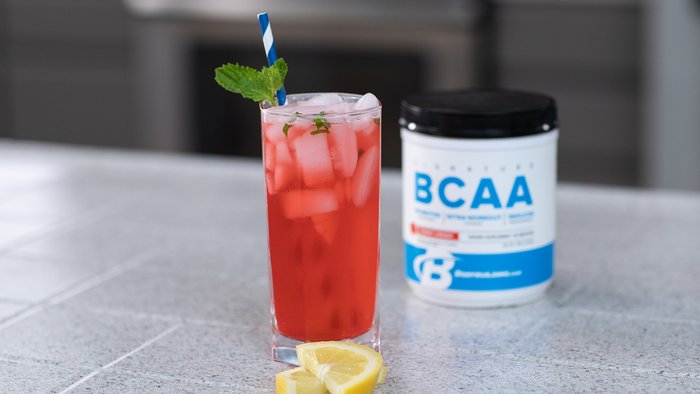 Cheerio Protein Trail Mix
Like its cousin the granola bar, trail mix has gotten a bad rap lately for being a sugary snack masquerading as health food. This recipe sets the record straight and repairs those macros by introducing Signature Oatmeal Cookie Whey into the mix—literally! Dried cranberries and golden raisins add fiber and antioxidants, while pepitas, cashews, and walnuts provide magnesium and essential fatty acids. You can stick to this combination or use any assortment of dried fruits and nuts you prefer to create a high-protein mix that's perfect for a hike, a road trip, or a healthy snack anytime you're on the go.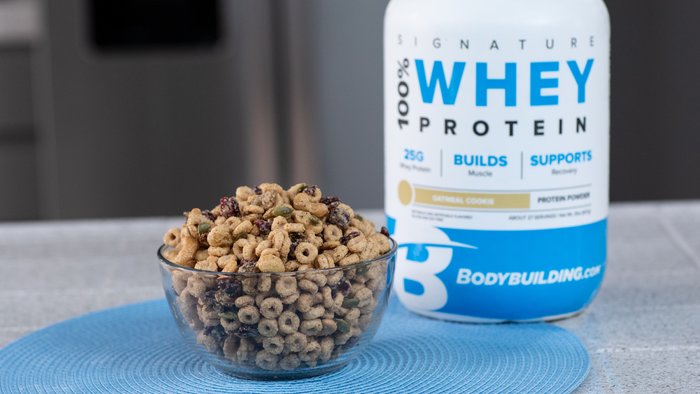 Chocolate Coconut Protein Balls
It's hard to believe these protein treats are held together without honey, peanut butter, or syrup, but it's true! The natural sweet and sticky texture of dates binds everything together, while cacao powder, almonds, and unsweetened coconut flakes provide the superfood punch that's the hallmark of many a Signature recipe. With the double chocolate goodness of Signature Chocolate Whey and Double Chocolate Chunk Protein Crunch Bar—wait, does that make it triple chocolate?—these chocolatey protein balls will disappear fast!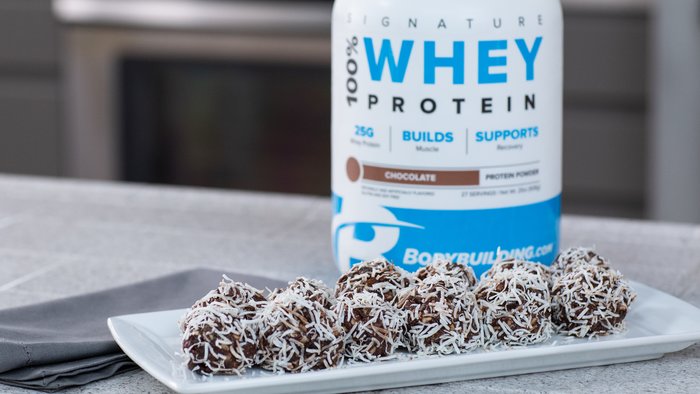 Healthy Dessert Hummus
If you've been skeptical of those crazy hummus flavors at the supermarket but still want to see what all the fuss is about, give this recipe a try. The fiber in the garbanzo beans helps curb cravings and improve digestion, and the extra boost of protein means this healthy snack won't ruin your macros. Whip up a batch for an afternoon snack or bring it to your next summer party for a healthy way to graze while you hang out.
Strawberry Protein Ice Cream
Finally, a protein ice cream that isn't shy about calories. The heavy cream and whole milk in this recipe makes it a great snack for adding muscle, and with zero added sugars this delicious ice cream is surprisingly low carb. Add chopped Signature Cookies and Cream Protein Crunch Bar while processing, substitute fresh strawberries for a more traditional take, or tweak a few ingredients to turn this into a keto ice cream. Regardless of what you add to this recipe, you'll get a rich, creamy texture that makes this high-protein snack even better than the real thing.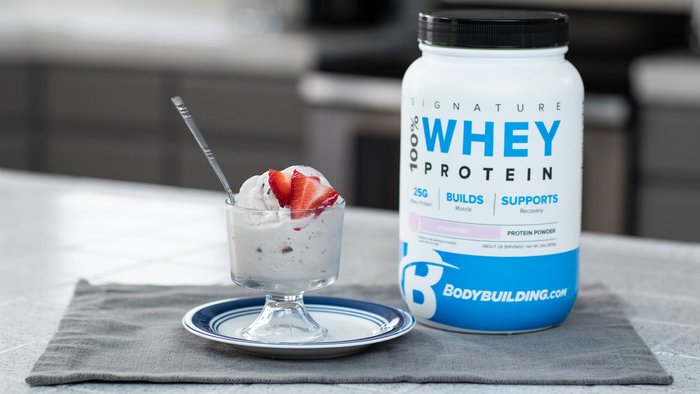 Golden Protein Shake
Turmeric has gotten a lot of press lately—you may have even seen golden milk lattes popping up at your local coffee shop. The compounds in turmeric have strong antioxidant properties that can help with post-exercise pain and stiffness,* which explains both the sudden popularity and what makes this bright spice the perfect addition to your post-workout recovery shake.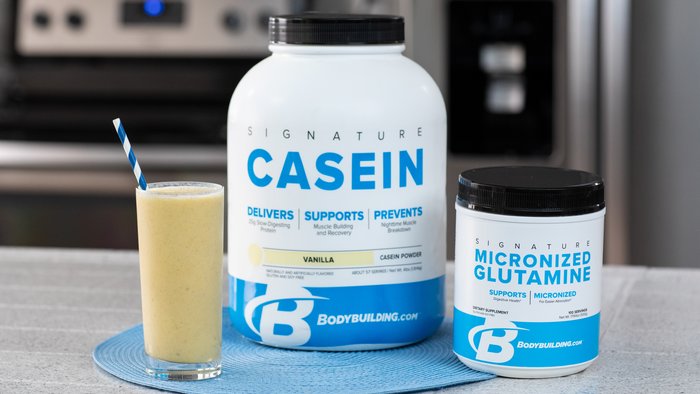 Almond Avocado Matcha Smoothie
Matcha powder is made from finely ground and specially grown green tea leaves, known for their high antioxidants and metabolism-boosting effects.* Used in meditative Japanese tea ceremonies for thousands of years, matcha is a superfood ingredient to supercharge any protein shake. But this recipe doesn't stop there! Unique ingredients in this one-of-a-kind superfood smoothie include red lettuce for vitamins and nutrients, pear for sweetness, and avocado for healthy fats and a rich, creamy texture. Substitute any other dairy alternative for almond milk if you prefer, and don't forget that heaping scoop of delicious Oatmeal Cookie Whey to add protein and flavor!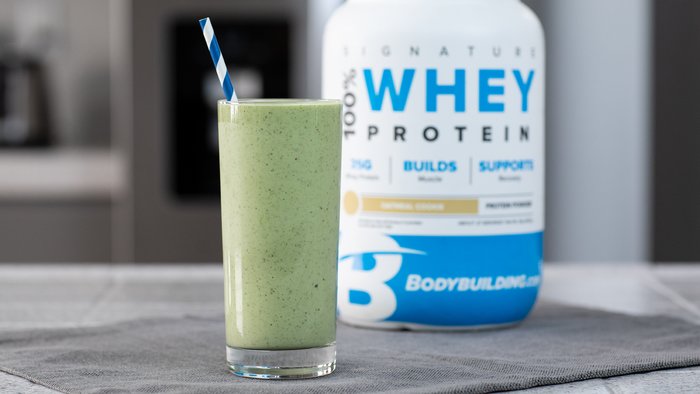 Strawberry Fro-Yo
Forget chocolate and vanilla, this healthy fro-yo recipe is all about the strawberries.
Full of real strawberries and tart raspberries and made with high-protein Greek yogurt, this frozen yogurt recipe is better than anything you'll find at a hip boutique eatery—guaranteed. Signature Strawberry whey is the base for this sweet and satisfying dessert, and an extra pinch of pink Himalayan salt adds to the already stellar nutrient profile. Whip up a batch to stay cool for your next sizzling summer weekend.
Pre-Workout Gummies
If mixing up and downing your pre-workout before you hit the gym is a struggle—or if you just prefer chewy foods—then a food-grade dropper and mold are all that you need to make your own fun pre-workout gummies. This simple recipe uses just three ingredients and has the added benefit of providing your joints with extra collagen before you lift. Snacking on a handful of gummies is much easier than trying to manage pouring powder into a water bottle, and you can always keep a stash with you for an extra boost of energy throughout the day.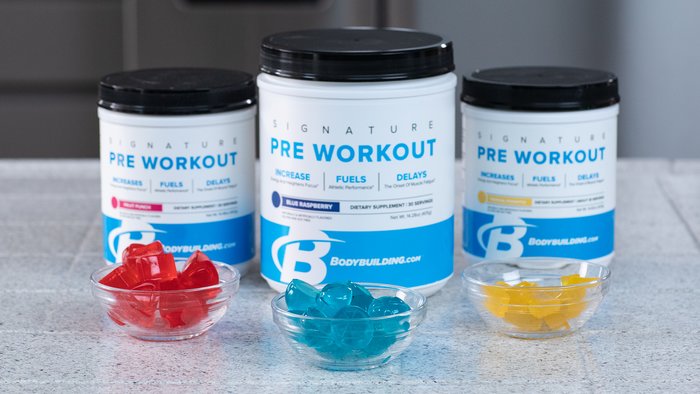 *These statements have not been evaluated by the food and drug administration and are not intended to diagnose, treat, cure, or prevent any disease.