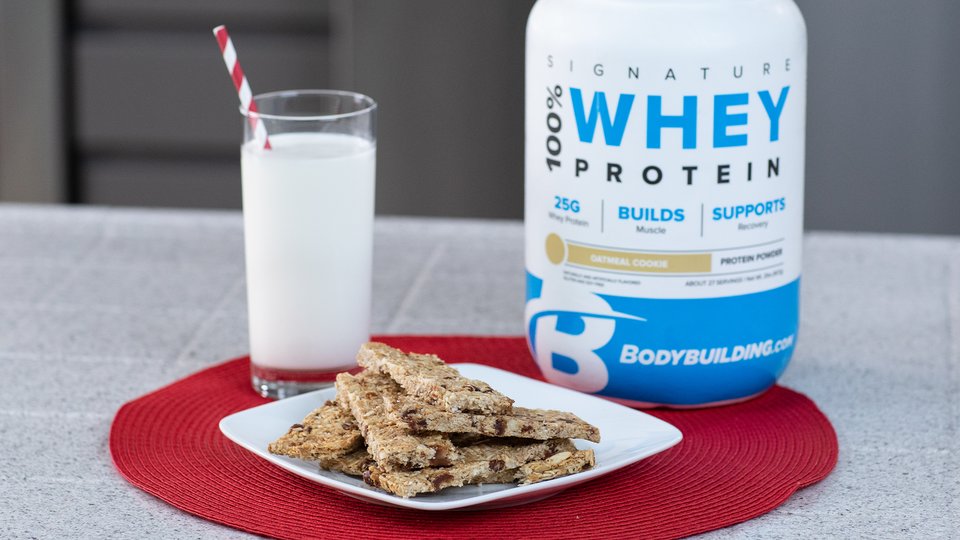 By now we've all figured out that commercial granola bars are made out of sugar and spice and everything not so nice, so why not make your own healthy on-the-go snack instead? By using chopped dates in place of corn syrup and adding a heaping scoop of Signature Oatmeal Cookie Whey, you can take back control of your breakfast macros while still keeping the convenience you've come to depend on. So, ditch your morning drive-thru for a money-saving power breakfast, throw a couple in your gym bag for a quick pre or post-workout snack, or crumble on top of your favorite protein 'nice' cream for dessert. These bars are so good, no one will ever know they're also good for you, too.
Ingredients
⅓ cup chopped dates
3 tbsp natural almond butter
¼ cup Walden Farms Syrup
1 scoop Signature Oatmeal Cookie Whey Protein Powder
3 tbsp coconut oil
1 cup rolled oats
⅓ cup almonds, slivered
¼ cup ground flaxseed
⅔ cup dried unsweetened coconut flakes
¼ tsp sea salt
Directions
Preheat the oven to 325 degrees F.
Place dates in food processor and pulse to chop. Add almond butter, syrup, and whey protein and process on high. While processing, drizzle in coconut oil until a smooth paste forms. Pulse and scrape down the sides as necessary.
In a large bowl, combine oats, almonds, flaxseed meal, and coconut. Add date mixture and incorporate ingredients together using your hands.
Press mixture into the bottom of an oven-safe dish or pan lined with parchment paper or sprayed with non-stick cooking spray.
Bake for 20-25 minutes until edges are golden brown. Remove from oven and allow to cool slightly before cutting into 12 bars. Store in an airtight container at room temperature for a few days or freeze up to 1 month.