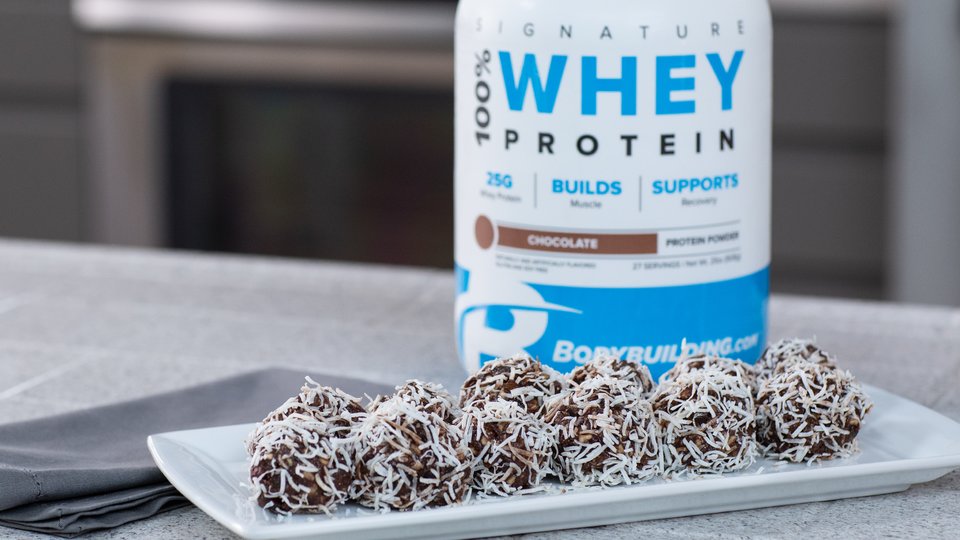 It's hard to believe these protein treats are held together without honey, peanut butter, or syrup, but it's true! The natural sweet and sticky texture of dates bind everything together, while cacao powder, almonds, and unsweetened coconut flakes provide the superfood punch that's the hallmark of many a Signature recipe. With the double chocolate goodness of Signature Chocolate whey protein and Double Chocolate Chunk Protein bar--wait, does that make it triple chocolate?--these chocolatey protein balls will disappear fast!
Ingredients
1 date, pitted medjool dates, pitted and packed
1½ cup almonds, slivered
½ cup water
1 tbsp raw cacao powder
½ cup dried unsweetened coconut flakes
Directions
Place dates in food processor and pulse to chop. Add almonds, water, cacao powder, and whey protein and process until smooth.
Stir in chopped protein bar, then roll into 2-inch balls and coat with coconut flakes. Place on a cookie sheet and chill in refrigerator for at least one hour or overnight before serving.