High-intensity interval training gets a lot of press both for how difficult it is and how effective it is at burning fat. What is seldom mentioned, however, is how user-friendly HIIT can be.
How could anything so grueling and difficult qualify as user-friendly, you ask? Because you can do any of these routines pretty much anywhere, in a gym or at home, with almost no equipment. If you're someone who has an unpredictable schedule but still craves that "I just crushed it" buzz, you need to have a Rolodex of HIIT routines with you at all times!
Below, David Morin and Alicia Ziegler share their favorite HIIT cardio workouts. File these workouts away for a rainy day, or add one to your routine right away!
David Morin's HIIT Protocol
Actor, model, and Dymatize athlete David Morin has a favorite saying: "It takes guts to get cuts." He's right. If you really want to see results, you need to be willing to go that extra mile—or that extra minute. One way to push your body beyond its normal thresholds is by utilizing HIIT.
"High-intensity interval workouts are a great way to do a lot of work in a short amount of time," says Morin. "Making HIIT a part of your workout regimen will cause alterations in your metabolism, increasing your body's capacity to create and use energy. In other words, you'll burn fat more efficiently."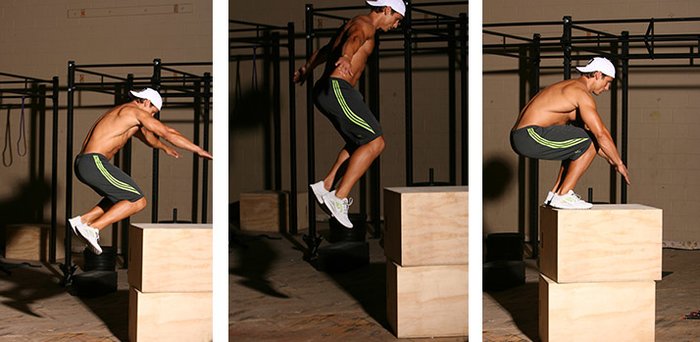 Another great thing about HIIT is that it can actually support the building of muscle. Research by Dr. Jacob Wilson, creator of the Dymatize Project Mass trainer, shows that HIIT can stimulate muscle fibers in much the same way as a high-rep leg workout! HIIT cardio can also keep your body's metabolism elevated for up to eight hours after you train. "Use them well and often, and HIIT workouts can definitely help get you shredded," promises Morin.
Morin's 3-Move HIIT Workout
You can do HIIT cardio on a single piece of cardio equipment. Becuse Morin prefers to mix things up and challenge his body in new ways, this easy-to-follow workout consists of three different movements, providing variety for fun and intensity for results.
"This circuit will boost your cardiac output while you train your abs, core, and calves," says Morin. The workout should take you about 30 minutes to complete.


Morin's Battle-Rope Workout
"This workout is great for building stamina while increasing explosive power," Morin explains. Do it a few times a week, and prepare to see changes in your body! Before you start the workout, make sure you do a five-minute warm-up to prepare your body for the hard work it's about to do.
Circuit


1 set, 100 reps (alternate arms)





ISO-100, 3 Lbs.
Ultra-Fast Absorption to Build and Repair Muscle*
Alicia Ziegler's HIIT Protocol
"As an actress, I don't always have the time to train at the gym before my early-morning call times," says actress and Dymatize athlete Alicia Ziegler, who goes by "Ziggy." "More often than not, I have to do my workout outside my trailer on breaks. Exercising when you're as busy as I am can be a huge pain, but I never make excuses." In order to fit fitness into her life, Ziggy often makes use of HIIT cardio.
"I find HIIT is a great way to round out my heavy weight-training days while blasting fat and boosting my metabolism," she says. And, because HIIT cardio helps her maintain her muscle mass, Ziggy has found it provides much better physique results. "I used to log hours of cardio and started getting bored with training, but with HIIT, I see better results and have a lot more fun."
One of the most important aspects of HIIT cardio is keeping your rest periods short. "Far too often, I see people sitting down for a two-minute break that's meant to be 30 seconds. By the time they get back to work, their heart rate has dropped so low it's difficult for them to rekindle the intensity," she explains.
Ziegler's Total-Body Blast
Before you try one of these workouts, Ziggy recommends you purchase a beep timer so you can keep track of the session as you go along. For both workouts, you'll perform each movement as hard as you can for 20-30 seconds, then rest for 10 seconds before moving to the next exercise.
Complete each circuit twice, resting 1 minute between circuits. The total workout should last about 20-30 minutes, keeping you moving the entire time.
If you have some equipment available, Ziggy also recommends trying medicine-ball throws or renegade rows to add more resistance to the mix. She also advises purchasing a good jump rope.
"My jump rope has been the greatest addition to my training," she says. "Even when I'm not doing one of these HIIT workouts, I'll use it between regular sets to help keep my heart rate elevated so I can lean out."
HIIT It!
These routines prove that you don't need an hour in order to get in a great workout. By using any of these four HIIT workouts, you can make remarkable changes to your body with minimal equipment and minimal time!