Main | Preview | Highlights | Results
At the end of a major sporting event, it can be common to read or hear the phrase "history was made." But the 2021 CrossFit Games felt genuinely historic and announced its importance several times over.
The best competitive fitness athletes on the planet gathered at the end of July to determine who could be called the Fittest on Earth. By Sunday, August 1, benchmarks had been set that other competitors will be working toward for years to come.
You can view the complete results and final standings at the CrossFit Games site. Here are some of the major highlights.
Tia-Clair Toomey-Orr Exemplifies Dominance
On the women's side of the individual competition, determining the likely winner was pretty easy after the first day. From the opening event in the water, Tia-Clair Toomey-Orr didn't just want to win, she wanted to take a commanding lead. By the end of the first day of competition, she won three of the four events and placed second in the last one.
A sturdy belt is a strength athlete's best friend. Make your lifts stronger and safer!
As the week went on, her grasp only tightened, with nine of the fifteen individual events going her way—often by a significant margin. The former Olympian in weightlifting from Australia clinched the title with two events to go, winning her fifth CrossFit Games title to extend the record she already owned for most titles by a woman. She tied Mat Fraser for most individual titles, male or female. She also she broke Fraser's record for most individual event wins. Fraser had 29, and Toomey-Orr now has 33.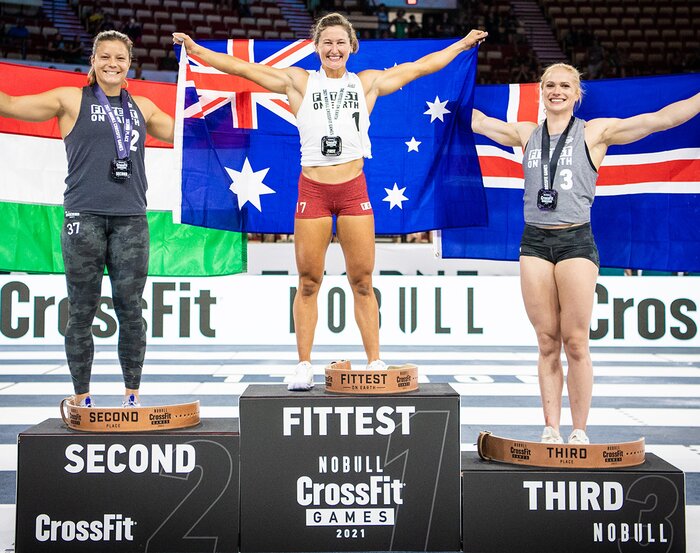 Here are two statements that may have already shattered the dreams of fellow competitors. First, Toomey-Orr is only 28 years old, so she has plenty of time left to compete at her athletic peak. And second, she has already verbally committed to competing again next year.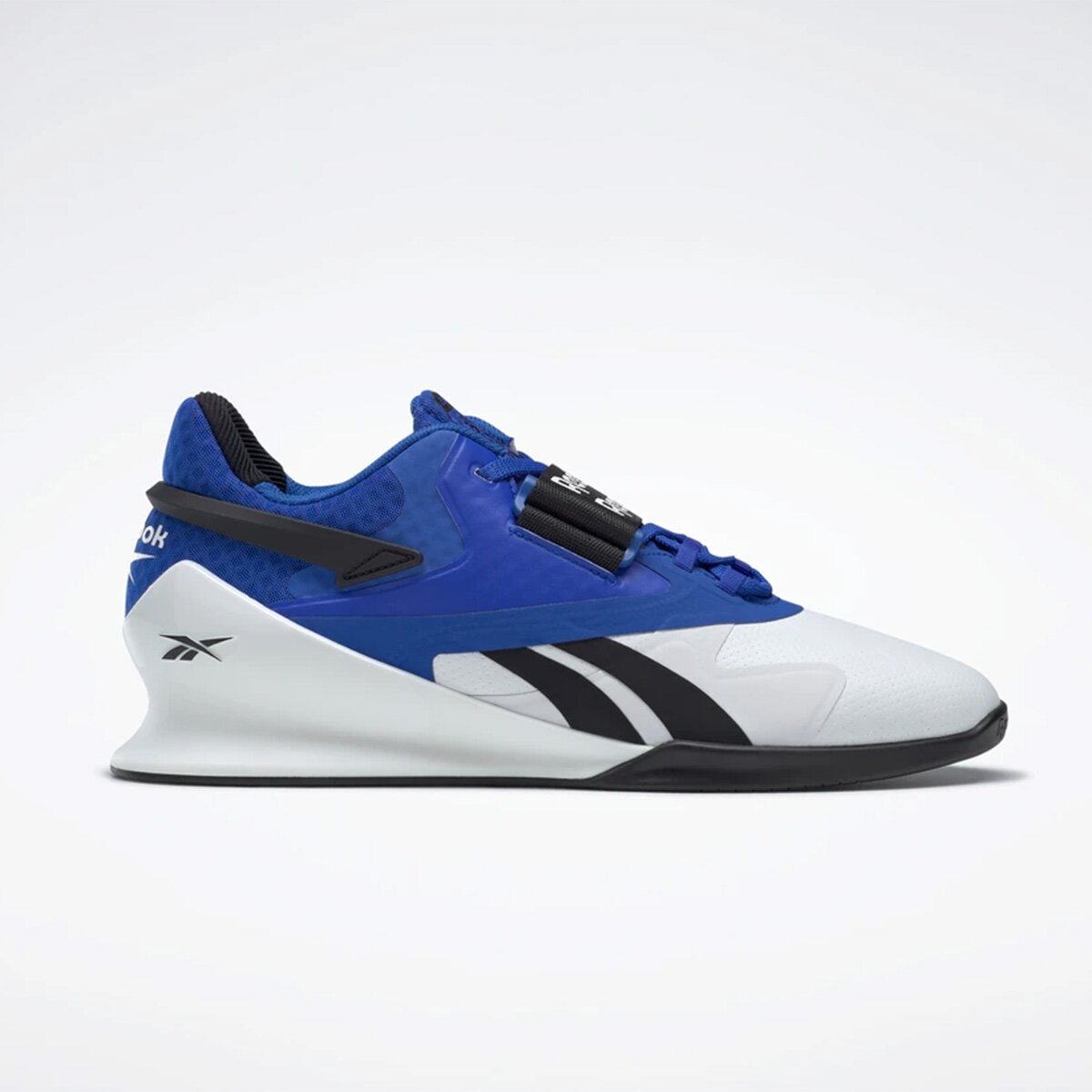 Better Lifts from the Ground Up
CrossFit-style workouts demand precise equipment that can take a beating. Reebok's lifters and cross-trainers are designed with the toughest, most diverse training in mind.
As for the rest of the podium, Laura Horváth finished in second place, and she had that position locked up before the final event. She may be the only competitor right now who could be considered a threat to Toomey-Orr's title.
One of the best comeback stories this year is undoubtedly two-time Fittest Woman on Earth Anníe Thórisdóttir. The "Queen of Iceland" has a new unofficial title: World's Fittest Mom. A year ago, she experienced a very difficult childbirth. Fortunately, the baby and mother were OK. One year after starting her CrossFit training again, Thórisdóttir returned to competition and finished in third place overall.
One of the most shared images this year was her snatching 200 pounds overhead with a shocked look on her face. The fans rallied behind her, and she delivered a great effort as a result.
Justin Medeiros Launches the Post-Fraser Era
Thanks to the retirement of five-time champion Mat Fraser, we were guaranteed a new men's winner for the first time since 2016. The favorites going into the competition included Noah Ohlsen, Patrick Vellner, Cole Sager, and Brent Fikowski. The two Canadians (Vellner and Fikowski) made the podium, but it was the second and third positions, respectively. It was 2020 third place finisher Justin Medeiros who shocked the fitness world by being crowned Fittest on Earth.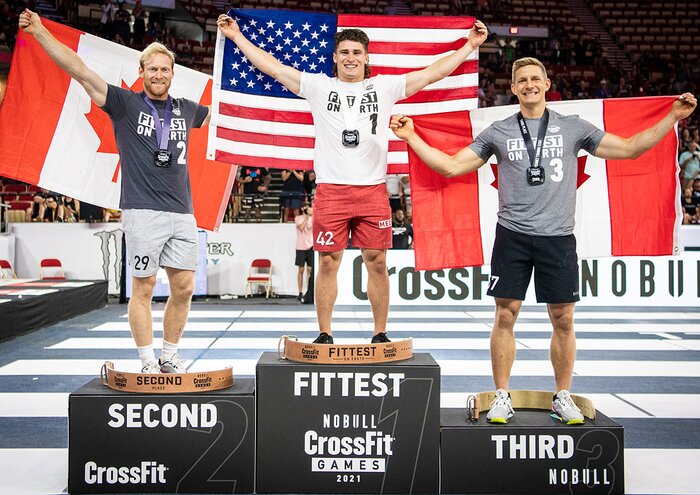 The 22-year-old American is the youngest champion in history. What's surprising about his victory isn't his youth, though, it's the fact that the only event he won was the last one on Sunday. That said, his lowest individual placing was in Event 2, where he finished 15. Otherwise, he was always in the mix.
The only mistake Vellner made was a 35th place finish in Event 1—swimming and paddling. If he would've placed in the top five, there's a great chance that Canada would have their first CrossFit Games champion. He and the other top competitors now have a new target in their sites.  
Froning and Mayhem Do What They Do
Speaking of former champions, the Affiliate Cup victory by Rich Froning's CrossFit Mayhem made his ninth Games victory between individual and teams. With Fraser retired, it could be a long time before anyone matches his four men's victories and five team titles. At age 34, he's showing no signs of slowing down.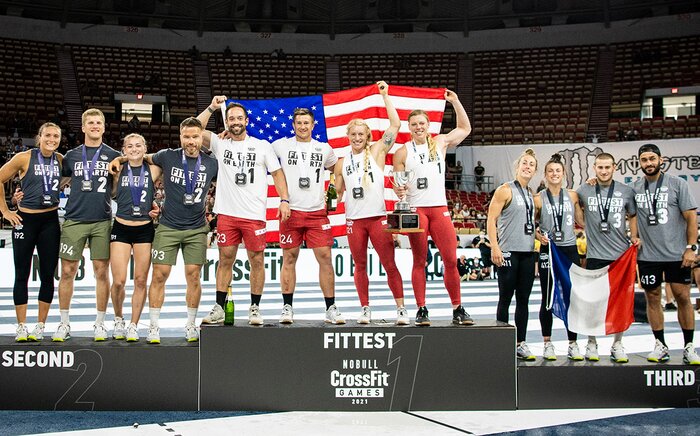 Adaptive Athletes Make a Strong Showing
The 2021 Games represented the first time that adaptive categories were part of the competitive field. You can read about the launch to make it happen in the article, "Logan Aldridge and Adaptive CrossFit Have Arrived." Upper extremity, lower extremity, and neuromuscular competitions were held for men and women, with events that were just as tough—and often even more inventive—than the individual categories, with plenty of inspiring performances by tough-as-nails athletes.
The winners were:  
Upper Extremity - Men: Casey Acree; Women: Sabrina Lopez
Lower Extremity - Men: Ole Kristian Antonsen; Women: Valerie Cohen
Neuromuscular - Men: Brett Horchar; Women: Shannon Ogar
Aldridge came in third, but provided an undeniable highlight of the event when he deadlifted a personal-record 502 pounds.
For highlights and videos from each day of action, check out our daily highlights.
Serious about CrossFit? Use our expert guides to help you take it to the next level.