This program is focused squarely on the sign of a true lifter: legs. Even in this #legday age, far too many people neglect to train their legs with any appreciable intensity or volume. Who cares, right? Nobody will really know.
Wrong. You'll know. And you have to live with the shame.
This program will help you not only put some mass on your wheels, but also increase your strength. You'll focus on building your barbell front squat and sumo deadlift, as well as crush a sneaky amount of heavy volume on single-leg work and carefully chosen assistance moves.
It'll hurt, but it'll work.
Yes, You Can Get Both Big And Strong!
If you've read my article on specialized chest training for size and strength, this should be familiar to you. If not, you should check it out. For now, however, here's a crash course.
Some people say that it's not possible to train for size and strength simultaneously, but they're wrong. True, you can achieve remarkable things by focusing your efforts on one primary goal at a time. That doesn't mean you can't have a little from both columns and make solid growth in both, though.
Here's my perspective as a strength coach: We know that strength gains are best achieved through the use of the classic barbell lifts like squats, deadlifts, and presses. We also know that intensity, usually expressed as a percentage of your one-rep max (1RM), plays a major role in strength development. Strength is best developed when training around 75-90 percent of your 1RM.
We also know that hypertrophy works best when there's a high amount of training volume, which necessitates a lower training intensity. Other factors come into play as well, such as time under tension and metabolic stress. In terms of intensity, hypertrophy goals are generally maximized between 55-80 percent of your 1RM, with a high overall volume and generally shorter rest periods. These general rules form the framework of this program.
So here's the plan: You'll focus on building strength through the primary lifts, such as squats and deadlifts, training at generally between 75-90 percent of your 1RM.
Then, you'll move to hypertrophy work, which will encompass a variety of assistance lifts and training between 55-80 percent of your 1RM.
Note: This is a very intensive program and not for beginners or the faint of heart. You will be training legs twice per week. One day will focus on heavy quadriceps training, with hamstrings as a secondary consideration. The second training day will switch this around, with heavy hamstrings and lighter quad training. It's best that you slightly lower the volume of your other training to adequately balance your ability to recover.
Strong Legs, Big Legs: The Program
Week 1
Week 2
Week 3
Week 4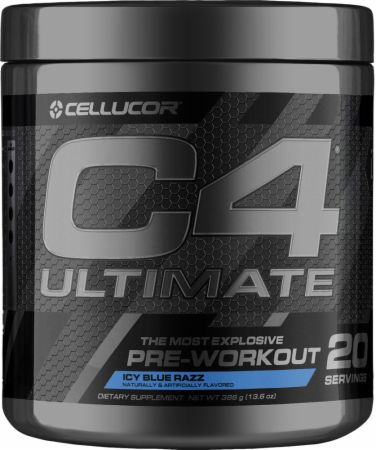 Cellucor C4 Ultimate
The Ultimate Pre-Workout Experience. Fully-Loaded Formula in Single Scoop Dose.
Week 5: Deload
Week 6
Week 7
Week 8
How To Get The Most Out Of This Program
Rep Test: You'll notice on weeks 2, 4, and 6 that I ask you to perform as many reps as possible on your final set of front squats. This doesn't mean "go until you get pinned." It means you should do as many unassisted reps with good form as you can do—and not one more than that.
Assistance Work: On your assistance work, use a weight that allows you to perform each set with good technique while keeping 1-2 reps "in the tank". On your last set, you can perform as many reps as you can. Just remember that doing this on every movement, every week can beat you up quite a bit. Choose wisely.
Scheduling: As I mentioned above, this is a specialization program designed to push your lower body very hard. The training will be very taxing and you will need to adjust your other training accordingly. I advise you to lower your training volume on other days slightly so that you can recover adequately, and don't try to specialize in other body parts while you're on this program. Perform these two workouts with at least two days in between.
Recovery and Nutrition: This program should leave you with a noticeably bigger, stronger lower body, but only if your recovery and nutrition are in line with the goal. If your diet sucks and you have terrible recovery strategies, you won't get the most out of this program. In fact, you probably won't finish it.
What's Next?
Once you've finished the entire eight weeks you can retest your one-rep maxes, insert another deload week, or roll into the next program. If you haven't checked it out already, this would be a good time to try my Strong Chest, Big Chest program for another specialization cycle. Or if you want to focus on overall strength, you could try my Cluster Training program. Either way, this is a perfect opportunity to build upon the foundation laid during these two months.