Main | Nutrition Strategies To Bring Your Pecs Up To Par | One month To A Bigger, Badder Chest | Explosive Chest Finishers For Ultimate Press Power | Strong Chest, Big Chest: Build Mass That'll Work For You
Someone, somewhere on social media is certainly telling you that you can't build both size and strength at the same time. Don't listen to them.
If you've read any of my other programs, you'll know that I am a fan of linear or block-style periodization. With this style of training, you prioritize one goal—either size or strength—at a time, while maintaining previous goals and inching toward future goals. However, every once in a while, it's great to flip the script and chase both size and strength with equal passion. As long as you don't do this for every body part, all the time, it can be incredibly effective.
If you're ready to have a better answer to "How much ya bench?" and wouldn't say no to a little extra mass up top, this is your plan. Set aside two training days a week for the next eight weeks, get your nutrition right, and get ready to grow.
How to Get Big and Strong at the Same Time
Let's break it down. Usually, strength is developed when training at about 75 percent or more of your one rep max, working up to around 92-95 percent of 1RM, depending on your program and goal. Personally, I would dial that back a bit and put the range at 75-90 percent. This loading also allows you to work at a moderate enough volume that you can prevent the loss of muscle mass, and possibly even still stimulate mass building, while still chasing strength.
Building muscle requires higher volume than strength training, which means that the training load must be lower. Hypertrophy can be maximized with loads as low as 55 percent of 1RM, up to around 80 percent. Once you reach the upper limits, the training volume allowed is not sufficient to stimulate muscle gain.
Of course, other factors play into building muscle mass as well. They include time under tension, exercise selection, and metabolic stress. For the purposes of this article we won't get too in depth on those details, however. Just trust me that you'll feel them working once you're in the program.
If you want to combine both of these methods to build strength and mass simultaneously, you just need a little bit of strategy. In this program, we will focus on building strength via your first, or primary, movement, utilizing higher percentages of your 1RM and lower volume. This will be the bench press on day one of this program, and the incline bench on day two.
On each day, you'll also perform a secondary movement that will use slightly lower loads, but enforce the strength training of the first. All following movements will utilize lighter loads with higher volume in order to stimulate muscle growth.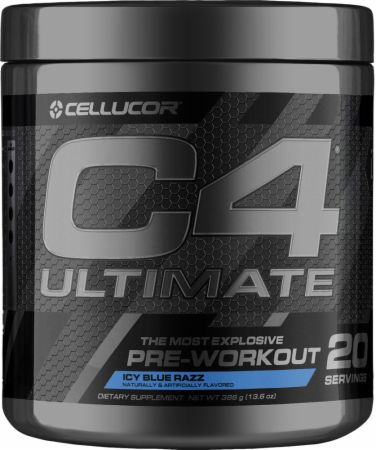 Cellucor C4 Ultimate
The Ultimate Pre-Workout Experience. Fully-Loaded Formula in Single Scoop Dose.
Strong Chest, Big Chest: The Program
This program includes two training days that you can insert into your regular training program. Both emphasize upper-body pressing, which includes shoulders and triceps. The first day has a higher emphasis on chest training, while day two is a secondary chest training day, with slightly more shoulder work to prevent too much dedicated chest training in one cycle.
Main | Nutrition Strategies To Bring Your Pecs Up To Par | One month To A Bigger, Badder Chest | Explosive Chest Finishers For Ultimate Press Power | Strong Chest, Big Chest: Build Mass That'll Work For You