Main | Chest & Back | Legs & Shoulders | Biceps & Triceps | Abs
Kris Gethin is stronger than most men. He's an absolute beast in the gym, but even he has weaknesses. At Ironworks Gym in 2011, Team Grenade athlete James St. Leger found one such weakness: Gethin's core. After Gethin pushed St. Leger through a brutal DTP arms assault, St. Leger turned the tables and put Kris through an intense abs session. Think you can handle the workout that nearly dropped Gethin to his knees?
This is not your typical core workout. There are no mats, no Bosu balls, and certainly no supportive trainer shouting, "Good job, Ace!" This workout is built on five difficult movements that will reveal your every weakness. Grab a spotter and check your gut.
All of the lifts in this workout employ "working rest," in which your only rest period is while your partner performs the lift. As soon as your partner is done, it's your turn. If you reach failure before you finish a set, then use rest-pause reps to finish. Some exercises go to failure, but don't give up too easily. "Any new exercise is going to shock the system," St. Leger says. "You will struggle."
The more core strength you have, the more you will be able to lift. All of these exercises incorporate overall core strength with a standard crunch movement.
Team Grenade's Core Killer
1 set, 10-15 reps (warm-up set with unloaded bar)
2 sets, 8-12 reps (add weight each set)


+ 5 more exercises

BodyFit
$6.99/month
2,500+

expert-created single workouts

3,500+

how-to exercise videos
Detailed workout instruction
Step-by-step workout tips
Training at gym or at home
Access to Workout Plans
Access to Bodyfit App
Store Discounts
Already have a Bodybuilding.com account with BodyFit? Sign In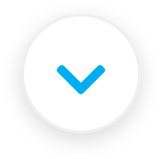 What comes with BodyFit?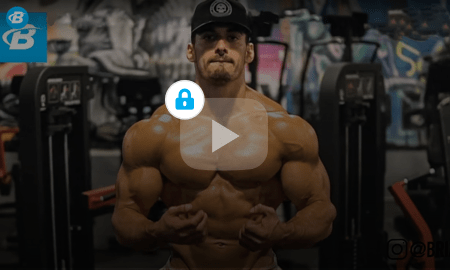 Instructional Videos

Don't risk doing a workout improperly! Avoid injury and keep your form in check with in-depth instructional videos.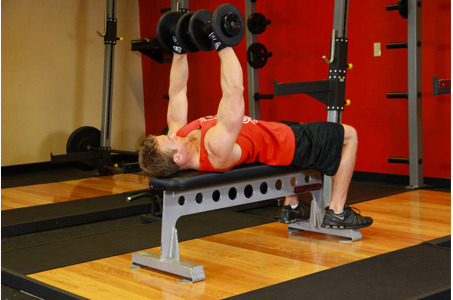 How-to Images

View our enormous library of workout photos and see exactly how each exercise should be done before you give it a shot.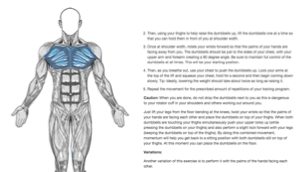 Step-by-Step Instructions

Quickly read through our step-by-step directions to ensure you're doing each workout correctly the first time, every time.
Exercise 1. Decline bench overhead barbell sit-up
On a decline bench, hold a barbell with a shoulder-width grip. Lift your core upward until the bar is pressed overhead. Rotate your shoulders at the top of the movement to keep the bar moving in a straight vertical line. The negative portion is a controlled crunch—don't just plop down.
Although you add weight on each set, don't go overboard. James and Kris only added 20 pounds to the first set, and 10 to the second.
Exercise 2. Windmill
Hang from a pull-up bar with a wide grip. Let your legs hang straight down, and then deliberately raise and move your legs from left to right like a windshield wiper. Lift your legs up in a controlled, half-circle motion. Keep your legs as straight as possible and lift them as high as possible. Do not bend the knees; keep your feet together. Your grip will fail before your abs reach fatigue.
Exercise 3. Toes-to-Bar
Take a wide grip on a pull-up bar. Extend your feet down, then bring your knees up to your chest and touch your toes to the pull-up bar above your head. Try to keep your knees in tight and extend them after they rise above your hips. To make the movement more difficult, keep your legs extended throughout the exercise; it will change the lever length in the movement, making your legs heavier.
Exercise 4. Upside-Down Crunch
Hang upside down from a pull-up bar using hooks around your ankles. Relax your feet and ankles and trust the apparatus to hold you. Once you are settled, perform very slow crunches. Do not let your body swing. Put your arms out to your sides to help stabilize your swing.
For the second set, hold a 10-pound (5 kg) weight in your hands while suspended. Perform straight crunches, then oblique crunches on each side. Once you hit failure, hold your arms out at a 90-degree angle with the weight extended. Perform this isometric hold until failure. For even more difficulty, add a side twist to the static hold.
This exercise is not recommended for people with high blood pressure.
A spotter or training partner is imperative for this exercise. Do not try this alone.
Because the blood rushes to your head, do not perform this for more than a minute.
Exercise 5. Plank Variations
Lie down on the gym floor and lift your weight onto your elbows and toes. Keep your back straight and hold the position. Shift your weight every 30 seconds. Start on both elbows, then roll over to a side plank, then roll to your other side to finish the set. Never let your knees or core touch the ground.
If these planks are too easy, add motion. Rock forward and backward, dip the shoulders down and up, lift one foot off the floor, lift one arm and one leg off the floor, or place a weight on your hips. "[The plank] depends on how adventurous and how strong you are," St. Leger says. Make sure to push your hips forward; don't dip your chest.