High-Protein Foods | Low-Calorie Foods | Low-Carb Foods | Healthy Snacks | Protein Shake Recipes | Protein Pancake Recipes
Dive into these homemade protein shake recipes that taste like dessert but fuel your muscles and your recovery. With flavors covering everything from luxurious chocolate to tangy orange cream to tropical coconut, these protein drinks help you feel good, work hard, and hit your fitness goals.
Learn how to make a protein shake the most decadent part of your day! With nutritious boosters that add antioxidants, vitamins, and minerals, these healthy shakes are great for breakfast, snacks, and pre- or post-workout. 
Breakfast Protein Shakes
Vanilla Coffee Shake - 66 g of protein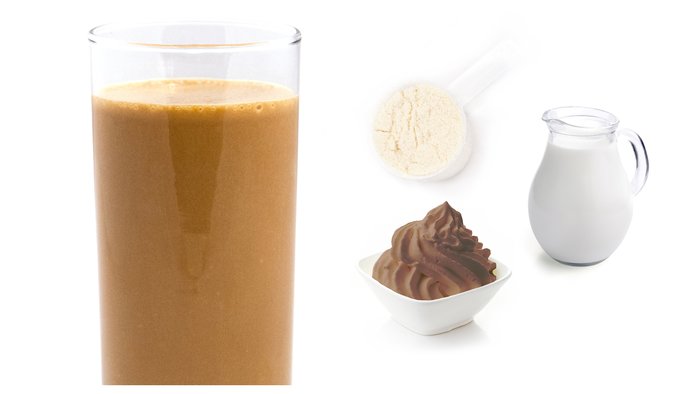 Wake up and energize with vanilla and coffee! With just 3 ingredients, this shake practically makes itself. Just throw it in the blender and you're good to go! And at 66 grams of protein, it's big enough to share.
Chocolate Coffee Shake - 59 g of protein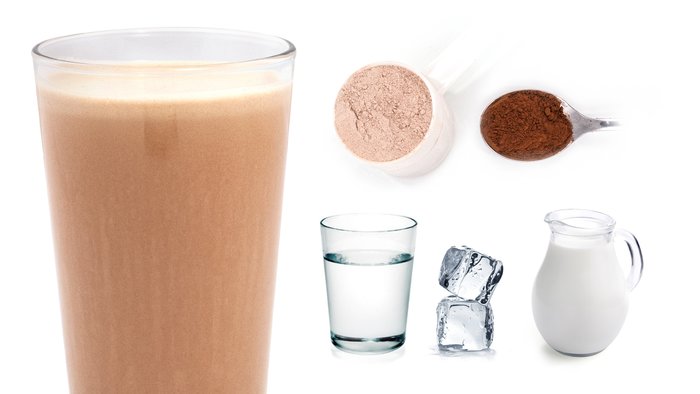 Rich coffee and delicious chocolate unite for a mocha-inspired shake. 
Soy Almond Shake - 34 g of protein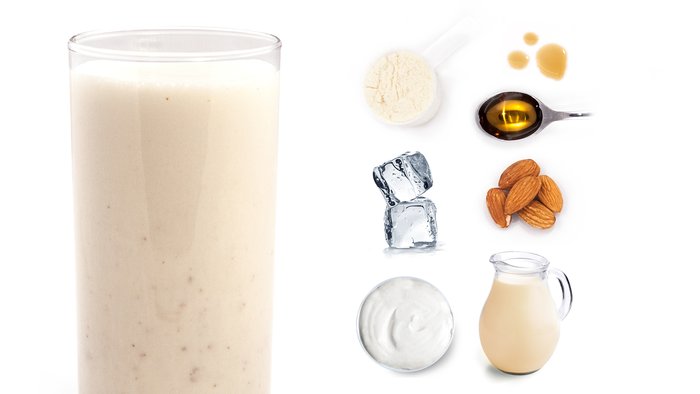 Plant-based soy protein and real almonds give this dairy-free smoothie a flavor-packed punch.
The best plant-based proteins offer an amino acid profile that rivals animal-based proteins, plus fiber and other crucial nutrients.
Cinnamon Roll Shake - 25 g of protein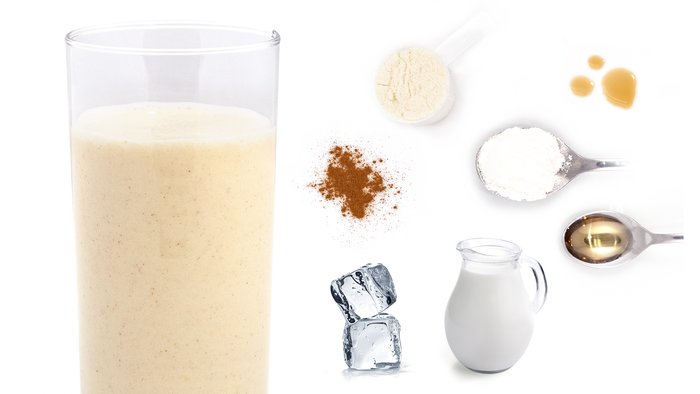 A classic breakfast treat that fits your macros and will keep you fueled up all day.
Breakfast of Champions - 47 g of protein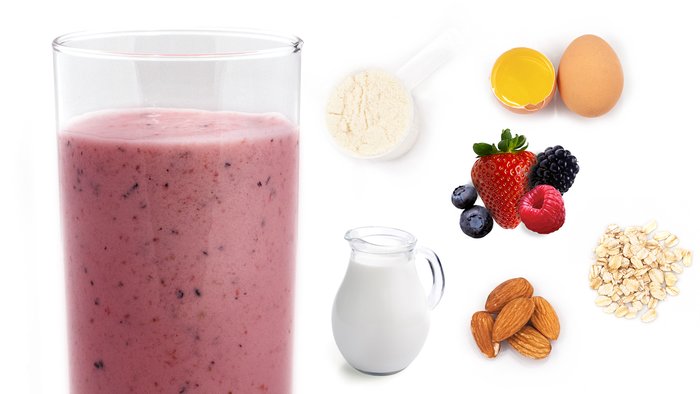 Move over, Wheaties. This shake featuring blended berries and oatmeal is your new breakfast go-to.
Oatmeal Shake - 75 g of protein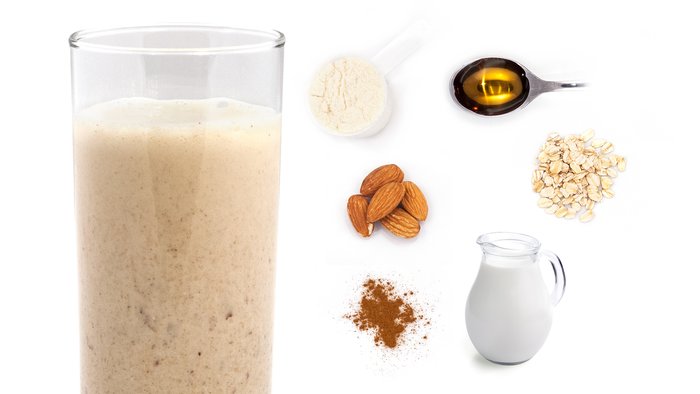 Oatmeal: it's not just for bowls. The added fiber and flavor make it the perfect breakfast-on-the-go!
Peppermint Oatmeal Shake - 80 g of protein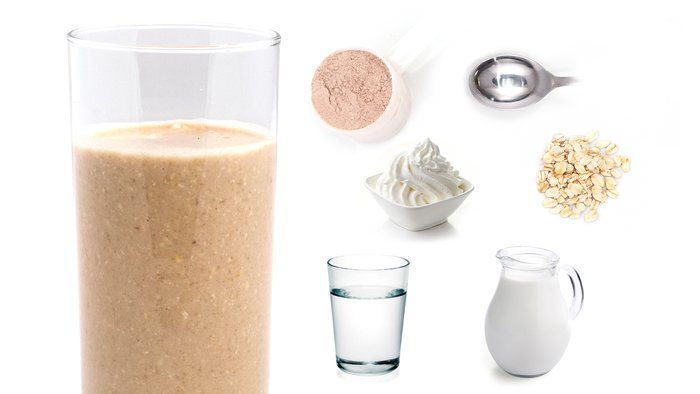 Refreshing mint and hearty oatmeal make this milkshake—yes, it has ice cream in it!—a great start to the day!
Mineral Power Shake - 33 g of protein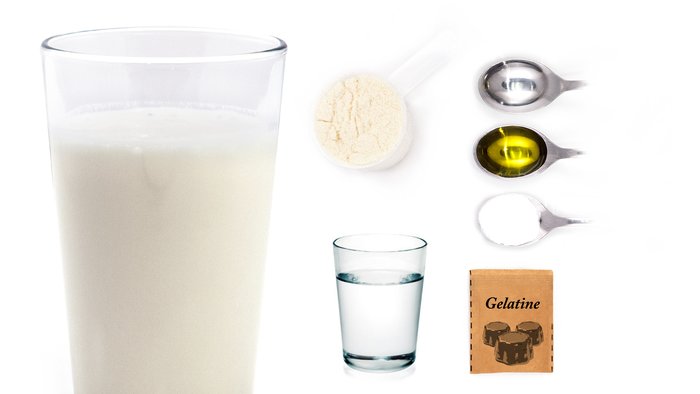 Add vitamins and minerals for an extra boost!
Iced Breakfast Shake - 13 g of protein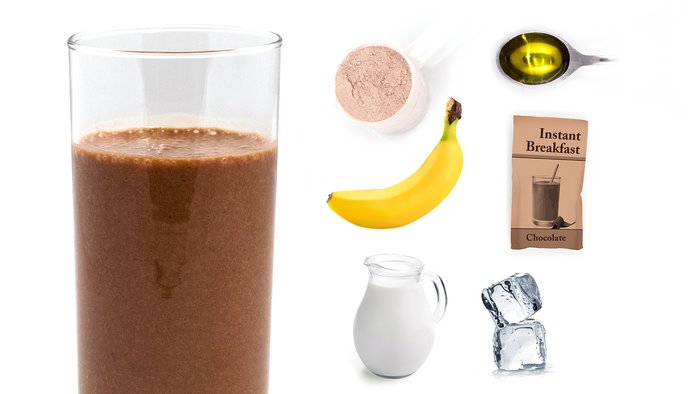 Shake it up and pour over ice for a morning cool down.
Quick Start Shake - 28 g of protein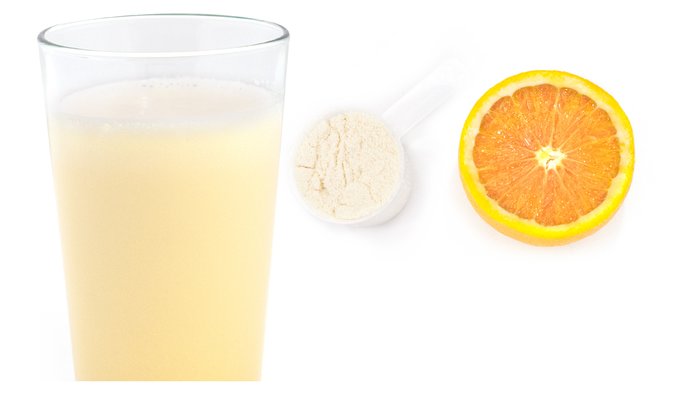 Enjoy breakfast with a boost of vitamin C and protein! Fresh oranges and vanilla bring the delicious flavor of a creamsicle to breakfast time. Blend away! 
The perfect time to take a multivitamin is with a protein shake. Give your body macronutrients and micronutrients to power workouts and recovery!
Almond Blast Shake - 80 g of protein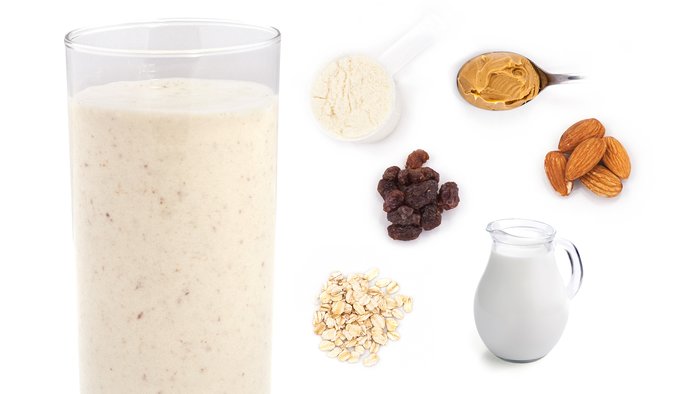 Blast off with this high-protein, whole-food treat with almonds, raisins, and peanut butter.
Banana Almond Cream Shake - 78 g of protein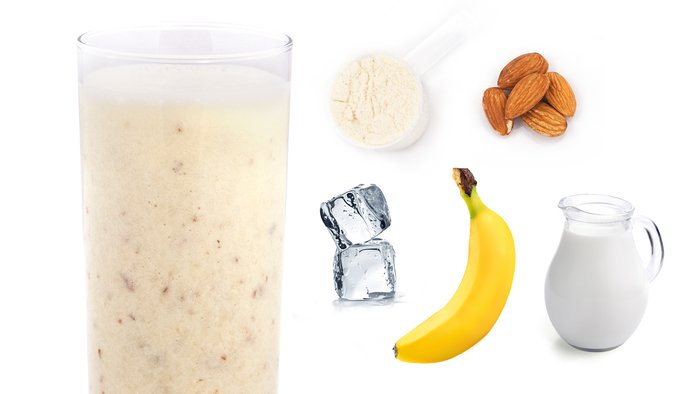 Treat yourself to a dessert-inspired breakfast! The almonds and banana go perfectly together.
Banana Bread Shake - 54 g of protein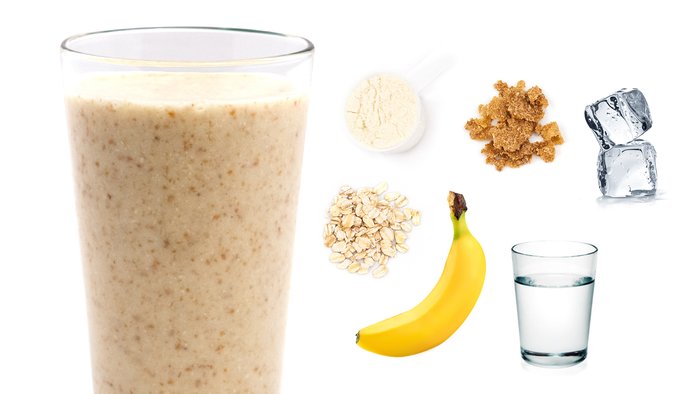 Enjoy the warm flavors of banana bread while boosting your daily protein. This one is addictive!
Berry Protein Shakes
Wild Berry Shake - 68 g of protein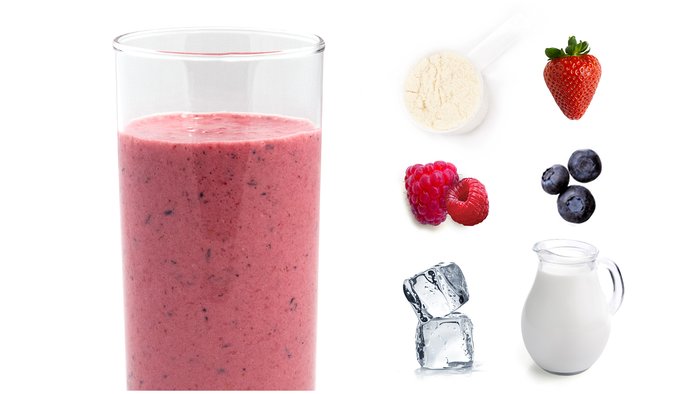 Go wild for this wild berry shake. Full of flavor and packed with fiber to help you feel fuller, longer.
Strawberry Savior Shake - 118 g of protein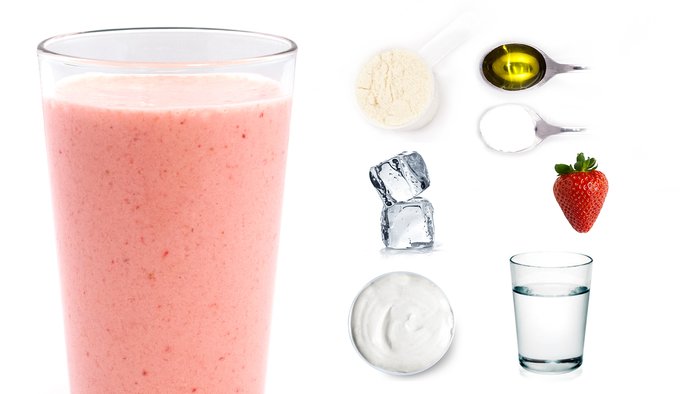 Feed yourself and a friend or two with this easy strawberry shake. It's got your daily creatine dose, too.
Strawberry Energy Shake - 79 g of protein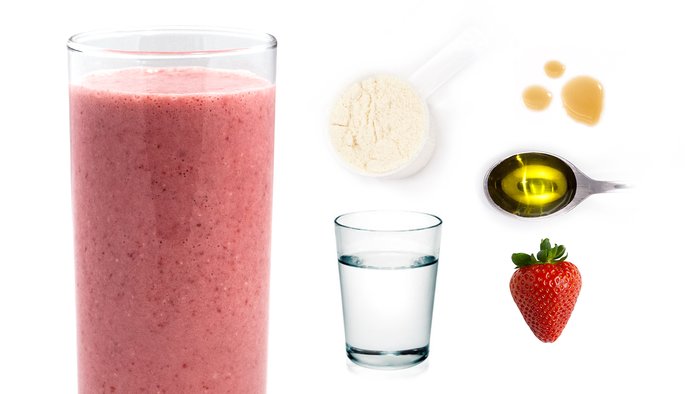 This triple hitter of protein, fiber, and healthy fats will keep you deliciously full for hours.
Strawberry Vanilla Shake - 50 g of protein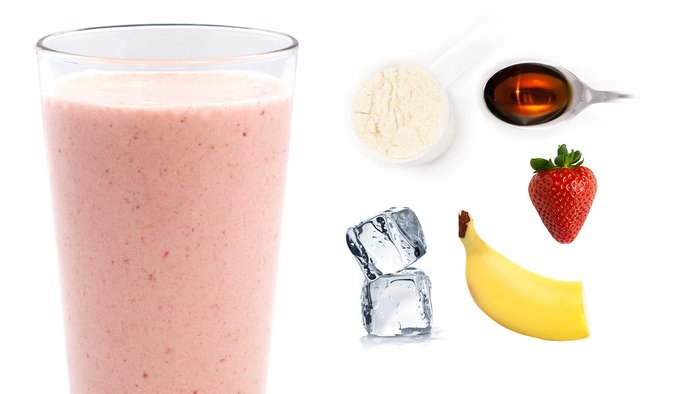 It's a classic flavor for a reason! You can't go wrong with strawberry vanilla.
Strawberry Nut Shake - 68 g of protein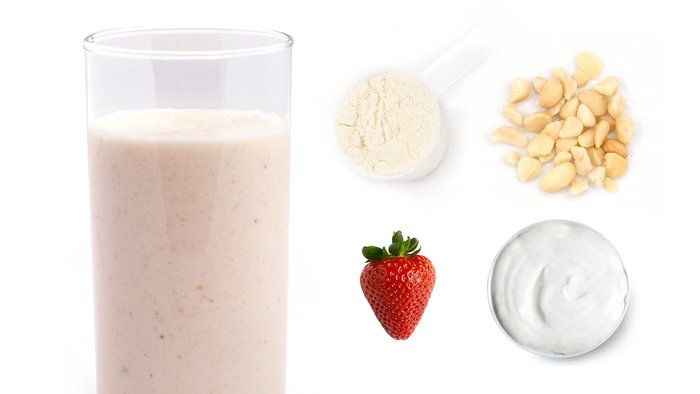 Go nuts for this shake! Macadamia nuts and yogurt add healthy fat and rich flavor.
Vanilla whey mixes well with just about everything—but especially with fresh strawberries.
Strawberry Cheesecake Shake - 28 g of protein

You want this shake's decadent flavors and incredible gains. Drink up!
Double Berry Shake - 50 g of protein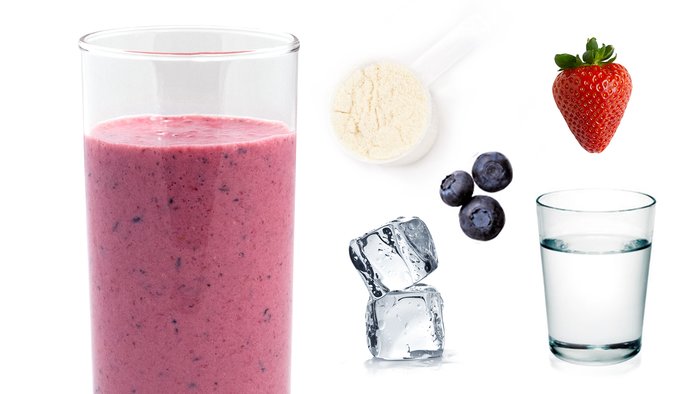 Why choose between strawberry and blueberry when you can have both! Packed with vitamins and antioxidants, you can't go wrong with this body-fueling combo!
Blueberry Dream Shake - 25 g of protein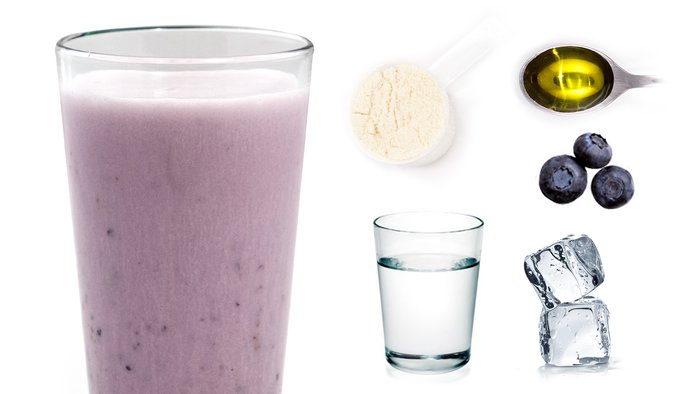 With vibrant color and serious flavor, this shake is packed with nutrients—not just protein!
Berries & Cream Shake - 26 g of protein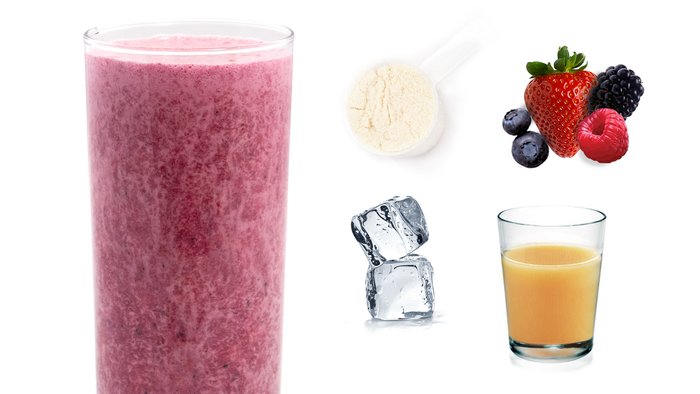 Pineapple juice adds sweetness and punch to this smooth and delicious shake.
Berry Good Shake - 84 g of protein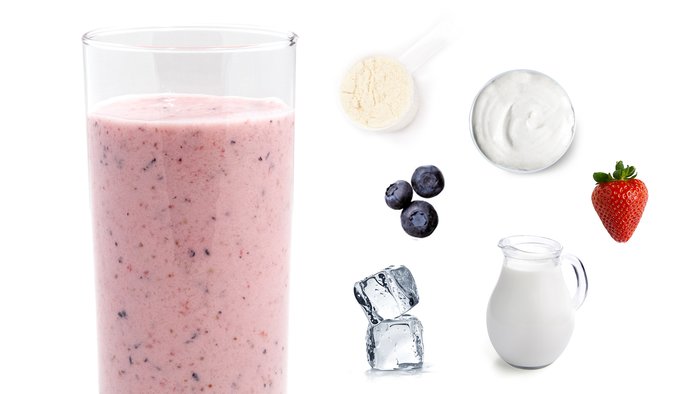 Build strength with the triple-berry power and triple protein of whey, yogurt, and milk in this shake.
Very Berry Chocolaty Smoothie - 55 g of protein

This delicious and nutritious shake is made even healthier with a scoop of collagen. 
Chocolate and Peanut Butter Shakes
Peanut Butter Cup Shake - 53 g of protein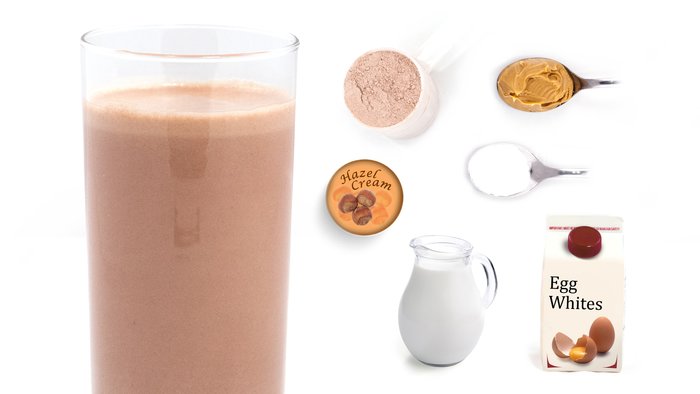 Don't sacrifice your gains! With milk and egg whites for texture, this shake tastes as good as the real thing.
Peanut Butter Banana Shake - 65 g of protein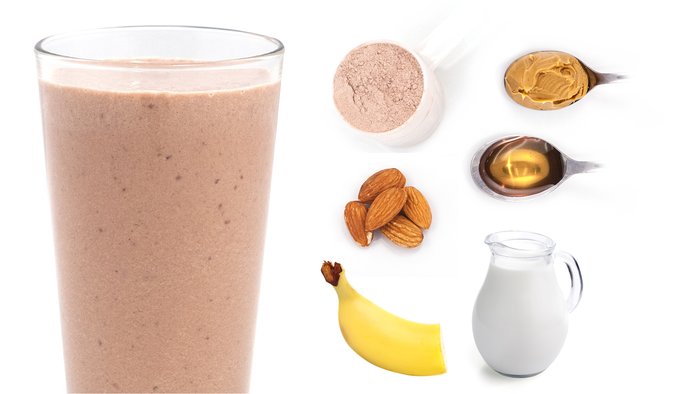 Peanut butter and banana is a classic combo and is great for fuel and muscle recovery.
Peanut Butter Chocolate Shake - 72 g of protein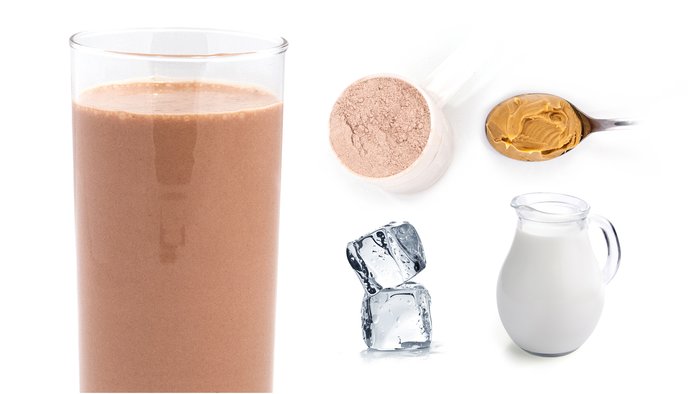 This sinless treat allows you to enjoy your chocolate and peanut butter with the benefits of muscle-building protein.
Want to make your protein shake thicker, more decadent, and slower digesting? Use casein instead of whey.
Peanut Brittle Shake - 58 g of protein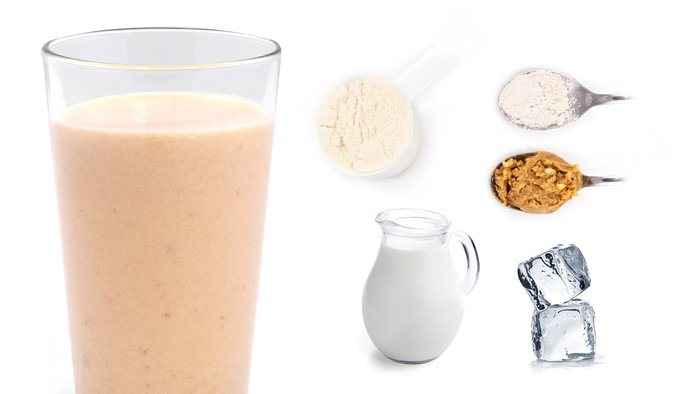 This shake is just as tasty as any crunchy brittle. The secret is pudding mix!
Chocolate-Lover's Shake - 51 g of protein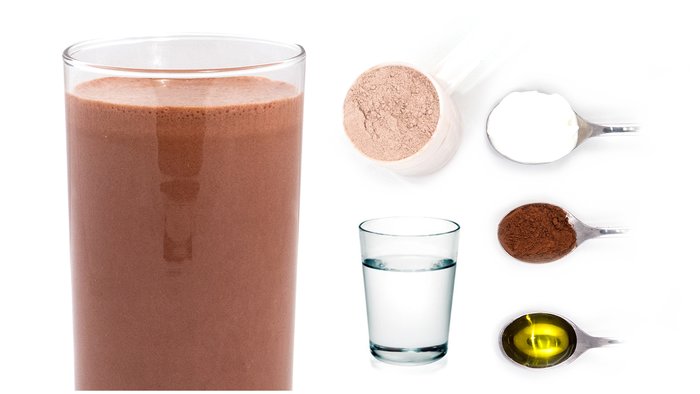 Chocoholics unite for this super chocolatey shake featuring both cocoa powder and sour cream!
Chocolate Almond Shake - 40 g of protein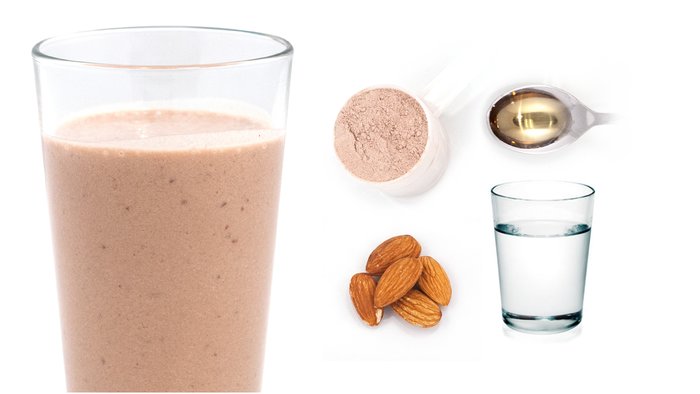 A nutty candy bar in a glass, this shake proves protein doesn't have to be bland. You will make it again!
Caramel Hazelnut Shake - 70 g of protein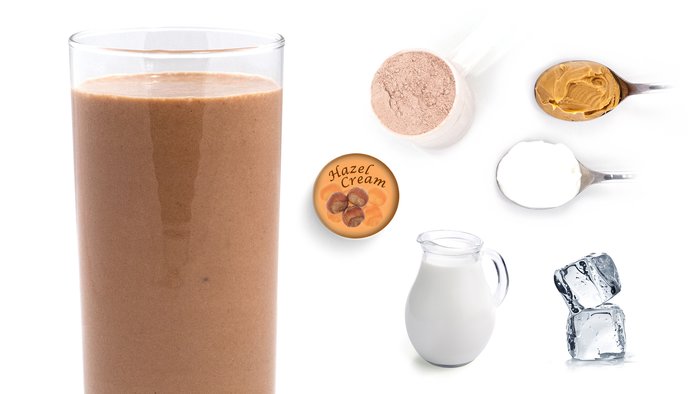 Hazelnut creamer makes this into a Nutella-y dream of a shake. Yes, please!
Bad Girl Shake - 67 g of protein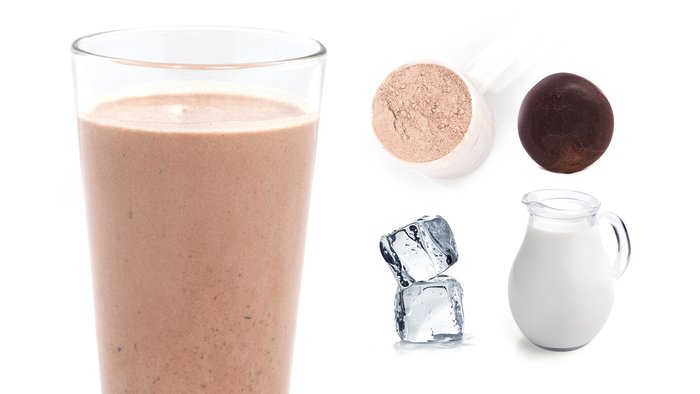 This caloric beast is for the aspiring weight-gainers out there! Ground up girl scout cookies in a shake? Go ahead, be bad.
Tropical Protein Shakes
Tropical Punch Protein Shake - 30 g of protein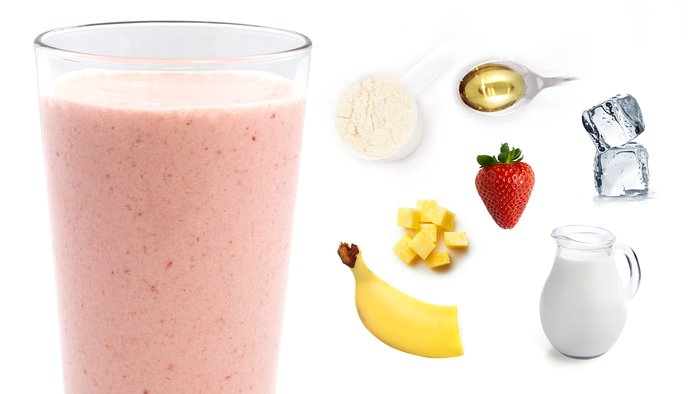 All the fruit! Tantalize your senses with this vitamin-packed tropical shake.
Vita-Plum Shake - 50 g of protein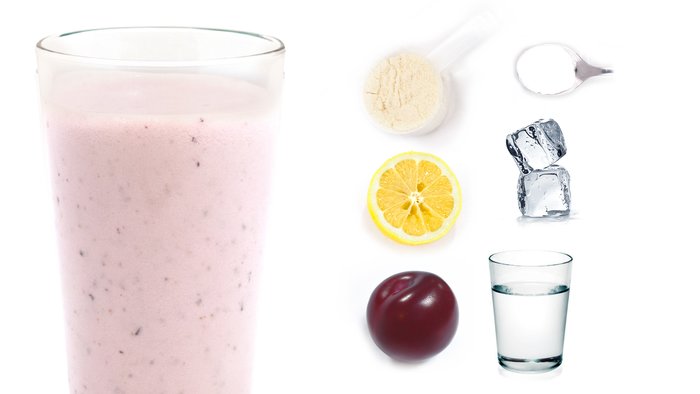 This recipe is plum amazing! It has a nice lemony tang as well as fiber and protein.
Looking to make your protein shake lower carb? Use whey isolate instead of normal whey.
Tropical Treat Shake - 27 g of protein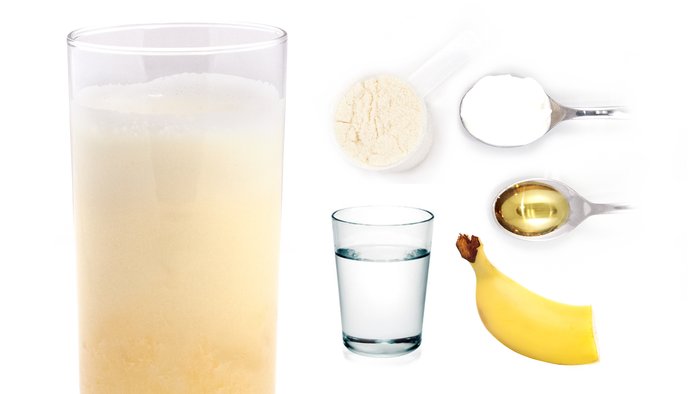 With banana, coconut, and decadent sour cream, shake things up with this tropical treat.
Tropical Pleasure Shake - 71 g of protein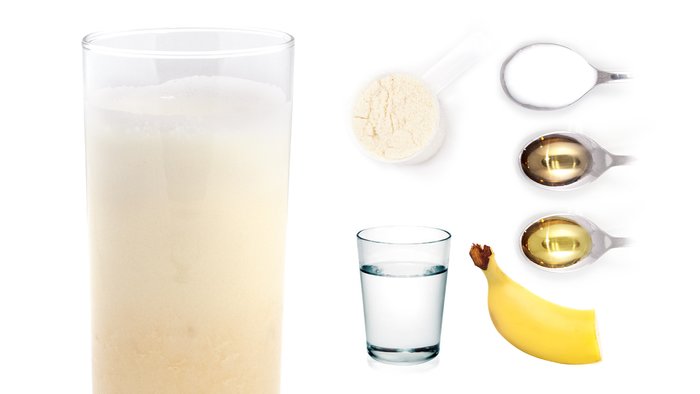 Pineapple and whipping cream make this shake extra sweet and creamy! Transport yourself with this island fantasy.
Super Peach Shake - 25 g of protein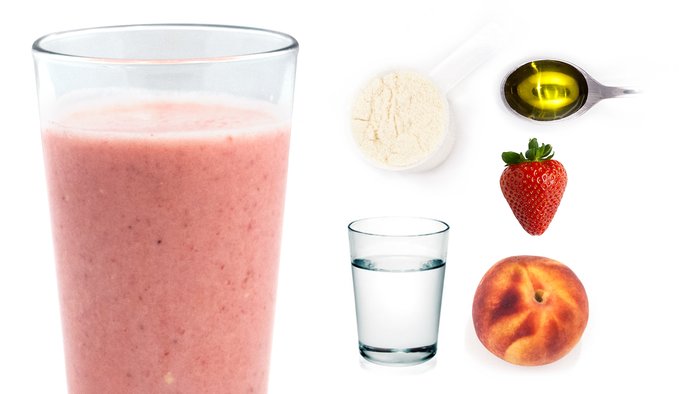 Feel peachy with this juicy shake featuring half of a real peach.
Plum Lemon Shake - 50 g of protein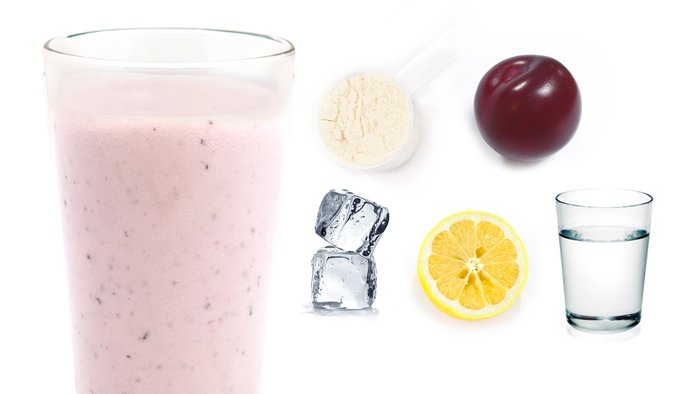 Tang is the name of the game with this shake featuring a full lemon's juice. Pucker up!
Pineapple Power Shake - 30 g of protein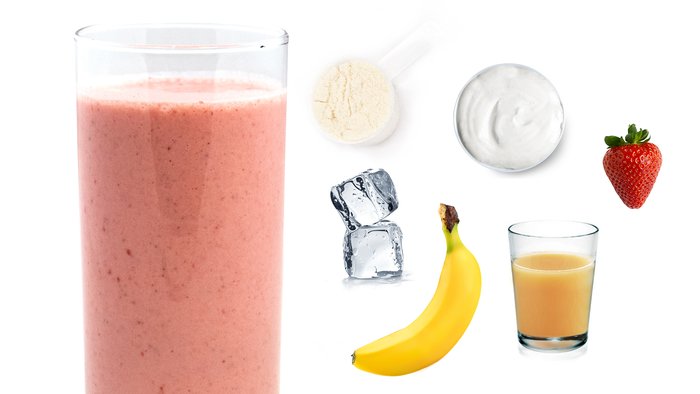 This creamy vanilla, fruit, and yogurt shake has everything you love about daiquiris, minus the hangover.
Personalized Protein Shake - 159 g of protein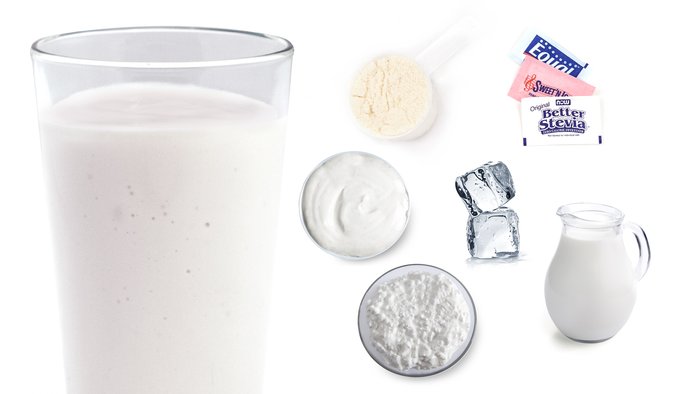 Start with this creamy base and add whatever you want. At over 150 grams of protein, you can feed a small army!
Peaches and Cream Shake - 27 g of protein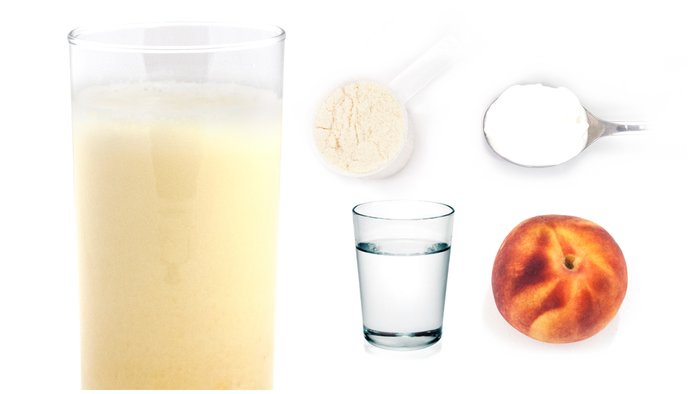 Enjoy the classic combo of peaches and cream, plus the unexpected tang of sour cream.
Orange and Cream Shake - 25 g of protein
Creamsicle anyone? This shake is simplicity itself: a scoop of vanilla whey in an orange sports drink!
There's no rule that you can't dump a scoop of vanilla whey into your aminos or sports drink! Try it and be surprised.
Nada Colada Shake - 50 g of protein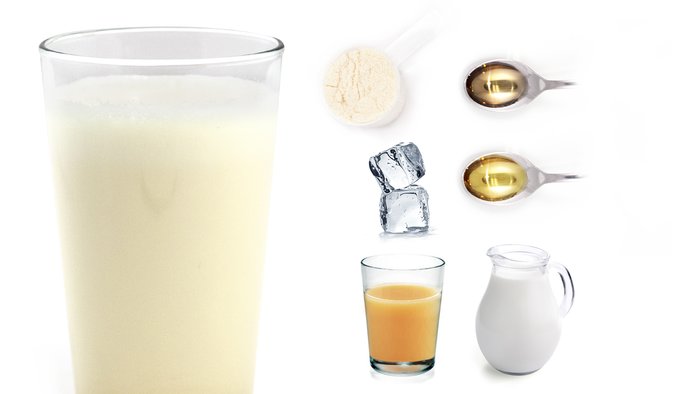 You'll practically get tan lines with this tropical protein treat featuring rum flavoring extract.
Honey Banana Shake - 45 g of protein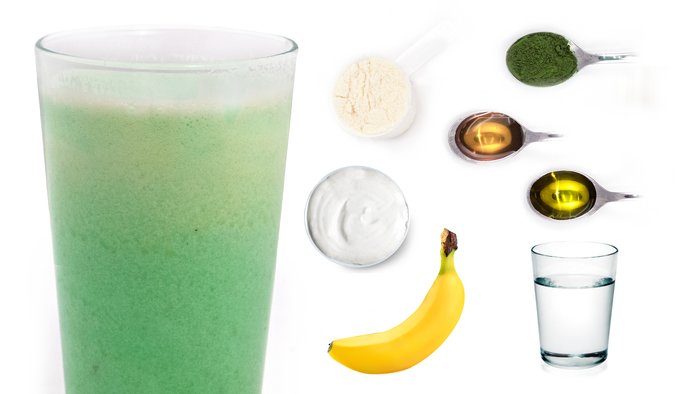 Spirulina makes this green shake a superfood powerhouse.
Banana Delight Shake - 50 g of protein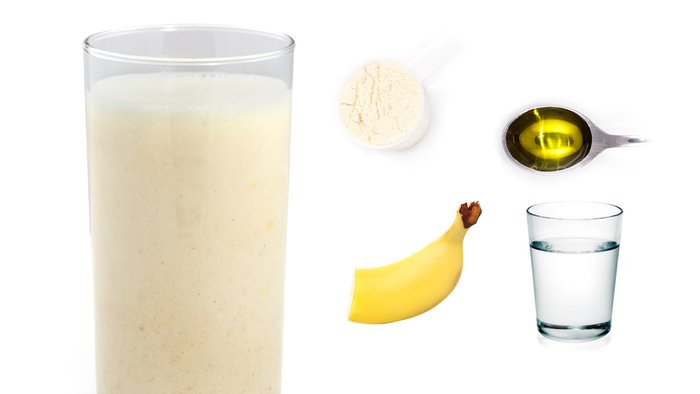 Delight your senses and your body with this seriously simple shake.
Mass-Builder Protein Shakes
Creatine Catalyst Shake - 51 g of protein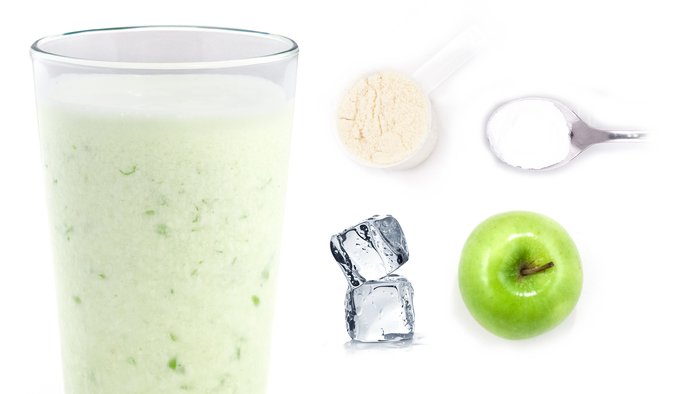 A high-powered blender is recommended for this juicy shake featuring a full Granny Smith apple.
The Hulk Shake - 25 g of protein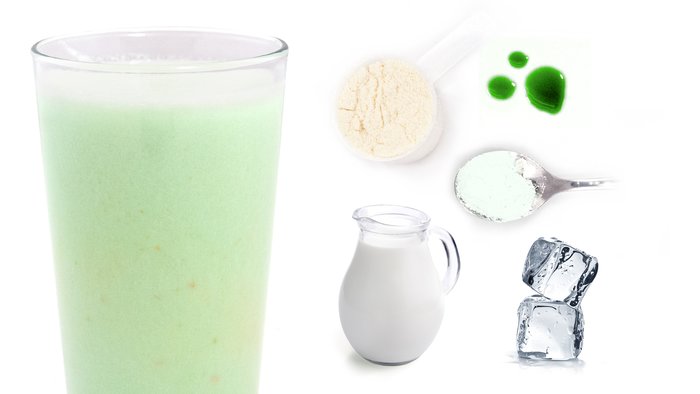 Hulk out with the bright flavors of mint and pistachio to up your calories and increase your gains.
Mass Gainer Shake - 72 g of protein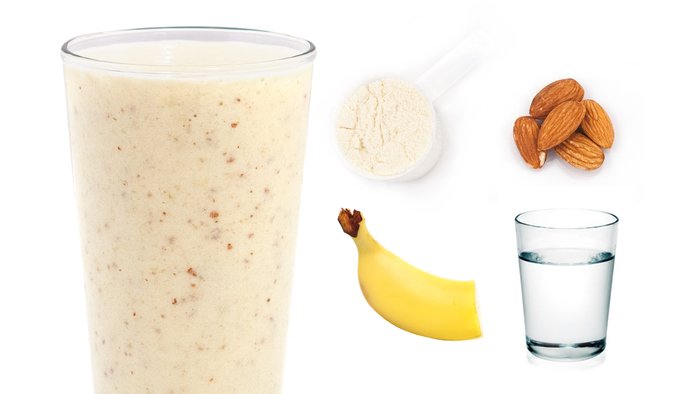 Bulk up with almonds, bananas, and a double scoop of protein.
Peanut Butter Gainer Shake - 108 g of protein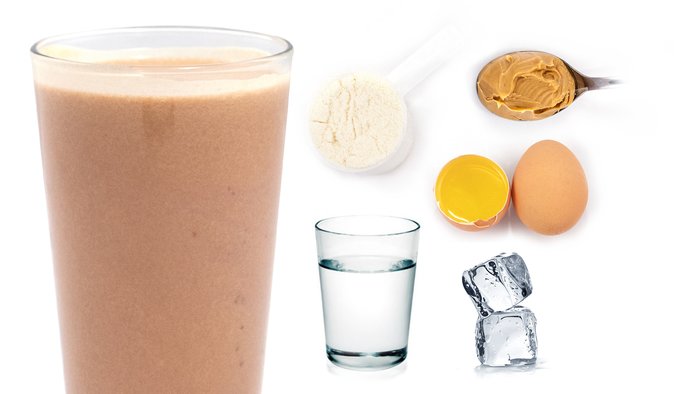 This protein shake packs a punch and is filled with flavor! Egg whites give it extra texture.
Egg-Cellent Shake - 76 g of protein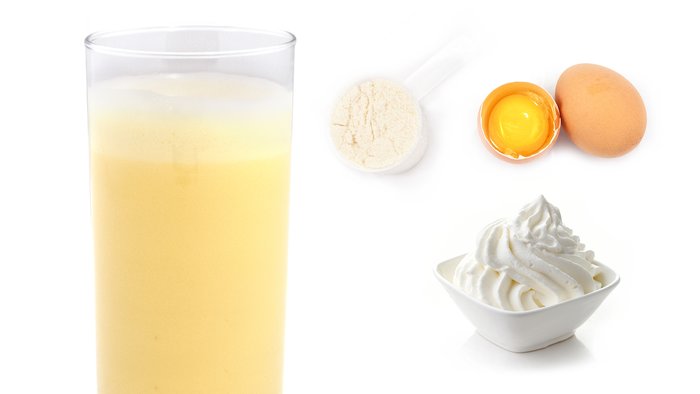 Add a pinch of nutmeg to this old-school custard-like shake with vanilla protein and three whole eggs!
Use egg protein instead of egg for extra-creamy, decadent protein shakes!
Be sure to check out our Healthy Protein Pancake Recipes for even more protein-rich recipes!