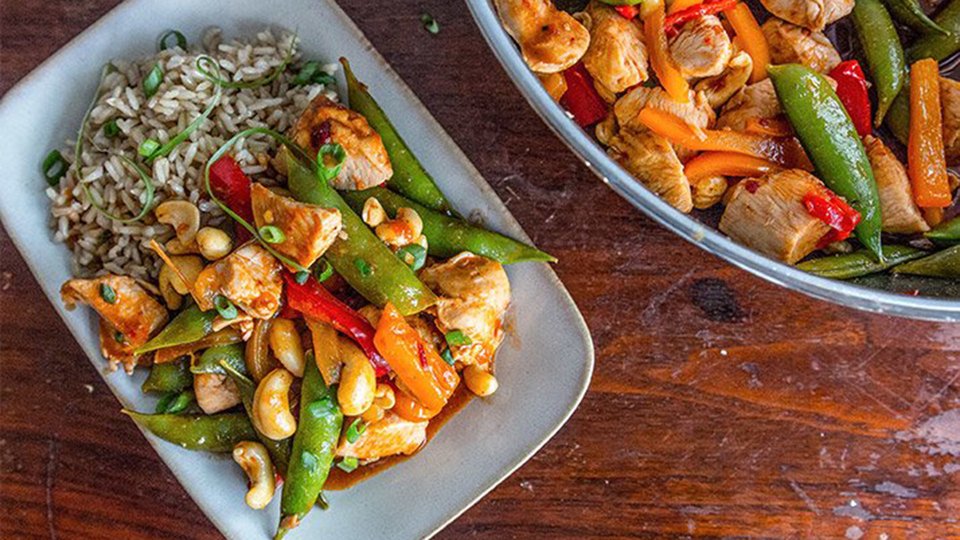 Who doesn't love the classic flavor of succulent Kung Pao chicken? If you're anything like me, the spicy concoction of garlic, aromatic ginger, red chili sauce, and rice vinegar is enough to make your mouth water.
Ingredients
2 lb chicken breast
8 Tbsp garlic, chopped
2 cup snow peas
2½ cup, chopped red bell pepper, sliced
1 cup cashews, chopped
1 tbsp extra virgin olive oil
4 tbsp liquid aminos
4 tbsp water
2 tbsp tomato paste
1 tbsp rice vinegar
2 tbsp coconut sugar
1 tbsp ginger, minced
1 tbsp corn starch
1 tbsp green onion, chopped
1 tbsp red chili sauce
Directions
In a bowl, add ingredients for the sauce and whisk together.
Set a nonstick skillet on medium-high heat, and spray with extra-virgin olive oil.
When the skillet is hot, toss in garlic and sear for about two minutes.
Add chopped chicken breast.
Cook the chicken for about 6-8 minutes, or until the outside is seared.
Next, toss in chopped bell peppers and sear for about three minutes. Stir the mixture with a wooden spatula.
Slowly pour in the tomato sauce, stirring frequently.
Toss in the raw cashews and stir.
Garnish with green onions and enjoy with brown rice or quinoa!