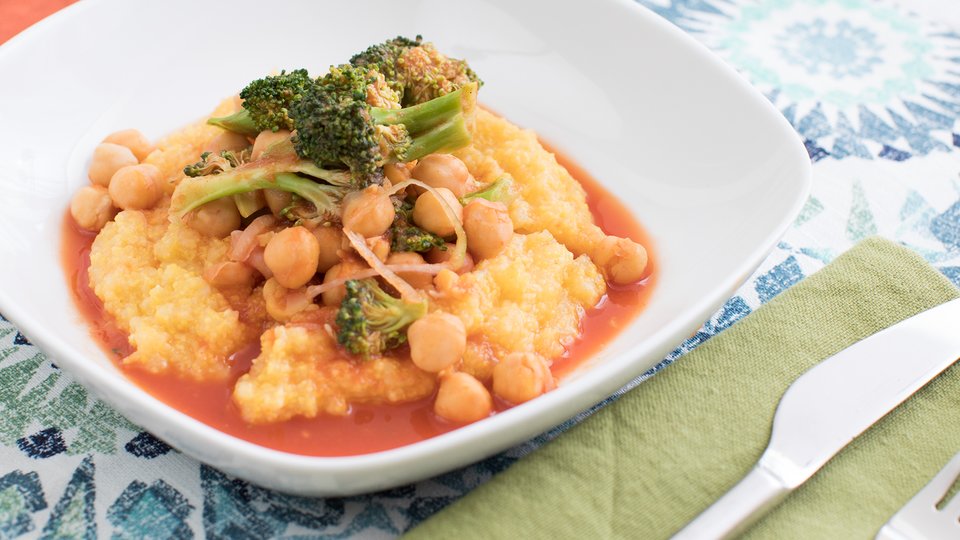 Homemade polenta has a rich, creamy texture and hearty taste to satisfy any comfort-food craving. Paired with curried chickpeas and fresh broccoli, this is a great vegetarian meal, or replace the milk with vegetable stock to make it completely vegan. For a higher-protein omnivore option, you could also add braised beef, lamb, chicken, or pork.
Ingredients
2 cup vegetable stock
2 cup skim milk
1 cup organic Polenta
2 shallots
2 cup broccoli
2 can drained chickpeas, canned
2 tsp curry powder
⅛ tsp ground cloves
2 tsp harissa paste
1 tbsp tomato paste
1½ cup vegetable stock
Directions
Bring the milk and 2 cups of stock to a boil and slowly whisk in the polenta. Cook on low, stirring occasionally for about 30 minutes, until the polenta is smooth and soft.
Sweat the shallots in a pan on low heat with a little olive oil. Once the shallots are soft, add the broccoli, chickpeas, curry, and ground cloves. Cook for a few minutes, then add the tomato and harissa paste. Let this cook for just minute before adding1-1/2 cups vegetable stock.
Let vegetables and stock simmer together and reduce just slightly, about 5-10 minutes. Check seasoning and add salt if needed to taste. Serve over soft polenta.