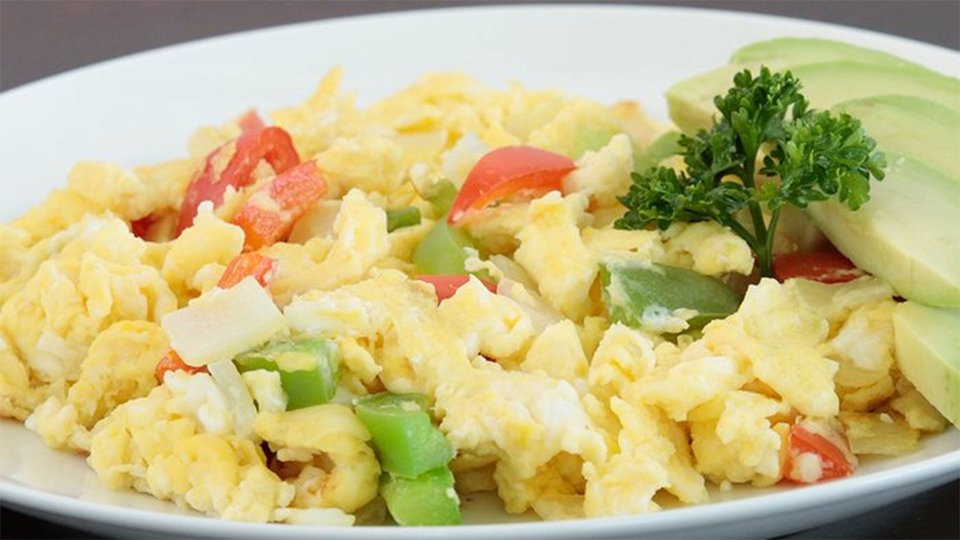 Eggs are a gold-standard protein that should be the staple of any muscle-building or fat-loss diet. Whether you like them fried, scrambled, sunny-side up, boiled, or omelet-style, eggs provide a good, fast way to get your daily vegetables. Toss veggies into your morning scramble or omelet. Add a sunny-side-up egg or hard-boiled egg slices to your mixed greens or grilled veggies. If you really don't like the taste or texture of vegetables, eggs can help disguise it. You can also flavor your eggs with spices, herbs, ketchup, salsa, hot sauce, or cheese.
Ingredients
½ medium (approx 2-3/4" long, 2-1/2" dia) green bell pepper
¼ whole red onion, sliced
1 clove garlic, minced
2 cup spinach
½ cup broccoli
4 egg
½ cup reduced fat cheddar cheese, shredded
Directions
Finely dice the pepper, onion, broccoli florets, and garlic.
Coat a pan with nonfat cooking spray, and place it on medium-high heat.
Saute the veggies with a bit of salt, stirring frequently to make sure they cook evenly.
Continue cooking until the onions are translucent and the peppers and broccoli are soft and tender, about 3-4 minutes. Reduce the heat to medium.
In a separate bowl, whisk the eggs. Add salt, pepper and seasonings to taste.
Pour the egg mixture over the veggies, and stir frequently.
Just before the eggs finish cooking, add the spinach and cheese, and scramble the ingredients together.
Serve it with ketchup, salsa, or hot sauce, and enjoy!