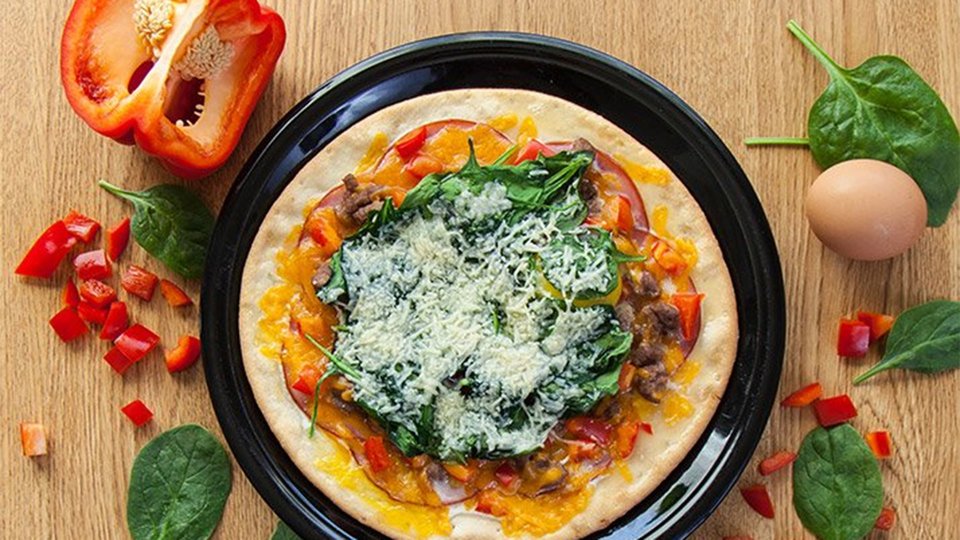 Breakfast is the most delicious—err, important—meal of the day. Or something like that. Regardless, I can't think of a better way to start the day than with a slice or two of pizza! This a.m. version combines all the thing you love about pizza and breakfast in one tasty slice!
Ingredients
1 premade pizza crust, 10-inch
½ lb chicken sausage
12 slices (6 per 6-oz pkg.) canadian bacon
4 egg
2 tbsp olive oil
1 cup, shredded low-fat cheddar cheese
¼ cup low-fat parmesan cheese
1 diced red bell pepper
2 cup spinach
Directions
Heat your oven to the temperature specified on the pizza-crust label.
Brush the pizza crust with olive oil, then add the chicken sausage, Canadian bacon, cheddar cheese, bell pepper, and spinach evenly across the crust. Crack the eggs over the pizza and sprinkle with parmesan cheese.
Cook 8-10 minutes, or until the eggs and cheese meet the desired texture and doneness.