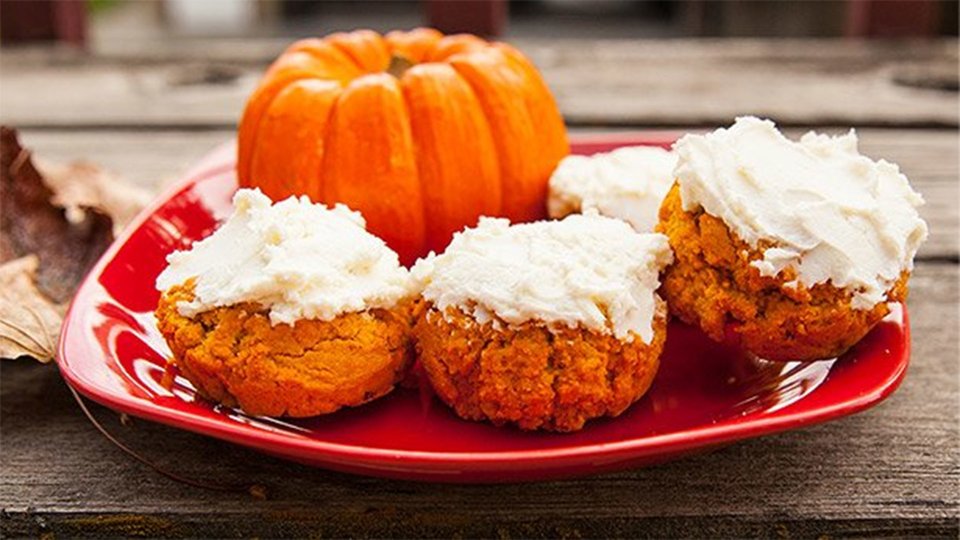 Don't fall prey to the temptation of warm cinnamon buns. Instead, try this recipe by Optimum athlete Kate Osman. With pumpkin-flavored dough and a sweet, cream cheese glaze, these rolls are sure to taste like a full-on cheat meal without the hefty nutritional price tag. Coming in at under 200 calories and packed with 17 grams of protein, they're fitness-pro approved!
Rolls Ingredients
¼ cup pumpkin, canned
2 tbsp coconut flour
⅓ cup egg whites
¼ tbsp baking powder
1½ scoop optimum Nutrition Gold Standard 100% Whey, Pumpkin Pie
Protein Cream Cheese Frosting Ingredients
⅓ cup fat-free cream cheese
½ scoop optimum Gold Standard 100% Casein, Vanilla
1 tbsp water
Directions
Directions for rolls: Preheat oven to 375 degrees F.
In a bowl, mix all ingredients together. Spray a cupcake pan with nonstick cooking spray and spoon in batter to make 4 rolls.
Place in oven and bake for about 10 minutes.
Using a knife, loosen the rolls from the pan and flip them over. Continue baking for 2-5 minutes. Be careful not to overcook. Insert a toothpick and make sure it comes out clean to ensure rolls are baked through.
Remove from oven to cool.
Directions for protein cream cheese frosting: Mix cream cheese and casein powder together in a bowl. Add sweetener and water if needed. Just try not to eat it all before you ice the rolls.
Frost and dig in!