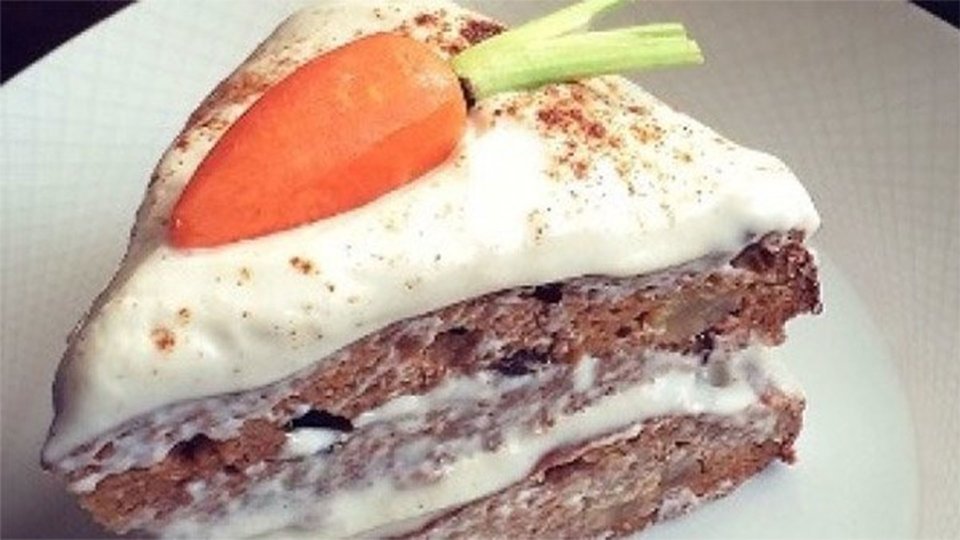 Vegetables might be in the name, but traditional carrot cake isn't necessarily a health food. Turn an occasional guilty pleasure into a clean cheat with this take on the dessert from fitness model Jamie Alderton! The combination of sweet vanilla, savory apples, pineapples, raisins, and—of course—carrots, along with aromatic cinnamon, ginger, and orange zest, will please your palate and meet your macros.
Cake Ingredients
120 g ground oats
2 egg
3 egg whites
200 mL almond milk
3 scoop grenade Hydra Charge, Killa Vanilla
2 tbsp powdered Stevia
30 g coconut flour
1 tsp baking powder
1 tsp baking soda
2 tsp cinnamon
2 tsp ground ginger
½ tsp table salt
30 g raisins
200 g sweet carrots
1 tsp orange zest
Frosting Ingredients
1 cup nonfat plain Greek yogurt
1 cup quark
100 mL almond milk
2 tbsp powdered Stevia
3 scoop grenade Hydra Charge, Killa Vanilla
Directions
Add eggs and egg whites to bowl and whisk.
Add remaining cake ingredients to the bowl, and mix.
Peel and grate carrots, then add to the mix.
Spray two nonstick baking trays with cooking spray, and pour ingredients into the trays.
Place in the oven at 350 degrees F for 20-25 minutes.
For the frosting, mix all ingredients in a bowl. Once carrot cake is cooked, leave to cool for 30 minutes and then frost the cake!
Note: Mix in dried apple and pineapple pieces to taste.