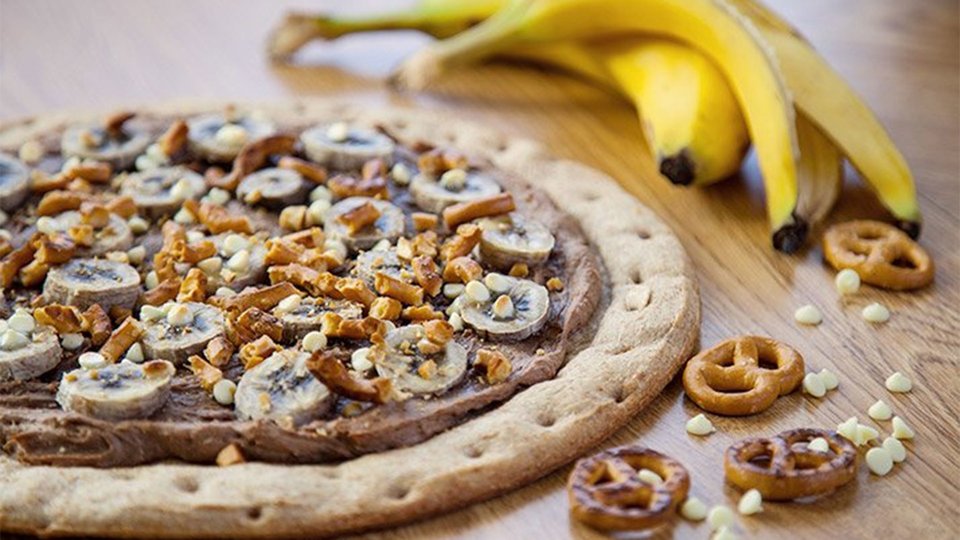 Pizza for dessert? You'd better believe it! What better way to end a night than with a sweeter version of your favorite food? This sweet-and-salty combination is sure to hit all the right notes.
Ingredients
1 premade pizza crust, 12-inch
3 scoop(s) chocolate protein powder
1 fl oz water
6 tbsp natural peanut butter
1 serving mini pretzels
2 medium (7" to 7-7/8" long) banana, sliced
3 tbsp white chocolate chips
Directions
Heat your oven to the temperature specified on the pizza-crust label.
In a microwave-safe bowl, microwave the peanut butter until melted, about 30 seconds.
Slowly mix in the whey protein and a splash of water (start with about 1/4 cup). Be patient while you mix, and slowly incorporate a small amount of water until you achieve a thick, pudding-like texture. Spread it on the pizza crust.
Add the sliced bananas, crushed pretzels, and white chocolate chips.
Bake the pizza in the oven until warm, about 5-8 minutes.