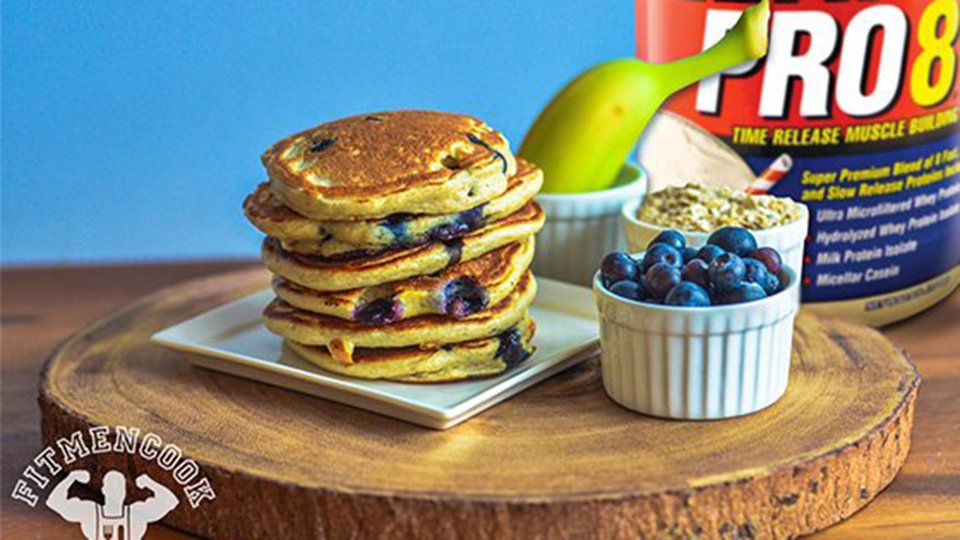 A simple nutrition plan will ensure you go the distance and have a lifetime of good health. There's no need to use store-bought pancake mix full of flour and sugar. All you need is oatmeal and Lean Pro 8. The creamy taste of Lean Pro 8 vanilla sets these protein pancakes apart from all others you may have tried. Be careful not to sample the batter&mdash it may not make it to the skillet. And yes, I'm speaking from experience. It's that good!
Ingredients
1 large egg whites
½ cup oatmeal, cooked
½ medium (7" to 7-7/8" long) banana
½ cup blueberries
1 tsp baking powder
1 scoop lean Pro 8 protein
Directions
Place raw, uncooked oatmeal in a blender or food processor and blend until it becomes fine flour.
Add eggs, banana, protein powder, and baking powder and pulse blend until smooth.
Toss blueberries into the batter and mix using a spatula or spoon.
Place a skillet on medium-high heat and measure out about 1/8 cup or 2 tbsp of batter per pancake.
Cover the pancakes while they cook to help the inside cook faster. Cook them for about 45 seconds to 1 minute on the first side, and then about 30-45 sec on the other side.