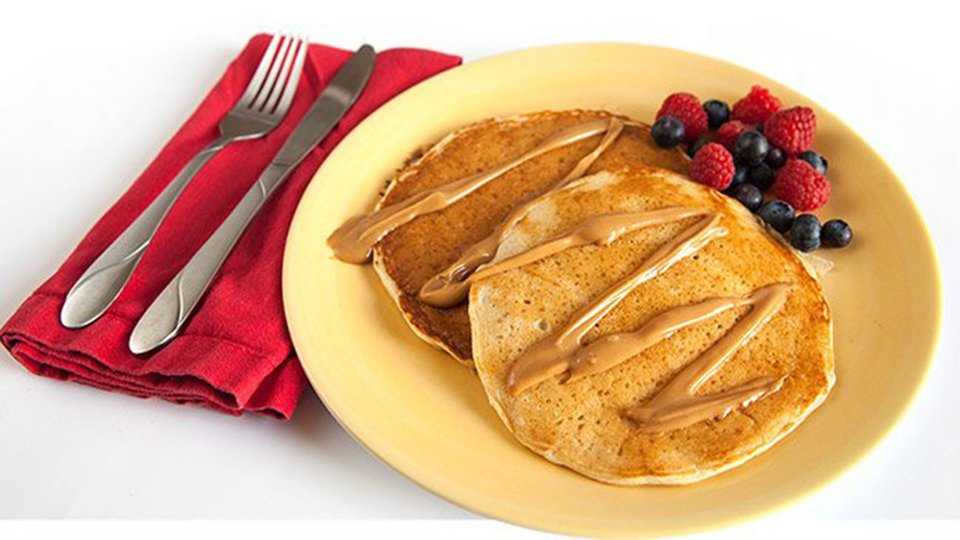 A great protein pancake recipe.
Ingredients
1 cup all-purpose flour
1 cup oat flour
1½ tsp baking soda
½ tsp table salt
2 cup low-fat Kefir, plain
1 cup skim milk
1 tsp vanilla extract
1 whole egg
2 large egg whites
3 tablespoon peanut butter, smooth, reduced fat
1 cup blueberries
Directions
In a large bowl, mix flour, oat flour, baking soda and salt. In another bowl, combine together the kefir, milk, vanilla extract and eggs; beat until well-blended. Next, add the dry mixture to the wet mixture until a moist batter has formed.
Pre-heat a skillet on medium heat and spray with non-stick cooking spray. Drop the batter onto the skillet by large tablespoon and cook for 1-2 minutes before flipping and cooking for another minute or two on the second side. Continue until all pancakes are completed.
Place the natural peanut butter in the microwave for 20-30 seconds to soften and then drizzle over pancakes; top pancakes with the fresh berries.