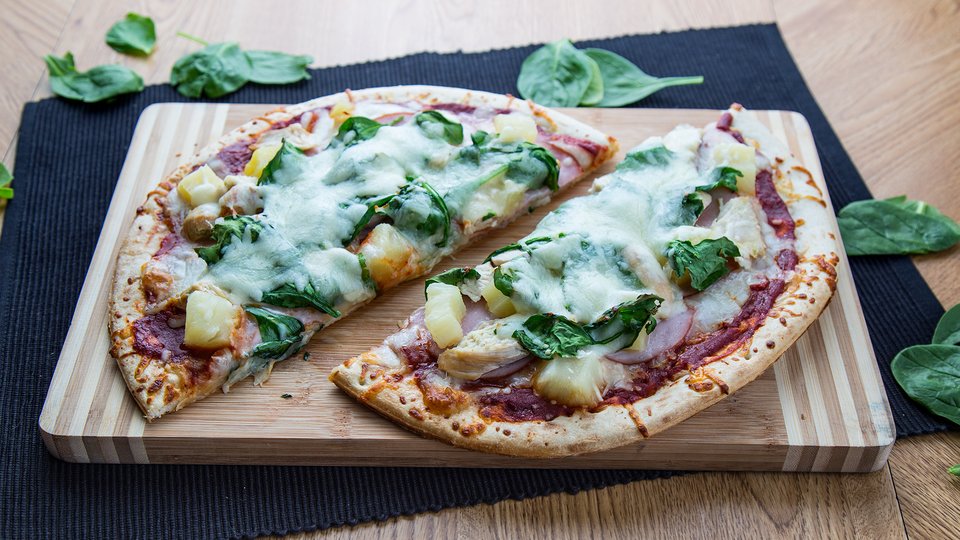 Although Hawaii may not be your top destination in the middle of bulking season, it certainly will be when shredding season rolls around! But when that time is many months away, why not enjoy a taste of paradise while simultaneously eating for your muscle-growth goals?
Ingredients
6 oz tomato sauce, canned
1 tbsp olive oil
2 cup mozzarella cheese
1⅓ slices (6 per 6-oz pkg.) canadian bacon
1 cup pineapple, raw
6 oz chicken breast
2 cup spinach
1 serving pillsbury pre-made thin pizza crust
Directions
Preheat oven per pizza crust package instructions.
Place pizza crust on lightly oiled cookie sheet
Spread olive oil evenly across crust.
Spread tomato sauce on top of olive oil.
Cover the crust with a thin layer of cheese.
Place Canadian bacon, pineapple, and chicken evenly across crust.
Top with spinach and remaining cheese.
Season as desired with garlic, oregano, salt, and pepper.