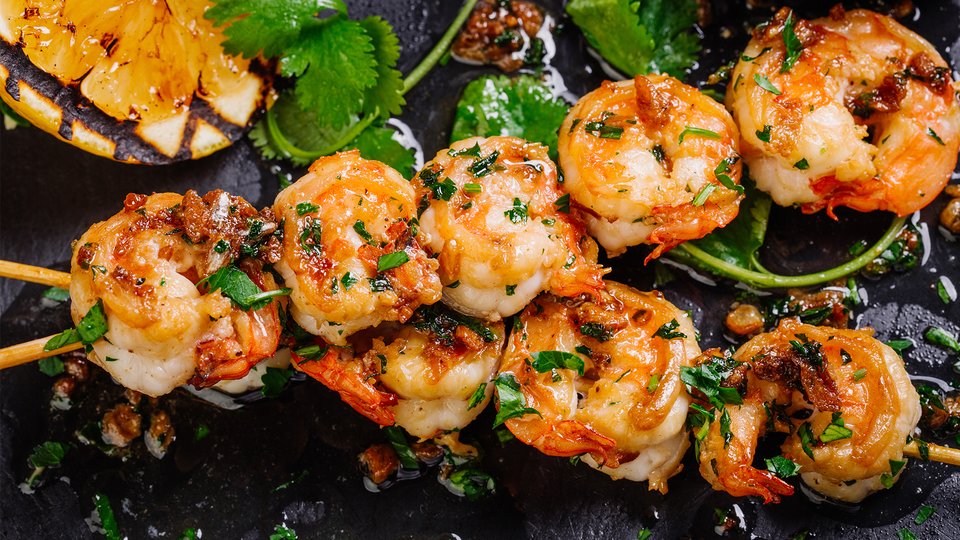 Whether you're trying to build muscle or blast fat, cast these simple spells to make meal planning a cinch. It might seem like magic, but there's no hocus-pocus!
Ingredients
2 tbsp olive oil
1 tbsp light soy sauce
1 tsp ginger, pureed
½ cup brown sugar
1 lb jumbo shrimp
1 whole yellow pepper, sliced
¼ cup, sliced onions
5 whole mushrooms, sliced
Directions
Mix together the oil, soy sauce, garlic, ginger, and sugar to make a marinade. Place the shrimp along with half the marinade in one Ziplock bag and shake to distribute. Let sit for 20 minutes. In another bag, place the chopped vegetables into the remaining marinade and let sit for 20 min.
Once finished, pierce ingredients on 3-4 skewers, alternating shrimp and veggies. Place the skewers on the grill and cook for 4-6 minutes, or until shrimp is done, rotating throughout cooking time.
Serve with wild rice if desired.