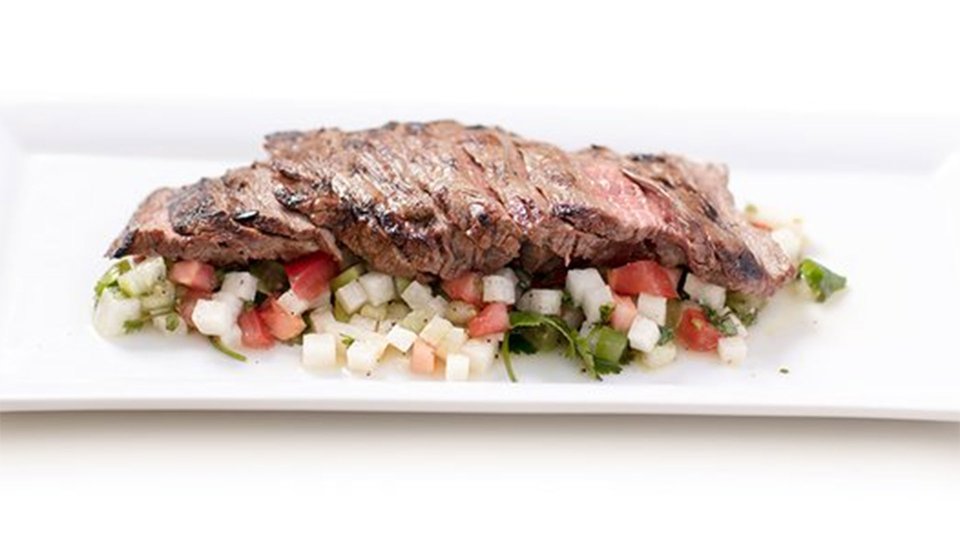 The tuber jicama is a great base for a steak-paired salsa. Its crisp texture and fresh taste make it the perfect base for the tomato and tomatillo blend. Whip the salsa up the night before to give the flavors time to meld.
Marinade Ingredients
8 oz flank steak
1 tbsp jalapeno pepper, diced
1 tbsp lemon juice
1 tbsp garlic, minced
1 tbsp olive oil
Jicama salsa Ingredients
¼ cup, chopped or diced tomatillos
¼ cup slices jicama
¼ cup, chopped or sliced tomatoes
⅛ cup lemon juice
¼ cup olive oil
1 tsp cilantro
salt and pepper to taste
Directions
For the salsa, combine chopped tomatillos, tomatoes, jicama, oil, cilantro, and lemon juice. Add a pinch of salt and pepper.
Cover in plastic wrap, and place the salsa in the fridge.
For the marinade, combine a chopped jalapeno, garlic, oil, and lemon juice. Blend.
Allow flank steak to marinate overnight.
Grill or sauté for about 4 minutes on each side, or until internal temperature reaches 135 degrees F.
Cut steak at an angle.
Pro tip: If you find your cutting board sliding as you slice, place a wet paper towel underneath it to eliminate shifting.