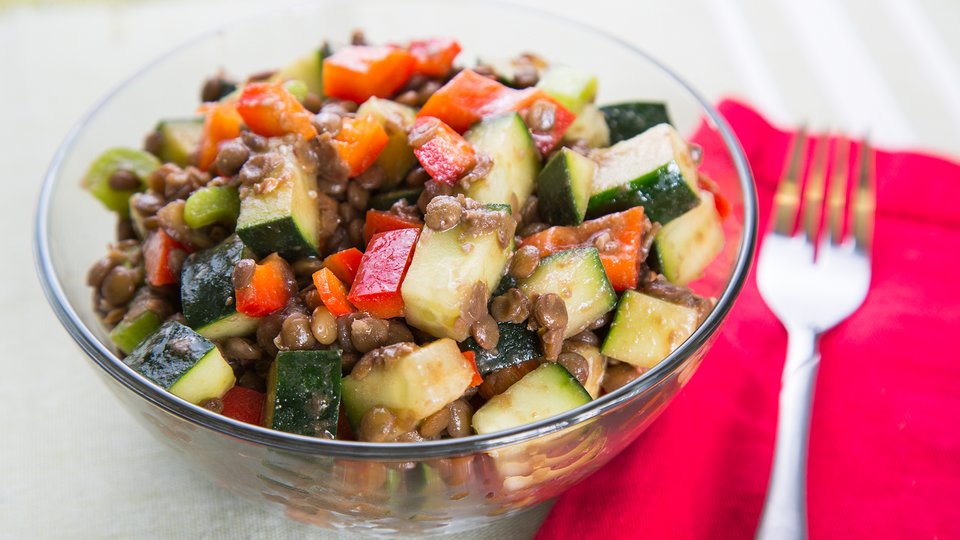 This cucumber lentil salad is a terrific lunch when you're on the go and don't have time to reheat a lunch in the office. Served cold, it's a delicious way to get your carbohydrates and protein in while giving you the energy you need to get through the rest of your day.
Ingredients
1 cup dried lentils
1½ cup water
2 clove garlic, chopped
1 whole bay leaf
½ tbsp mustard
1 tbsp balsamic vinegar
3 tbsp olive oil
1 whole medium cucumber, cut into 1/2-inch pieces
1 whole stalk celery, finely diced
1 whole red pepper, thinly sliced
1 cup reduced-fat feta cheese
Directions
In a pot, combine the lentils, garlic, bay leaf, and water. Bring to a boil, then reduce heat and simmer for about 15 minutes or until lentils are soft.
Drain the water and remove the bay leaf. Place in the fridge until cold.
Toss the refrigerated lentils with the celery, cucumber, and red pepper.
Mix together the olive oil and the balsamic vinegar.
Drizzle on top of lentil mix and toss.
Sprinkle with feta cheese and serve.