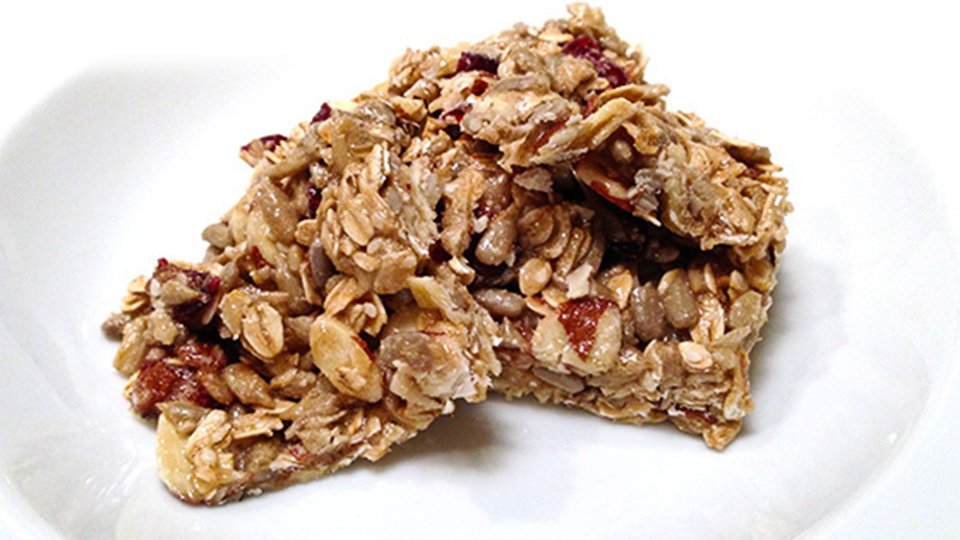 If you know you're in for a busy morning, make these bars the night before. They take less than 30 minutes and can be stored for a week. Grab one for those on-the-go days!
Ingredients
¼ cup raw oats
8 tbsp sunflower seeds
2 tbsp sesame seeds
¼ cup almonds, slivered
⅛ cup dried cranberries
2 scoop vanilla protein powder
⅓ cup honey
3 tbsp brown sugar
Directions
In a bowl, combine oats, seeds, nuts, cranberries, and protein powder.
Heat honey and brown sugar in a small skillet over medium heat until bubbling. Stir in the seed mixture until well-coated.
Pour mixture onto a sheet of parchment paper lightly sprayed with non-stick spray. Cover with another sheet of coated parchment paper.
Press mixture together until it forms a large rectangle.
Let sit for 30 minutes, remove paper, and cut into squares.