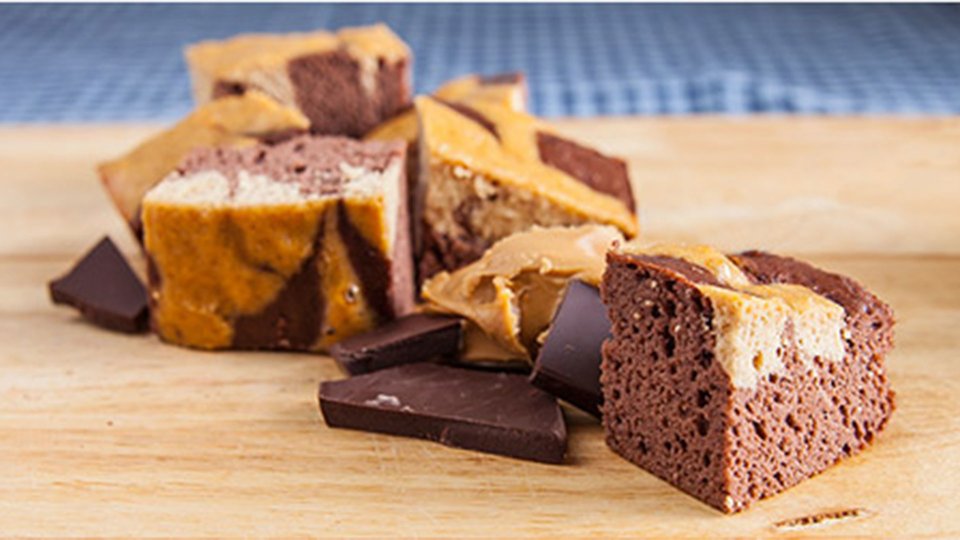 If you love the combination of chocolate and banana, you'll go absolutely bananas for these bars. Created by Jaime Baird, Online Editor-in-Chief of FitnessRx for Women and IFBB Bikini pro, these bars combine the perfect amount of protein and carbs to serve as a post-workout treat. Even if you aren't coming out of a workout, you can still nosh on them anytime during the day. They're perfect for keeping around in the fridge or freezer.
Ingredients
3 scoop gaspari Nutrition Myofusion Advanced Protein
½ cup brown rice flour
½ tsp baking powder
1 banana
½ cup water
⅔ cup egg whites
1 scoop(s) vanilla whey protein powder
4 tbsp powdered peanut butter
¼ cup egg whites
Directions
Preheat the oven to 350 degrees.
Combine the chocolate MyoFusion, brown rice flour, and baking powder in a bowl.
In a blender, combine the ripe banana, water, and 2/3 cup egg whites. Stir in the dry ingredients until well-mixed.
Spray a glass baking pan with non-stick spray and pour batter into the dish.
In another bowl, combine the vanilla IsoFusion with peanut butter powder and 1/4 cup egg whites.
Pour this mixture onto the chocolate batter in straight lines.
Run a knife across the batter to create the swirled appearance.
Bake for 13-15 minutes, or until you can insert a toothpick in the center section of the bars and it comes out clean.