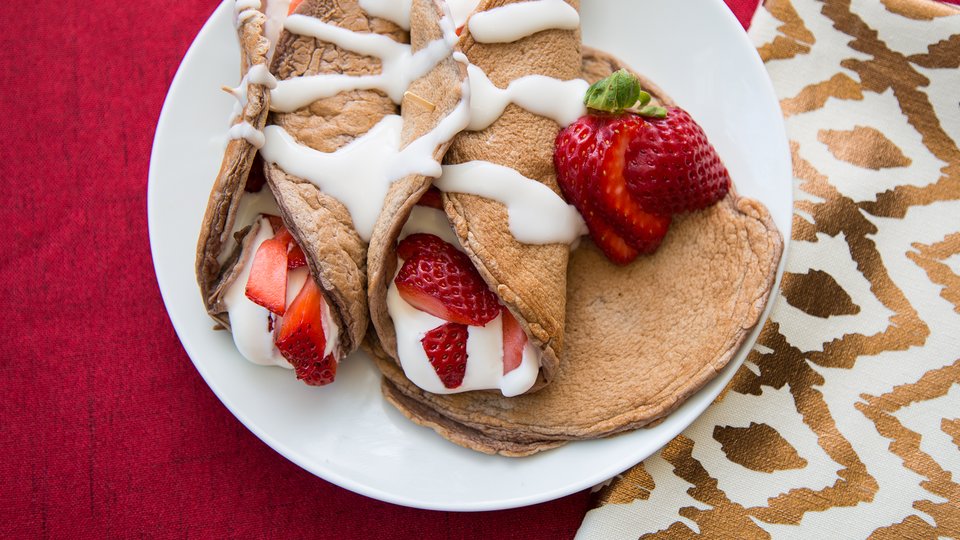 This high protein, lower carb recipe is sure to please and won't weigh you down for the rest of the evening.
Ingredients
1 scoop(s) chocolate protein powder
4 large egg whites
1 cup, fluid (yields 2 cups whipped) heavy whipping cream
1 tsp vanilla extract
¼ scoop vanilla caramel protein powder
2 cup strawberries
½ scoop(s) vanilla whey protein powder
Directions
Mix together the chocolate protein powder with egg whites to form a very thin batter. Pour this batter over a non-stick sprayed skillet and cook as you would a normal pancake. You should have enough batter for two large crepes.
Meanwhile, whip the whipped topping and vanilla extract. Once soft peaks have formed, add in ½ scoop of vanilla protein powder for added flavor.
Spoon this over top of the crepes and then place over sliced strawberries. Roll up and then after mixing a small amount of water to the caramel protein powder, drizzle this sauce on top and serve with a sprinkling of powdered sugar or sweetener.