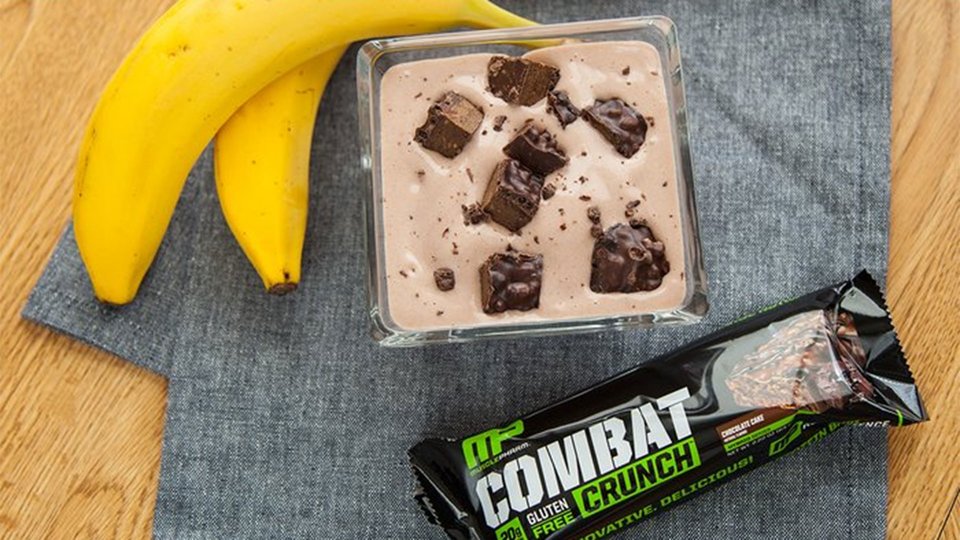 Chocolate. Cake. Ice cream. Do you really need to continue reading? This high-protein treat is not only delicious, it can be easily customized to meet your macros. Plus, if you eat it soft-serve style rather than refreezing it for later, it will go down even easier. Bonus points if you eat it right out of the blender. Maybe you'll finally hit your daily calorie goal after all.
Ingredients
1 banana
½ cup milk (2% fat)
½ scoop MusclePharm Combat Power, Vanilla
2 tbsp natural peanut butter
1 bar MusclePharm Combat Crunch Bar, Chocolate Cake
Directions
Cut the banana into coin-shaped slices, freeze it overnight, and place the protein bar in the fridge.
Add the banana and milk to a blender and blend to a creamy texture. You may need to blend, then hit pause and use a spoon to move the bananas around so that they "catch" the blender blade. Keep blending, adding a splash more milk if necessary, until the texture really is creamy. Stay patient. It's worth the wait.
Add the whey protein and peanut butter to the blender. Pulse until all the ingredients are incorporated.
Chop the protein bar into chunks, add the chunks to the ice cream, and blend again.
Enjoy immediately as soft-serve, or place the ice cream back in the freezer for an hour for a more traditional ice cream texture.