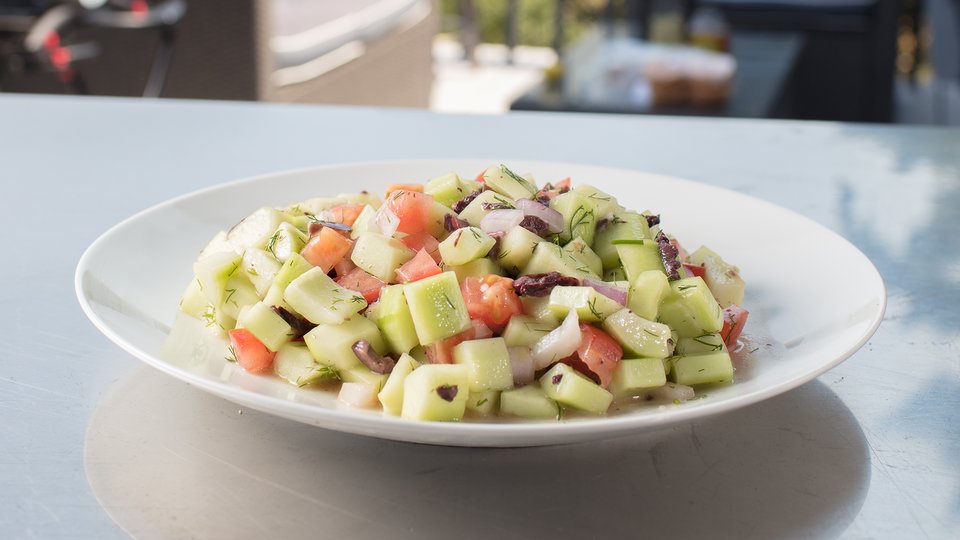 Robert Irvine's summer cucumber salad is a simple, elegant and fresh accompaniment to any meat, fish, or sandwich.
Ingredients
1 cucumber (8-1/4") cucumber, chopped
¼ whole red onion, sliced
1 small whole (2-2/5" dia) tomato, diced
1 tbsp dijon mustard
3 tbsp grapeseed oil
3 tbsp rice wine vinegar
¼ whole lemon, cut into wedges
⅛ tsp lemon zest
1 sprigs fresh dill
1 pinch table salt
6 olive kalamata olives (pitted)
Directions
Add cucumber, red onion, tomatoes, olives, and pinch of salt to a bowl. Mix gently. This is your salad.
In a separate bowl, whisk Dijon mustard and grapeseed oil until emulsified (well mixed). Whisk rice wine vinegar and the juice of one lemon wedge, in that order, into the Dijon and grapeseed emulsification, then add lemon zest. This is your dressing.
Add dressing to the salad, followed by a pinch of dill. Mix, then serve.