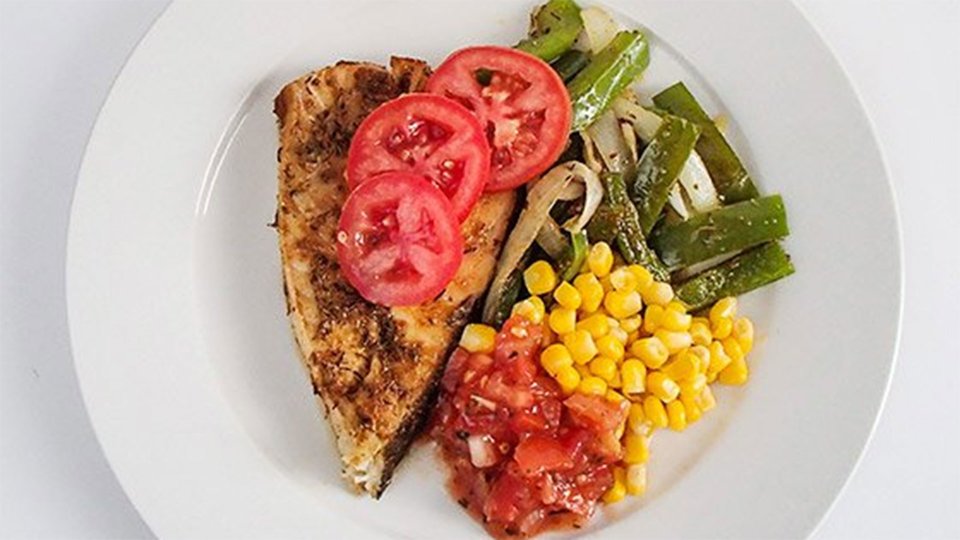 This Cajun-style meal is sure to please your taste buds and offer up plenty of antioxidants in the form of corn and salsa. The added cayenne pepper is ideal for people looking to boost their metabolic rate a few hours after consumption since it contains capsaicin—the same lipophilic chemical found in chilli peppers—which offers a nice spike to your metabolic rate.
Ingredients
1 tsp table salt
½ tsp, ground oregano
½ tsp cayenne pepper
½ tsp paprika
½ tsp garlic, minced
½ tsp, ground thyme
12 oz halibut
1 tomato, diced
1 green pepper, cut into strips
½ onion, sliced
2 tbsp olive oil
2 cup corn
½ cup salsa
Directions
In a small bowl, combine the sea salt, oregano, cayenne pepper, paprika, thyme, and 1 tbsp olive oil. Rub onto the halibut and let sit in the fridge for one hour (or, for more flavor, overnight).
Heat a large non-stick skillet over medium heat. Add remaining 1 tbsp of olive oil and, once it's heated, add halibut fillets, diced onion, garlic, and green pepper.
Cook for about 3-4 minutes, flip, and then cook for another 3-4 minutes on the other side (or until fish flakes easily with a fork).
Top with tomato slices and serve alongside corn and salsa.