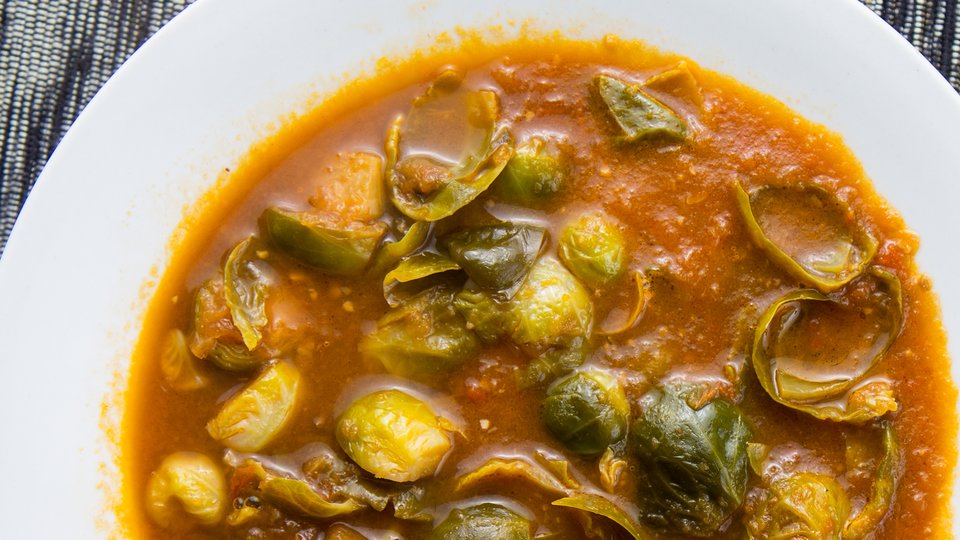 Who knew you could make soup from Brussels sprouts? This tomato-based recipe is tasty—and keeps in the fridge. Make a big batch and serve it whenever hunger strikes.
Ingredients
1 lb brussels sprouts
2 clove garlic, minced
1 red onion, sliced
3 tomatoes, sliced
½ tsp ginger, minced
1 tbsp olive oil
1 cup low-sodium vegetable broth
½ tsp crushed red pepper flakes
½ tsp cayenne pepper
salt and pepper to taste
Directions
Wash the Brussels sprouts very well. Trim the nubby ends, remove any discolored leaves, and cut into bite-size pieces.
Heat the olive oil in a pot over medium. Add the onion, garlic, and a sprinkle of salt. Cook for about two minutes, stirring occasionally, until the onions are soft and transparent.
Stir in the ginger, tomatoes, and red pepper flakes and cook until fragrant—about one minute.
Let cool, then transfer this mixture to a blender and purée until smooth.
Bring 2 cups of water to a boil in a medium saucepan. Add the Brussels sprouts and the vegetable broth, and bring to a simmer. Cook the Brussels sprouts until tender.
Transfer the puréed soup to a saucepan, add the cooked Brussels sprouts and broth, reduce the heat and simmer for about 15 minutes to give the flavors time to meld.
Ladle soup into bowls. Top with your favorite garnish, and serve.