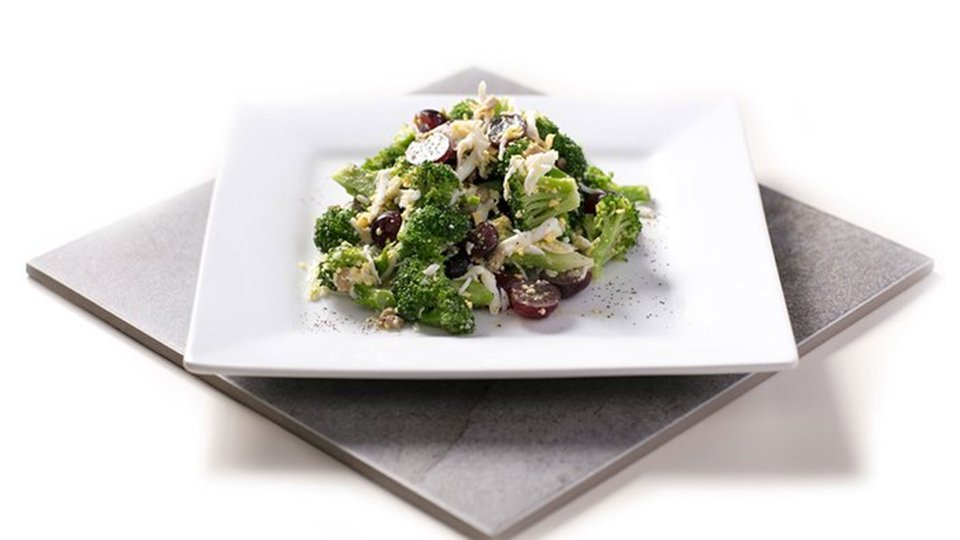 Because it's so rich in antioxidants and fiber, broccoli is a true nutritional powerhouse. With vibrant green broccoli as the base, this salad pumps up the protein with egg, adds a touch of sweetness with grapes, and includes a bit of crunch with sunflower seeds.
Ingredients
4 oz broccoli, steamed
1 oz red grapes
1 hard-boiled egg
½ orange juice, fresh squeezed
1 tbsp olive oil
1 tbsp rice vinegar
1 tbsp sunflower seeds
salt and pepper to taste
Directions
Separate broccoli florets from the stems.
Blanch florets in boiling, salted water for about two minutes. Refresh in cold water.
Add sliced grapes, grated egg yolk, and grated egg whites. Add seeds.
Combine olive oil and rice wine vinegar. Mix with a whisk to form the base of your dressing. Add salt and pepper, then squeeze in orange juice.
Add dressing to dish. Plate and serve.