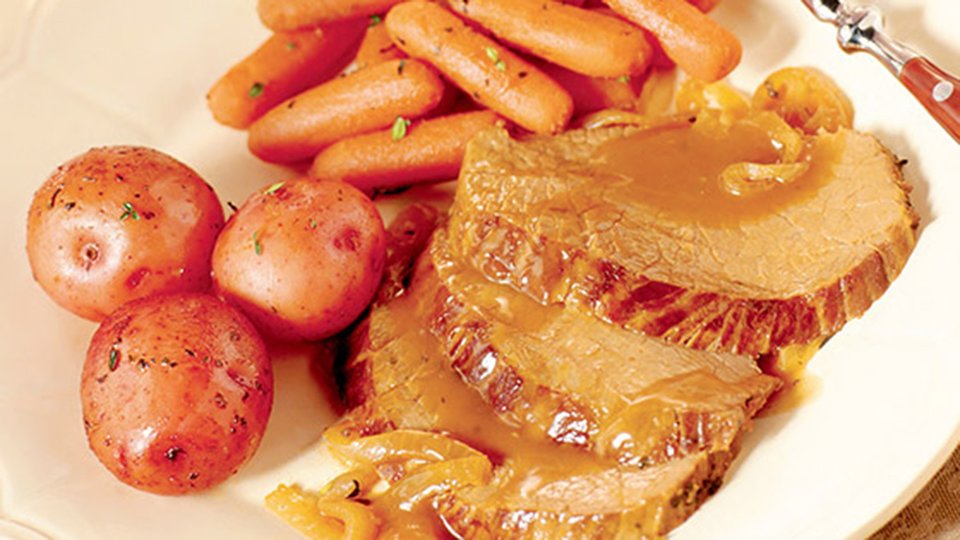 It only takes about 20 minutes to prepare this meal, but the cooking time can be up to 10 hours. You place the ingredients in a crockpot, set it to cook on low, and leave it for the day.
Ingredients
1 roast (yield from 627 g raw meat) beef, round, bottom round
2 whole onion, sliced
2 tbsp paprika
½ tsp, leaves basil, dried
½ tsp, leaves oregano
½ tsp, leaves thyme
3 clove garlic, minced
½ cup water
½ cup red wine vinegar
2 cube beef Broth
¼ tsp, ground black pepper
5 cup chopped carrots, raw
5 cup, diced red Potatoes
Directions
Lightly coat a large skillet with cooking spray and place over medium-high heat. Add roast and brown on all sides, about 3 to 5 minutes per side. Place browned roast in crockpot.
Add onion slices to skillet and cook, stirring occasionally, until golden, about 5 minutes. Add paprika, basil, oregano, thyme, and garlic; cook 2 more minutes. Place onion mixture over roast in crockpot.
Add water, wine, broth, black pepper, carrots, and potatoes to crockpot. Cover and cook until tender, about 10 hours on low heat or 5 hours on high heat.
Remove roast from the crockpot and set on cutting board. Use a large spoon to skim fat off cooking broth.
Slice roast and place a portion on each plate along with a portion of potatoes and a serving of carrots. Top sliced roast with a couple spoons of broth. Serve and enjoy!