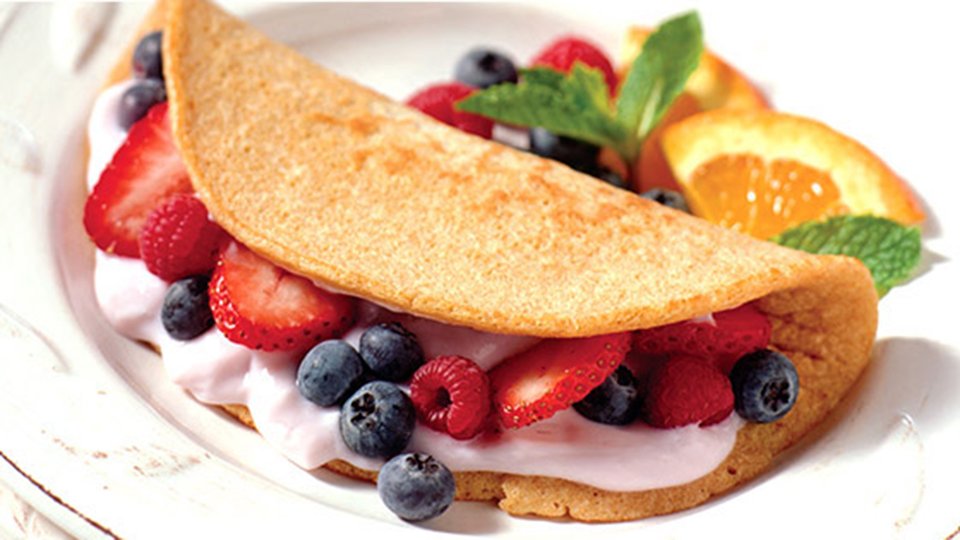 Some foods, like crepes, seem like they'd be a lot of work, but once you try making these protein-rich delicacies, you will never look at breakfast snacks the same! Plus you get bonus points around the kitchen for answering the call for sweet things without ruining your gains with sugary treats.
Ingredients
¼ cup liquid egg whites
¼ cup skim milk
⅓ cup whole-wheat flour
½ tsp sugar
½ cup plain Greek yogurt
1 scoop vanilla protein powder
1 cup strawberries
Directions
In a medium mixing bowl, whisk the egg substitute, milk, flour, and sugar substitute until well blended.
Lightly coat a small nonstick skillet with butter-flavored cooking spray and place over medium heat.
Pour half of the crepe batter into the heated skillet, then quickly lift and tilt the skillet to spread the batter. Return to heat. When the edges of the crepe are dry, carefully flip it over and cook until lightly browned, about 2 minutes.
Place crepe on a small plate and repeat with remaining batter.
In a small mixing bowl, combine yogurt and protein powder; mix well. Divide filling into two portions and spoon into crepes. Top each with half of the berries. Fold the crepe over the filling, serve and enjoy!