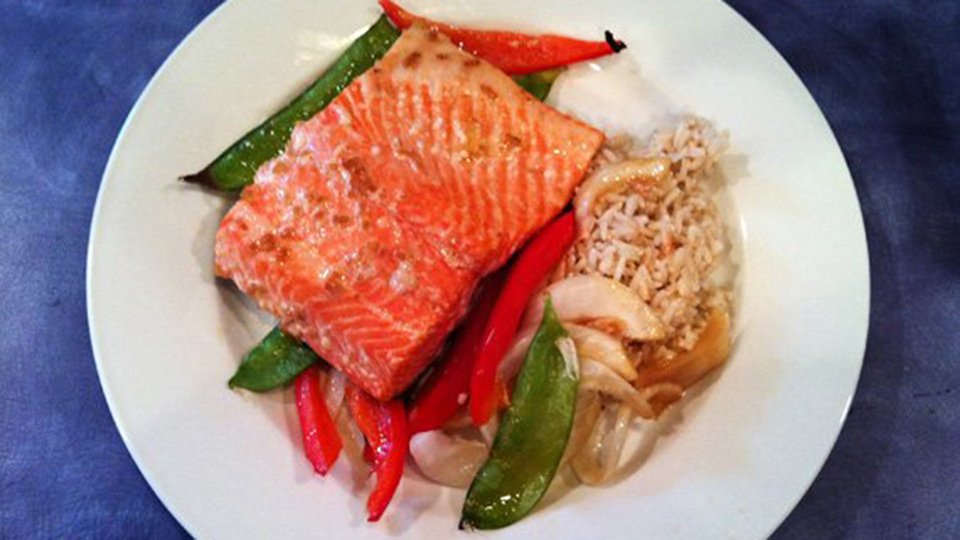 Get your vitamin C and a great, tangy taste with this recipe. Because it's served with brown rice, it's a good option for long-term energy.
Ingredients
1 fillet salmon fillet
1 cup, chopped red bell pepper, sliced
½ whole onion, sliced
2 tbsp olive oil
2 Tbsp rice wine vinegar
2 tbsp light soy sauce
2 tbsp brown sugar
½ tsp splenda
3 cup brown rice
1 tsp garlic, minced
½ cup snow peas
Directions
In a bowl, whisk together olive oil, rice vinegar, low sodium soy sauce, brown sugar, Splenda, and minced garlic.
Place salmon and sliced vegetables in an oven-safe dish and drizzle with sauce.
Place in the fridge for about an hour to allow the sauce to marinate the salmon.
Bake salmon at 350 degrees F for about 30 minutes, or until the salmon flakes easily with a fork.
While baking, prepare brown rice according to package directions.