Bariatric Surgery Wasn't Enough | From Little Guy to Morbidly Obese | I Dropped Dead of a Heart Attack | Lifting Her Way Out of Grief | At 600 Pounds, Change Was Possible | How a Car Crash Created Change | The Incredible Shrinking Man | If You're Obese, Your Life Is Not Over | Eating Was the Only Way I Could Cope
Two years ago, Jeancarlo "JC" Danies weighed more than 430 pounds. He went to see his cardiologist, and the news was grim. Faced with the prognosis that he had only two years to live, JC decided he had to do something about it. He made the choice to lose the weight, not just for his own life, but for the sake of his wife and 4-year-old son.
Here, in his own words, is JC's story of how he transformed his life and what it took to achieve this incredible weight loss.—H.E.
Back in January of 2019, I went to the cardiologist because my ankle was turning purple and there wasn't a lot of blood flow in the area. At the time, I weighed 431 pounds, and my life was just from the bed to the sofa, the sofa to the dinner table, back to the sofa, then back to bed. I would shower every other day, and I couldn't tie my shoes—my wife had to tie them for me.
The cardiologist said, "If you keep doing what you're doing, you'll be dead in two years." I left crying.
And then it hit me: I needed to do something about this.
"I Discovered I Could Do Things I Thought I Couldn't"
The first thing I did was see a nutritionist. She pretty much taught me how to eat again. She put me on a paleo menu. It wasn't super-strict paleo—just protein, veggies, fats. I cut out sugars and unhealthy fats. I also started walking around my neighborhood. I kept increasing the distance I walked until I could get into the gym, and once I could do that, I did 30 minutes of cardio.
I didn't give up all my favorite foods at the beginning. I was very strict Monday through Friday, and Saturday, if I wanted to have a doughnut or get out of the diet, I would do it.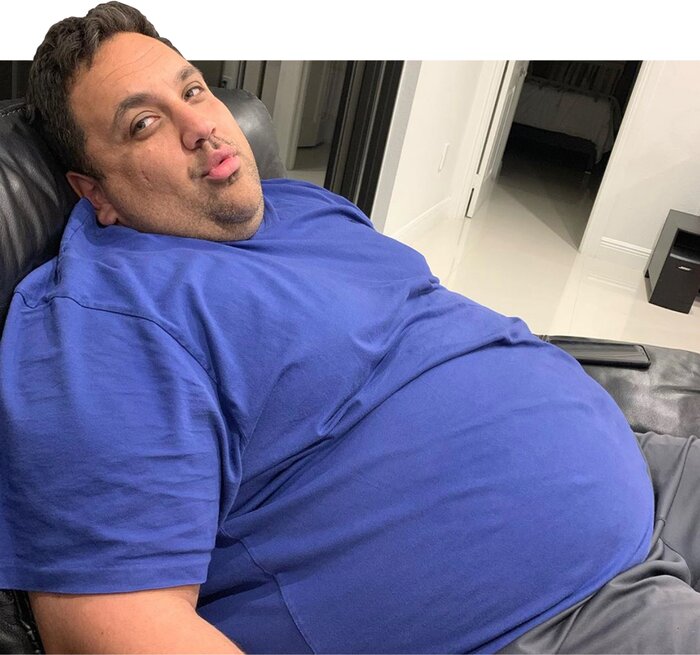 In the beginning, I wasn't lifting weights. I told myself, "Until I see 299 on the scale, I'm not going to do any weights." Then my weight stalled right at that 300 mark, and I couldn't get down to where I wanted to be.
I got discouraged, and in a matter of weeks, I put on 13 pounds. I was like, "No, this can't happen again." So I joined a gym, and I started doing more exercises. I discovered I could do things I thought I couldn't: bend over, jump, sprint. That gave me the push for the next year to keep going and keep going hard. I also used Bodybuilding.com as a resource. I was mostly on the forums, talking to other people, trying to get ideas and inspiration.
"I Heard Everyone Gasp, 'Oh, My God!'"
As I got more serious and saw some incredible changes in my body, I knew I wanted to compete. I hired a trainer. I just closed my eyes and did whatever he asked. If it made sense, great. If it didn't make sense, I didn't care. I just got it done.
There were moments when I would close my eyes and picture myself onstage getting a medal or getting the trophy, and I would cry. Once I did 180 leg extensions without stopping. It gets to a point where you don't feel any more pain. That's how powerful the mind is.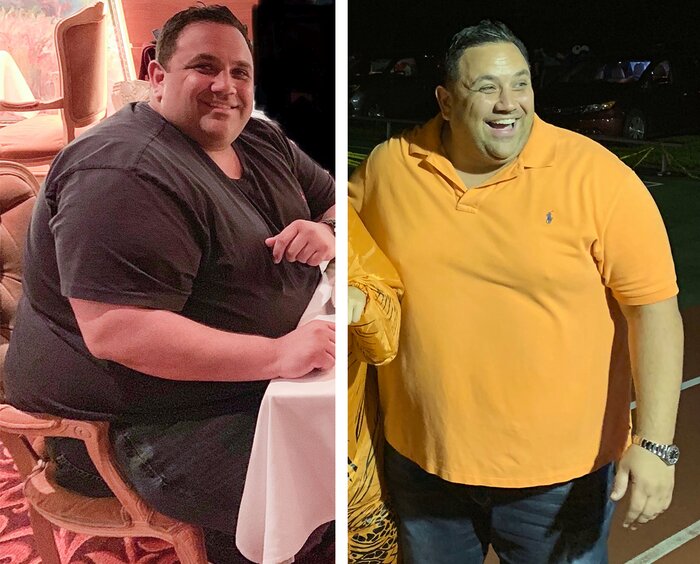 I competed earlier this year in the WBFF, which has a transformation division. They put up your "before" picture on the big screen in the back before you walk out. As soon as I walked onstage, I heard everyone gasp, "Oh, my God!"
I had lost over 210 pounds. I went from 431 to standing onstage with abs.
It felt really good to step onstage. I didn't feel insecure, and I would recommend it to anybody. It will definitely lift up your ego. You feel like you accomplished something.
I won my division and qualified for worlds, where all the winners will compete to see who is number one in the world in transformation. The experience turned me into a person who knows I can do whatever I want. Whatever I put my mind to, it's getting done.
"Whatever You Do, Don't Give Up"
Making such a big change wasn't easy. You have to ask yourself: Why are you doing it? Use that as fuel. My why was my son. I know it sounds corny, but it's true. I wanted to give him that medal. That was my goal. Whenever I didn't want to do cardio, whenever my legs would hurt, I would just think of him.
Weight loss is hard, but, if you get to a point where you're stuck or discouraged, find something that makes it challenging, that makes it fun. Start slow and make little changes over long periods of time.
Whatever you do, don't give up. I know it sucks. I know it's boring—but you've got to do it. Once you start making progress, you're going to want it. You're going to get sucked in. I got sucked in, and I love it!
I want people to know that just because you're obese, life is not over.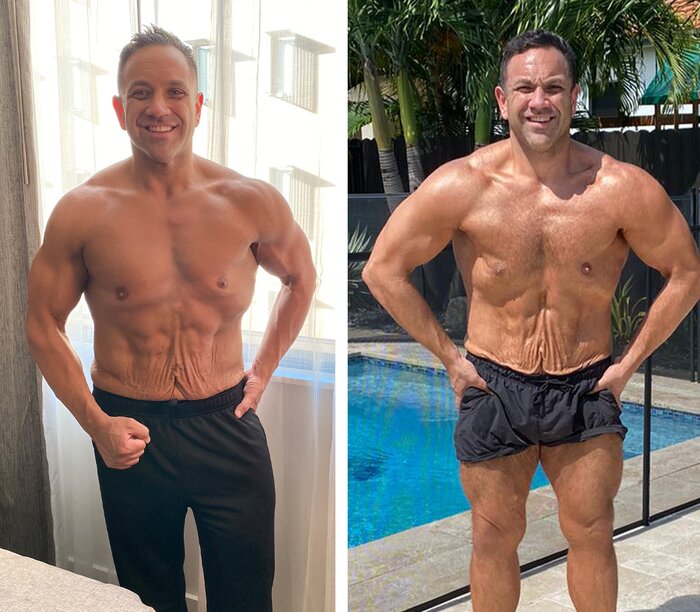 JC's Top-5 Fitness Tips
1. Use chopsticks—and not just for Chinese takeout.
I was eating with a lot of anxiety, just pounding food, when my nutritionist said, "Why don't you try eating with chopsticks?" I thought, "OK, I'll give it a shot." It slowed the speed at which I was eating, which meant I felt full faster because it gave that signal time to reach my head.
2. Mimic sugary, fatty desserts using protein powder creations.
To satisfy my sweet tooth, I found recipes for protein cakes, protein popsicles, protein pancakes. Every time I got hungry, I'd take a scoop of protein powder purchased at Bodybuilding.com and make a protein cake. Those little sugary things helped me stick to the plan.
3. Commit to doing a competition.
Nothing says accountability like announcing plans to compete onstage. You don't have to be ripped to the bone. Some federations, such as the WBFF, now host transformation divisions, where you're judged on progress, not perfection. And isn't that what fitness is all about?
4. Don't give up on yourself.
You can't give up on yourself. Whatever goal you have, you are worthy of achieving it. You're worth it—you can do it.
 5. Find fitness activities that make you want to come back for more.
As soon as I found something that I enjoyed doing and was having fun, it took me out of the negative mindset. For me, that was lifting weights at the gym.
You can follow JC's progress on Instagram @fatfree.jc and on his YouTube channel, Fat Free With JC. To find a workout plan for your own transformation, check out BodyFit. If you want to share your success story with us to be considered for publication, send an email to​​​​ transformations@bodybuilding.com.