Bariatric Surgery Wasn't Enough | From Little Guy to Morbidly Obese | I Dropped Dead of a Heart Attack | Lifting Her Way Out of Grief | At 600 Pounds, Change Was Possible | How a Car Crash Created Change | The Incredible Shrinking Man | If You're Obese, Your Life Is Not Over | Eating Was the Only Way I Could Cope
David, a former high school wrestler, had to give it all up after an injury ended his athletic career and resulted in him gaining a lot of weight. At his largest, he tipped the scales at 272 pounds while building his career as a rabbi and educator.
Feeling like a powerful athlete trapped in a heavy, obese body, David finally reached a point where enough was enough. In just 6 months, he lost over 120 pounds and went from a 5XL to a small. Trading his Crocs for running shoes, David now runs half marathons and puts his newfound athleticism to work as a mover.
Regrets? David has none. His journey brought him to where he is today, and he is more fit now than ever before.
Here is David's story.—H.E.
My childhood was, I would say, somewhat normal. I started off with soccer as a little kid, and we come from kind of a wrestling family, so I always knew I was going into wrestling.
By junior high I was wrestling more seriously and at that age weighed about 100 pounds. So I was a little guy on the team, but I actually made varsity as a freshman. I really wanted to be a top wrestler. That was my goal, to go to college on a D-1 scholarship. But, again, I was just a little guy.
Between sophomore and junior year, I worked at Papa John's pizza, and they would give me a large pie to come home with. This made it easy to gain weight. So, cut to junior year, I started off at 165 and I really was all muscle. I was the strongest in my school. I was bench pressing around 350 pounds, and I was really, really strong.
From Strong Middleweight to Morbidly Obese
Unfortunately, early in my junior year, I dislocated my elbow. I quit wrestling because of the injury, which meant I wasn't in the weight room anymore and I wasn't training. But my eating didn't stop. I was still doing the large pizza every night. By senior year I was about 190. I still looked pretty muscular, and I was, but looking back, that's where it started.
So, I went to college and, well, the freshman 15 turn into a little more than that. I got my own apartment, and weight came on even more quickly. By the time I was 25 years old I was up to about 230 pounds.
I moved to Israel right around that time. You can imagine the dormitory life and a guy in his 20s. Every year I probably gained about 10 pounds, and soon enough, I wound up at about 270 pounds. I went from little guy, to strong middleweight guy, to overweight guy, to morbidly obese and formerly strong guy.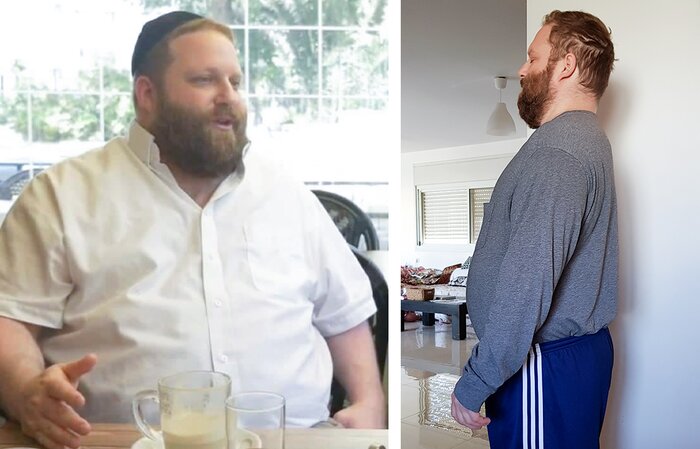 At that point, I just lost my zest for life. It was a very destructive path. I was so young, and I was only out of lifting for a year before it felt like it was all gone.
When I was at 270, my nickname was "Big Dave." I was that guy telling stories about my wrestling and living in the past. Dating became an issue. I was going out with people, but I didn't feel right. Everything was about this fat guy, but inside I still felt like the wrestler in me was trying to escape.
Most religious scholars listen to biblical, meditation-type music, but as a rabbi scholar in my 20s, I was listening to AC/DC's "Thunderstruck" and Metallica. I was studying, but that fit guy in me, that hard-training guy, was still trying to come out.
It Was Too Much
The moment I decided to make the change probably wasn't what you'd expect. It was the summer of 2018, I was 270 pounds and working American hours from Israel, staying up until about 3 in the morning.
So, I was up at 3 a.m. raiding the fridge, making burritos—not even a good burrito, I was just pouring the stuff into the tortilla to microwave. It was disgusting.
I remember throwing myself around, because to walk at that weight, you have to throw it around. I hated going to bed. I felt like I was trapped in this body and couldn't move. It was all I could do to just turn over!
Finally, I just decided it was too much.
Not Just a Question of Luck or Hope
But where to start? As an inquisitive rabbi scholar, I thought "I don't even know what a calorie is." I knew Weight Watchers talked about it and Jenny Craig talked about it, but I didn't know what it really was. So, I Googled it and found the biggest gem I ever found: this thing called a "calorie deficit."
Creating a calorie deficit is simple: 3,500 calories is one pound. If you lose 500 calories a day over seven days, that's 3,500 calories, and you lose a pound.
Sure, it's not quite that simple. But the most important thing was that I realized in that moment that losing weight wasn't just a question of luck or hope. You can actually take your life in your own hands and do something about it.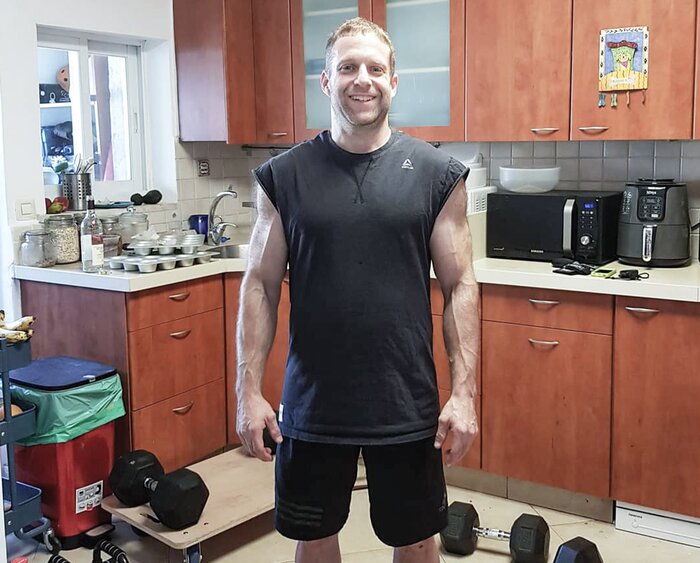 I also quickly realized that my first problem wasn't how to lose weight but how to stop weight gain. If I was eating 5,000 calories and I knocked off 500, I'd still be eating over double the normal amount of calories.
So, step one wasn't the calorie deficit, it was what I call "get normal." Once I knew what normal was, I could knock off 500 from there.
That was a big realization. It made me see that it's not normal to eat a whole pizza. It's not normal to eat the whole batch of cookies. You don't start by "losing" when you're eating 5,000 calories a day. The start is to stop gaining.
I Wanted to Kill the Obese Guy
The biggest blemish to my rabbinic work was people attacking me for my weight. They would literally post pictures and make fun and mock me. What's ironic is I used all of that as fuel. I wanted to kill the obese guy more than those guys wanted to.
I don't ever want to be in that spot again. I still use it every single day as motivation to get up, work hard and sweat, and fuel the fire to move well beyond him. Anything he didn't do, I'll do. He wouldn't run up a hill, so I'll run up the hill. He ate this and that, so I don't eat this and that.
When I started my transformation, I was staying up until 3 a.m. I decided to reverse it; I'd go to bed at 8 p.m. and wake up at 3 a.m. to teach online American hours, then go open the gym with all the old people at 6 a.m.
I noticed all the old people would go to the recumbent bike, so I'd find myself battling for my spot on that bike or my workout would be ruined. I had to learn locker room discipline. I had to have a plan to efficiently get on the bike within 7 minutes, because otherwise they were all going to be gone.
I started on level one, the lowest setting, and just for 20 minutes. Recumbent bike was the main thing, then I'd lift some weights, get into the hot tub, and go home and relax.
I built my calorie deficit doing intermittent fasting, so I wouldn't eat until 11 a.m. I would make a 600-calorie smoothie, then fast again until dinner. Go to bed, wake up, do it again.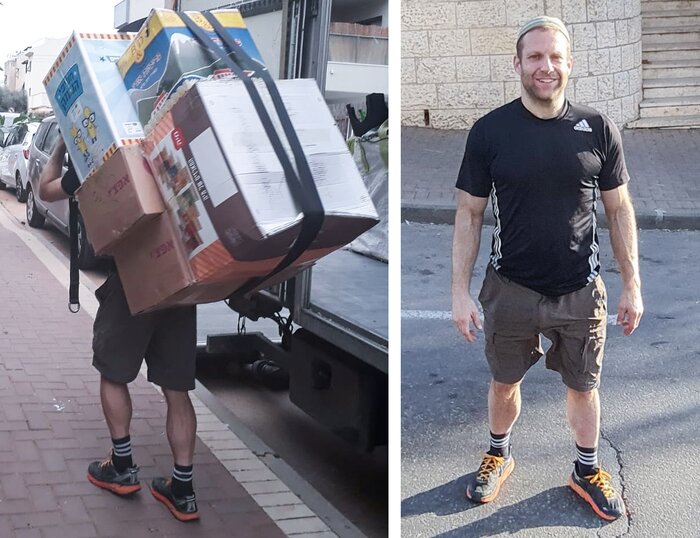 My Body Wants to Be a 300-lb. Powerlifter
With this approach, I began to predictably lose 10 kg—over 20 pounds—every month. I stopped making dumb food mistakes, and I stopped being sedentary.
Very quickly, I was to about 118 kilos and I able to buy extra-large clothes, which meant I could go to the regular mall and not the big-and-tall store. Then I went from XL to large, large to medium, and medium to small. Sometimes my weight loss happened so quickly, I would buy a shirt and never have a chance to wear it because by the time I put it on it was already too big.
I still struggle to understand my transformation because it happened so fast. The transformation was six months of weight loss from July of 2018 to January of 2019. Then I met my wife, got engaged, and then married that summer.
After all that, though, I still know my body wants to be a 300-pound powerlifter. That's what it wants, but I'm not letting it. It would be easy to let my body get totally huge. That's how I got into this—my stomach never says no.
This is why I'm a hybrid athlete now. I've made myself a carbohydrate-driven runner. I make muscles my secondary option and running is my first option. I've actually run a half-marathon, and hopefully in April I'll be running my first full marathon.
The muscles will always be there. They're my first love—that's the wrestler in me. And my ability to eat will always be there. But I'm making myself a runner, and the results are amazing.
It's Tough to Transform So Quickly
I haven't worn jeans since I was a kid, and I didn't wear socks or tie my shoes for 20 years. Then when you lose weight, you get to wear all those things you never got to wear. At 42, I'm still figuring out what socks to wear, what kind of jeans to wear, what kind of T-shirts. It's all strange to me. I used to be a loud snorer, now I don't make a peep.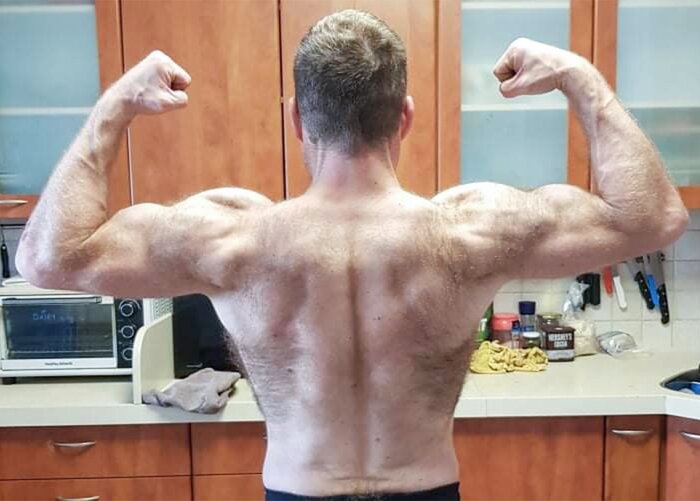 People don't realize how far I've come. They see a marathon runner in the neighborhood running fast around the street, but in my mind I'm one step away from the guy who couldn't tie his own shoes. People don't get it.
There are so many changes on the micro and macro level, and I'm nowhere near done. Every day is more change and more transformation.
I spent 20 years developing my mind at the expense of eating horribly. But I have no regrets—none. My journey and my life story is testimony that everybody can stop weight gain, then lose weight and take back their lives.
David's 5 Tips for Losing Weight
1. Get Your Calories to Normal
Everybody can get from 5,000 or more calories down to 2,000. You can do that—there's no question. And when I did, I didn't have to wait three months for the results to start. It wasn't a starvation plan, it was an "eat normal" plan. Eliminate dumb mistakes like two-liter bottles of cola, and you will find 2,000 calories easily.
2. Don't Be Sedentary
I don't consider myself an athlete. But what I do consider myself is "not sedentary." Every day I wake up and I make sure I'm not sedentary. If that means go to the gym at 6 a.m., go to the gym. If that means walking 20 minutes briskly, walk. If that means run a half marathon, run. No matter where you're at physically, don't be sedentary today.
3. Never Skip Cardio
Riding the recumbent bike isn't exciting. It's not as fun as lifting. But I just knew from my wrestling days you can never skip cardio. I knew I had to get on that bike for 20 minutes no matter what, then I could go in the weight room. It was rough. It was just a grind. But it's necessary.
4. Plan on Having to Adapt to Any Situation
Your fitness dream will have to face reality sooner or later. For example, I'd started my training program… and then it got delayed because of Covid-19. The gym was closed, the bike was gone, and I realized I was addicted to machines more than I wanted to admit.
What could I do? I had to invent my own "corona workout." It was time to get out there and hit the road. Here's an example: Do hill sprints, five of them every week. Then increase it by one a week, until you do 10. The rule is you're not allowed to end for the day unless your shirt is soaking with sweat.
5. Align with Who You Are Inside
I was a little guy who wanted to be a big, strong guy. Then, once I was strong and muscular, I didn't appreciate it. I was an idiot! I mean, I literally had everything, but my head wasn't there so eventually I became overweight.
I had to find a way to get back to that guy. It took blood, sweat, and tears to succeed, but I found out who I really am. I am athletic—it is a gift that I have. Even though I appreciated my studies, I am now much more aligned to who I always was. And now I'm much more comfortable in my own skin.
You can follow David's progress on Instagram @thecaloriedeficitdotcom
If you want to share your success story with us to be considered for publication, send an email to​​​​ transformations@bodybuilding.com.