The cat's out of the bag: Anyone who's been reading up on training for any length of time knows it doesn't take marathon cardio sessions to drop tons of body fat.
In fact, long, slow, low-intensity bouts on the treadmill or elliptical machine are actually an inefficient way to get lean compared to high-intensity interval training, or HIIT.
And as HIIT routines go, none are more efficient for fat loss—and even enhancing cardiovascular conditioning—than Tabata rounds. Incorporate the Tabata protocol intelligently into your training, and you may never go back to traditional cardio.
What is Tabata?
In case you're unfamiliar with the technique, one bout of Tabata, named after the legendary Japanese exercise scientist Dr. Izumi Tabata, consists of eight rounds of 20-second high-intensity intervals of a given exercise, with 10-second rest periods between each. In other words, 20 seconds "on" and 10 seconds "off," times eight, which takes exactly 4 minutes.
That's right, just 4 minutes of cardio can lead to significant fat-burning results, provided you keep the intensity high in all eight 20-second rounds.
What's the Best Way to Use Tabata for Fat Loss?
As simple as the Tabata formula is (8 x 20 sec. on/10 sec. off), there are a number of ways to use it. The most straightforward way is to tack on Tabatas, using exercises such as a stationary bike or other cardio activity, to the end of a lifting workout. Another common practice is to do Tabatas in a completely separate, non-lifting workout.
Both of these methods work fine, but personally, I like to get a little more creative when programming Tabatas while still reaping the same, if not better, cardio and fat-loss benefits. How so? First, by inserting Tabatas throughout a workout, not just at the end or on a separate day altogether. And second, by using Tabatas on "non-cardio" exercises.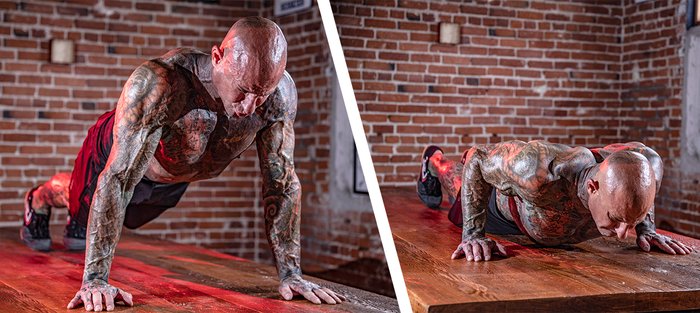 If you love what HIIT cardio does for your body but hate actually doing HIIT cardio, these techniques are for you. You don't have to suffer for more than 4 minutes at a time, you'll never have to even look at a cardio machine, and you'll improve your movement patterns for your weight workouts.
This approach to Tabata is in full effect in my Super Shredded 8 (SS8) program on JimStoppani.com, but Tabatas can also be used in a similar manner in my Shortcut to Size and Shortcut to Shred programs here on Bodybuilding.com.
Tabatas Throughout a Workout
In SS8, one or two Tabata rounds (depending on the week) are performed after every muscle group in all workouts throughout the eight-week program. For example, Workout 1 (as well as Workout 4) hits chest, shoulders, and triceps. You'll do Tabatas after training each of these muscle groups for a total of three rounds.
This way, by the time you've completed your Tabatas after triceps, the workout is completely over. No need to tack on any extra cardio, as you've already done a total of 12-24 minutes of HIIT cardio during the workout.
I like intertwining lifting and HIIT cardio in this manner for a couple of reasons. First is what I just alluded to: It's nice knowing you don't have a cardio session waiting for you right after finishing a tough lifting workout—or ever! More than that, forcing your body to go back and forth between lifting weights and HIIT cardio promotes a type of muscle confusion—a "shock" to the system, if you will—that will keep your metabolism ramped up for maximal fat burning.
Tabatas Using Non-Cardio Exercises
Tabata intervals are typically done using standard cardio activities such as the stationary bike, mountain climbers, jumping jacks, or a rowing machine. These are all fine choices; I program them often for Tabatas. But you're not limited to these types of exercises.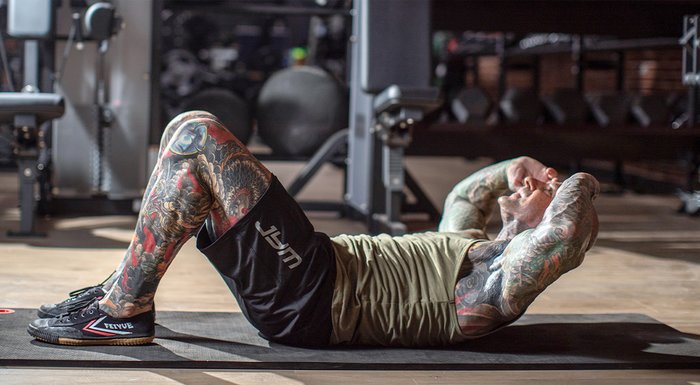 Personally, I like using light strength-training exercises for Tabatas. In addition to the cardio component, the target muscle group will get torched, which is great for sparking muscle growth. Practicing lighter versions of your heavy lifts will also improve your form for when you do go big.
Here are some of my favorite non-traditional Tabata moves:
Push-ups
Kettlebell swings
Barbell squats
Crunches
Dumbbell cleans
Dead landmines
Lunges
Repeat the same exercise for every 20-second interval, or pick a few exercises and rotate through them. Weighted exercises should be done at a much lower weight than if you were doing straight sets. All are AMRAP for 20 seconds.
You may be surprised to see squats, swings, and cleans on this list, but if you keep the weight light, even compound moves are fair game for Tabatas. And because they're full-body exercises that hit multiple large muscle groups, you'll get a huge calorie- and fat-burning effect when combining them with the Tabata protocol. Not to scare you off or anything, but it makes for a pretty brutal 4 minutes!
Pro Jym Protein Powder
24g of Pure, Quality Protein in Every Scoop with No Added Amino Acids or Filler Nutrients A Pure Blend of High-Quality Proteins in Exact Amounts to Maximize Growth, Recovery, and Repair*
Adding Tabatas to Shortcut to Size
Yes, Shortcut to Size is a mass-gaining program, but adding more of a fat-burning and conditioning element to this plan is simple: just add a bout of Tabatas after your last exercise of every body part.
On Day 1, you're training chest, triceps, and calves, so you'd do three Tabatas (one after chest, one after triceps, one after calves) for a total of 12 minutes of HIIT cardio. You'd also do three Tabatas on Days 2 and 3, as both workouts train three muscle groups (back, biceps, and abs on Day 2; shoulders, traps, and calves on Day 3). Then, on Day 4, you'd do just two Tabatas, since you're only training legs and abs that day.
If you're advanced and in really great shape, you can do two Tabatas after each muscle group. But I recommend most people start with just one Tabata per body part and grow accustomed to that before ramping up.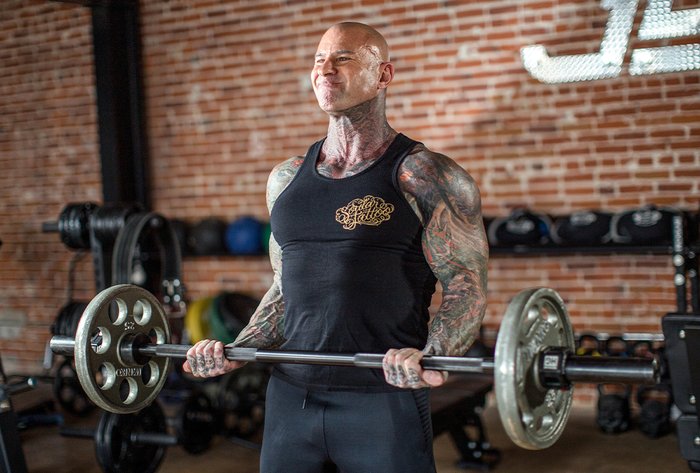 Adding Tabatas to Shortcut to Shred
First of all, as written, Shortcut to Shred already includes cardioacceleration techniques that accomplish the same goal as Tabatas. So if you're wanting to add Tabatas to the program, you'll probably want to omit the cardioacceleration rather than try and do both HIIT techniques. This will make Shortcut to Shred a slightly different program, but if you've already done it before using cardioacceleration, a change of pace might be welcome.
As with Shortcut to Size, you'll simply add one or two rounds of Tabatas after your last exercise of each muscle group. With Shortcut to Shred, this means three (or six) Tabatas per day, as all six workouts train three body parts: chest, triceps, and abs on Days 1 and 4; shoulders, legs, and calves on Days 2 and 5; and back, traps, and biceps on Days 3 and 6.
Get Shredded with Tabatas
The take-home message here is that you should by all means use Tabatas on a regular basis in your training to maximize fat loss as well as cardiovascular conditioning. But don't limit yourself to run-of-the-mill Tabata programming protocols.
Insert Tabatas throughout your workouts, and don't limit yourself to only body weight and typical cardio exercises. You can do virtually any exercise using Tabatas: Olympic lift variations, bodyweight calisthenics, kettlebell moves, isolation moves, squats, abs—you name it!
Put Tabatas into practice in your next workout using Jim Stoppani's Shortcut to Size program on Bodybuilding.com BodyFit Elite. Want even more Stoppani? Visit JimStoppani.com and become a member.