Samantha trains to overcome her weaknesses. She doesn't cherry-pick workouts for her strengths or make excuses for lagging muscle groups. Her most productive days in the gym are when she's learning a new lift, working on muscle groups that need extra attention, and moving heavy weight. Her desire to build a better body and become a better athlete fuels her through every workout.
Mixing It Up
Samantha likes to use multiple training strategies so she never gets bored. "I love incorporating supersets, giant sets, circuits, HIIT cardio, low-intensity cardio, dropsets, and negatives," she says. "I also like to switch up my rep ranges, tempo, and exercises." These constant changes help keep Samantha excited about her workouts and motivated for her future goals.
Although she uses different modalities to train various muscle groups, Samantha likes to keep her split fairly consistent. "I usually lift three or four days per week and do sprints or plyometrics once per week. For my upper body, I usually stick to a 10-12 rep range. For my lower body, I do 10-20 reps per exercise."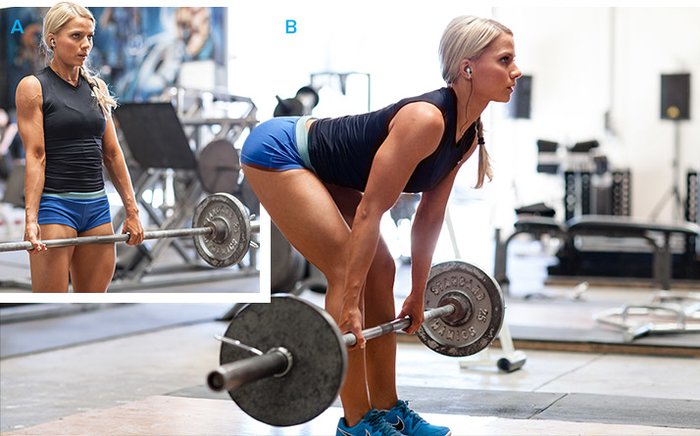 Like most of us, Samantha has a tough relationship with cardio. "Sometimes it can be fun and I look forward to it, especially when I've had a stressful day and could use a cathartic sweat session." She'll squeeze in a cardio session during lunch at work, but if she's in the gym, she prefers the arc trainer, the stepmill, or plyos.
Unlike some elite competitors, Samantha believes in rest days. "I just try to listen to my body," she says. Sometimes a rest day means hitting a hard cardio session, sometimes it means going for a long, fun hike, and sometimes, rest just means rest. "Rest days can literally mean just chilling out and watching a movie," she explains.
Samantha's Training Split
Day 1: Lower Body, Hamstrings and Glutes
Giant Set
60 seconds rest between sets
Superset
45 seconds rest between sets
Giant Set
45 seconds rest between sets
Day 3: Lower Body, Quads, Glutes and Calves
Day 4: Shoulders and Triceps
Cardio
These are examples of cardio workouts that I might do during the week
Cardio workout #1
Cardio workout #2: Treadmill lunge intervals
3-minute incline lunge
3-minute incline run
3-minute incline walk
Repeat for 30 minutes
Cardio workout #3: Treadmill HIIT sprints
30 second incline sprint
30 second incline walk
Repeat for 20 minutes
Cardio workout #4: HIIT circuit
2-minute row
1-minute rope jump
100 mountain climbers
Rest 30-60 seconds
Repeat for 20 minutes