One of the many things that make Samantha Ann Leete such an inspirational athlete is her realistic, balanced approach to health and fitness. She has a full-time job, coaches cheerleading, participates in bikini competitions, and makes appearances at fitness expos. She's a busy girl! Sometimes, fitness has to come second on her priority list—and that's OK. Samantha has learned how to balance her life and her schedule.
Samantha has also become an expert at maintaining a positive attitude despite having a hectic life. She loves fitness, enjoys her workouts, and feels healthy and happy about her diet. It is this positivity—along with a fantastic body— that earned her first place at the 2013 BodySpace Spokesmodel Contest. She'd be the first person to tell you that fitness doesn't just belong to an elite group of people, it belongs to everybody. As she says, "If I can do it, anyone can!"
If you have a busy life and are looking for ways to implement a healthier lifestyle into your schedule, check out Samantha's plan. You'll learn how to make workouts, healthy nutrition, and supplementation work for your hectic day.
Samantha likes to work out with various training techniques so her regimen never gets boring. Get the details of her fun, bikini-body program right here!
Just because your food is healthy doesn't mean it has to taste bland! Samantha knows how to get the best taste and nutrition out of her meals. Check out her nutrition philosophy.
Learn how basic supplementation helped Samantha transform her body and turned her from being a supp skeptic into a protein shaker!
Athlete For Life
Samantha was an active kid. If she wasn't running around the track or playing soccer or volleyball, you could find her with the dance team or cheerleading squad. She continued her active lifestyle at Weber State University, where she danced and cheered for two years. But, like many ex-college athletes, Samantha didn't maintain her activity level. "Once I stopped cheering at college, I noticed my body was changing," she says. "I wasn't as healthy as I [once] was and I went through a period that was unhealthy and unhappy."
In order to turn her life around, Samantha had to find new athletic goals for herself. "I met some girls at Weber who were training for a bikini competition. That's where I was introduced to the world of bodybuilding."
Samantha knew her life and body were not going in positive directions, so she plucked up some courage and signed up for a bikini competition. "I needed something I could do on my own. Something that would keep me fit for a life, not just for a short period of time," she says.

Although she had played sports, Samantha hadn't spent much time in the gym. "I had never lifted weights before," she explains. Like any good student, Samantha did some research and found Bodybuilding.com. After that, she was hooked. "I fell in love with training, making healthier choices, the entire lifestyle," she says.
"Through the obstacles that I've overcome, I learned a valuable lesson. When things got tough in my life, I thought I was being responsible and unselfish by not taking the time for physical fitness. Now I know better." Her choices to stay fit have had positive impacts on every other aspect of her life. Samantha has more energy, is happier, feels more accomplished, and is mentally stronger.
Success Doesn't Come Easy
Although she's been successful in her fit life, Samantha has had to make a lot of sacrifices and live with a hectic schedule. "I've had to work around multiple full-time jobs, the IRS, coaching, cheerleading at multiple places, working swing, working days, going to school, and all the other things we all deal with on a daily basis."
Samantha's dedication to commit to fitness, no matter what, is an inspirational feat. "Sometimes I have to do my cardio at lunch. So I'll run up and down the stairs in my building or run around outside."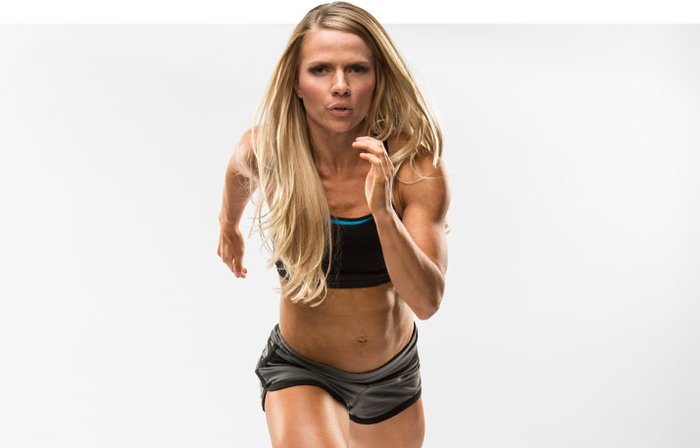 As much as she loves fitness, Samantha knows how to balance. "I'd be lying if I told you fitness [always] comes first in my life," she says. "We all have those 'life happens' moments when other obligations take priority over the gym. I want to help people realize that just because they can't go 100 percent all day every day, doesn't mean they shouldn't try!"
Samantha knows full well that life can get in the way. "I've never been able to plan out my month and stick to it. I've had to shift workouts, get them in at odd times, and sometimes improvise meals and workouts depending on where I am and what I'm doing."
It's no easy task to live fit, but Samantha just keeps going. "It would be awesome if we could all be full-time athletes and never miss a workout, but that's just not a reality." With her status as a BodySpace Spokesmodel, she'll certainly have a bigger platform to should those great words of advice.
More to Share
Q. What do you like most about being a BodySpace Spokesmodel? Why?
I love being able to share my perspective. I spent almost two years thinking about making a "lifestyle" change but not acting on it because I was scared. I love sharing my experiences with others and then watching them incorporate my advice and successfully make changes.
I also love being able to share supplements! When I first started focusing on living a healthier lifestyle, I knew nothing about supplements. I didn't even think they worked. Once I started trying different kinds, different brands, and different flavors, I quickly learned what works and what's crap. I love recommending products and explaining how they can help people achieve their goals.
What would you tell a person who wants to look like you? What's the first piece of advice you'd give her?
My first piece of advice would be to not want to look like me. Society has trained us to compare ourselves to others. Usually, it just leaves us feeling inadequate and sad. I want women to be the best version of themselves. We all have strengths and weaknesses. What makes us unique is what makes us beautiful!
If you are trying to build your best self, the first thing you must do is choose a goal. Once you've chosen a goal, structure a plan for that goal around your schedule and the tools you have available to you. The best plan is one you can tackle and stick to for a long time. Super quick transformations are impressive, but they're usually difficult to maintain. Slow and steady wins the race!