There's a time for strength, a time to build muscle, and a time to just leave it all on the floor and see how hard and fast you can go for a few minutes. If you don't normally do much metabolic conditioning, expect this to make you see stars. You'll elevate your heart rate and push your endurance to the limit—all in just 5 minutes.
This is an AMRAP workout, which stands for "as many rounds as possible." You'll do four exercises for 10 reps or 10 calories each. Your goal is simple: Complete as many rounds as possible within 5 minutes.
If you find yourself stalled or short on breath at any point during this workout, take the movement one rep at a time. Just do your best to maintain a quick pace, and remember that you're never more than a few reps away from the next exercise.
Metabolic Conditioning Workout
Technique Tips
Thruster
You can either use dumbbells or kettlebells here. In a pinch, you could even use a resistance band looped under your feet. If you use dumbbells, start with them at shoulder height. If you use a kettlebell, hold it at chest level.
With your feet shoulder-width apart, your toes out, and your chest up, squat down with the weight. As you drive up from that squat, press the weight overhead, keeping your biceps by your ears. It's a squat with a press, but you're combining both movements into one fluid motion.
Go quickly so you can get through 10 reps as fast as possible.
Rowing Machine
As I explained in the article "3 Ways to Row Yourself Ripped," I love the fact that rowers allow you to use either distance, time, or calories to track progress. For this workout, track your 10 at a time. 
Rowing is driven by your legs; it's not the isolated upper-body movement it's often thought to be. To begin, drive your legs out, then straighten them as you lean back slightly, to engage your core. Allow the handlebars to make briefly make contact with your chest. Keep your elbows nice and wide, and squeeze your shoulder blades together at the top of the movement. Then, get out of that movement the same way you got in: Release the handlebars, reach forward, and bend your knees as you come back to the catch.
This movement isn't all about speed. For calories on a rower, you should go slower and push harder. Rather than coming in and out of those strokes as fast as possible, push really hard on the way out and recover slowly. That way, you'll be able to keep a consistent cadence for your 10-calorie burn.
Burpee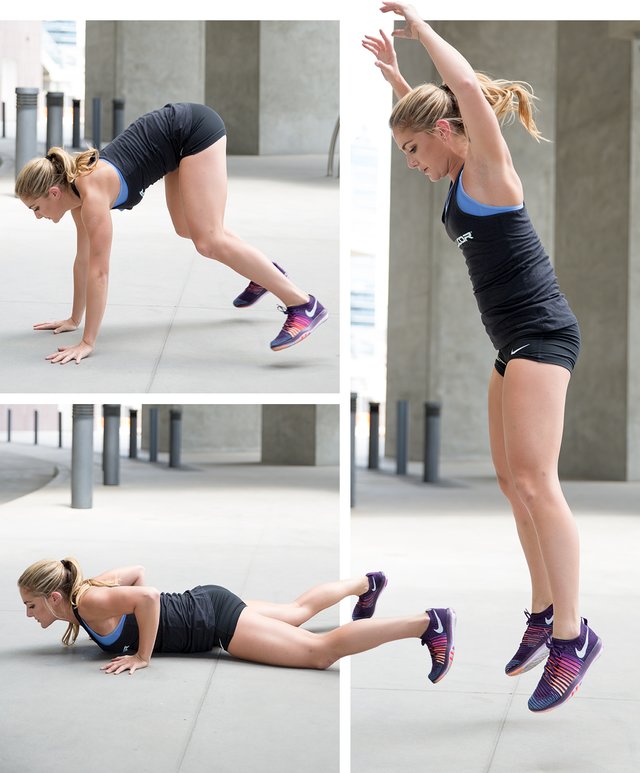 No workout could be a complete metabolic burner without this staple. But before you complain, get ready to breathe a slight sigh of relief. These are energy-saving, CrossFit-style burpees and require no push-up midway. For this movement, I just want you to think of bringing your body down to the floor and getting up as fast as you can. It'll still be plenty hard!
Sit-Up
The last exercise in the AMRAP is a CrossFit-style sit-up. Butterfly your legs, with your feet touching and your knees wide. Use your arms to reach all the way back behind your head on the way down and toward the ground in front of your toes on the way up. The first set might be easy. But the fifth, sixth, or eighth? Not so much.