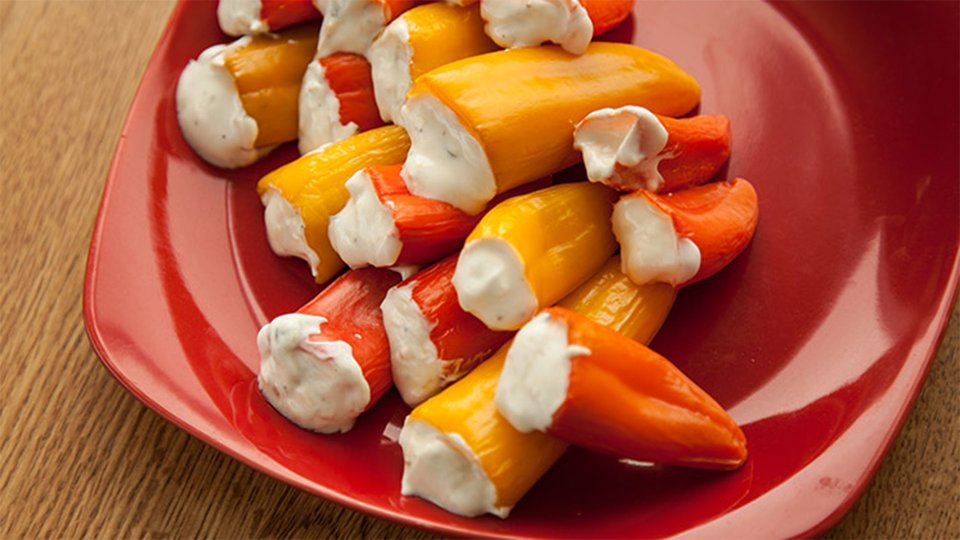 This creamy finger food is certain to satisfy the salty, spicy, crunch you expect around the TV on Sundays. Greek yogurt paired alongside a hint of heat lives well within a crunchy pepper, and is reminiscent of your favorite nacho dish.
Ingredients
1 cup nonfat plain Greek yogurt
1 tsp, leaves thyme
1 lemon zest
1 clove garlic, minced
2 tsp olive oil
½ tsp crushed red pepper flakes
¼ tsp salt
¼ tsp, ground black pepper
20 $ing.selectedConversion.unit mini bell peppers
Directions
Preheat oven to 375 degrees F.
In a bowl, stir together Greek yogurt, fresh thyme, lemon zest, garlic, red pepper, salt, and black pepper.
Cut 1/2 inch from the stem end of about 20 mini bell peppers. Remove the seeds and veins with a paring knife.
Toss peppers with 2 teaspoons oil and spread out on a baking sheet. Bake until peppers begin to soften, about 12 minutes.
Let peppers cool, then stuff with yogurt mixture.