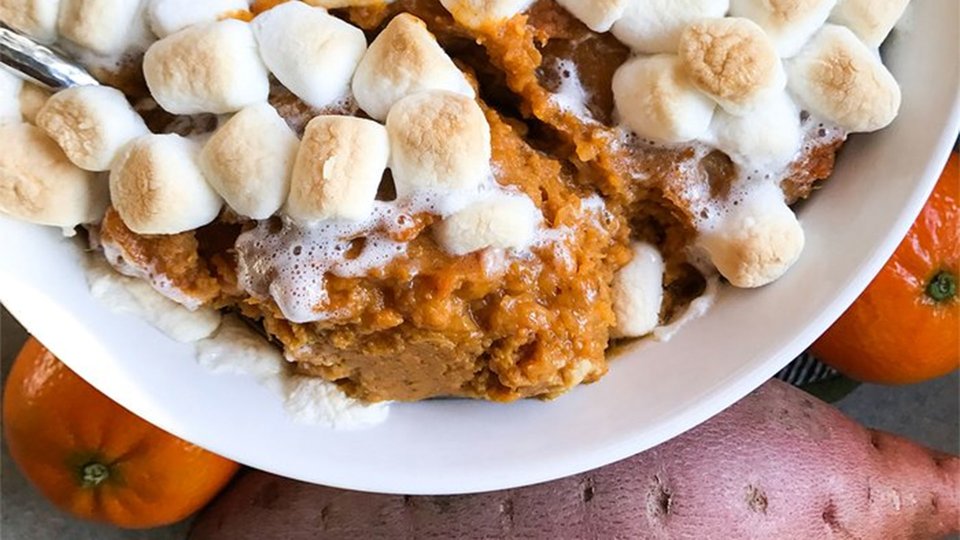 This sweet casserole was inspired by a dish my sister, IFBB Bikini Pro Ruthie Harrison, made on year. It's seriously decadent enough to have for dessert! We like ours topped with all natural marshmallows with no weird additives or food dye—yes, these actually exist!—but you can also leave them off for a lower-sugar version.
Ingredients
1½ lb yam, baked and skinned
2 cup pumpkin, canned
¾ cup orange juice, fresh squeezed
1 egg
2 egg whites
1 tsp vanilla extract
¼ cup splenda, brown sugar blend
2 tsp cinnamon
½ tsp nutmeg
½ tsp ground ginger
¼ tsp ground cloves
1 cup of miniature marshmallows
Directions
Preheat oven to 350 F.
Bake yams in the oven for one hour, or simply wrap them in damp paper towels and microwave two at a time for about 10 minutes.
Remove skin from baked yams and add to a large mixing bowl along with pumpkin, orange juice, egg, egg whites, vanilla, brown sugar, and spices.
Mash with a potato masher or fork until smooth.
Spoon mixture into a casserole pan, and bake for 30 minutes until heated through.
Top with marshmallows and return to bake an additional 5 minutes until marshmallows are golden brown. Serve hot.