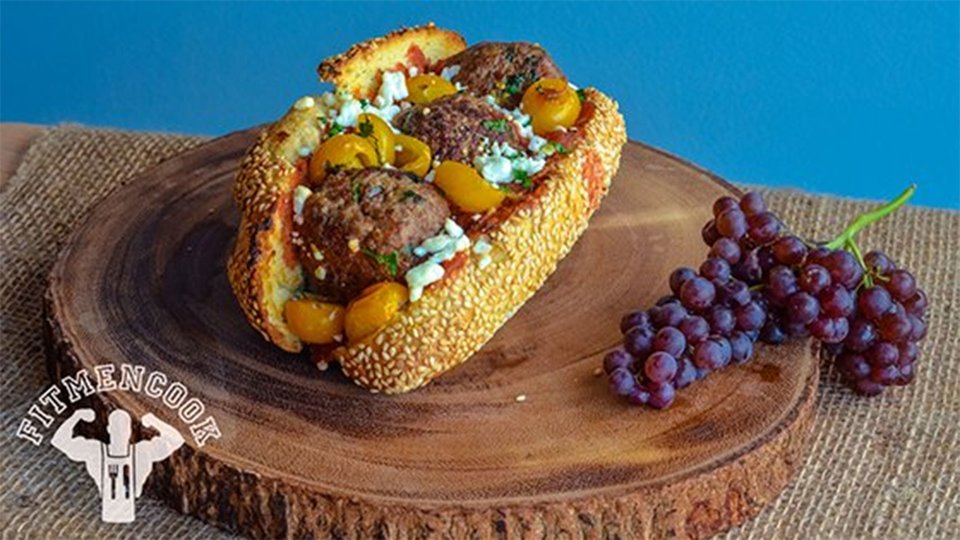 With football season in high gear, now's the time to start thinking about good eats for tailgating and game-watching parties—and who can resist a meatball sub? Especially one this diesel. Next game, serve up this certified alpha male food.
Ingredients
6 oz wild boar, ground
1 roll whole-wheat hoagie roll
5 cherry tomatoes
¼ cup red onion, sliced
1 tbsp garlic, minced
2 tbsp marinara sauce
1 oz goat cheese
Directions
Seasonings (to taste): pepper, 1 tbsp coriander, fresh parsley, cayenne pepper, pinch of sea salt
Set oven to 405 degrees.
Season the ground meat with pepper, 1 tbsp coriander, fresh parsley, cayenne pepper, minced garlic, and a pinch of sea salt. Divide the meat into three equal portions and form meatballs.
Set a skillet on medium heat and lightly spray with coconut oil. Toss in the red onions to saute or grill.
Add the meatballs to the skillet with red onions and cook the meatballs until they are 90 percent done.
Slice the hoagie down the middle and add meatballs. Drizzle with 2 tbsp marinara and sprinkle goat cheese. Cut the cherry tomatoes in half and place around the meatballs. Add fresh parsley.
Place the sub on a baking sheet and place in the oven. Bake for 8-10 minutes.