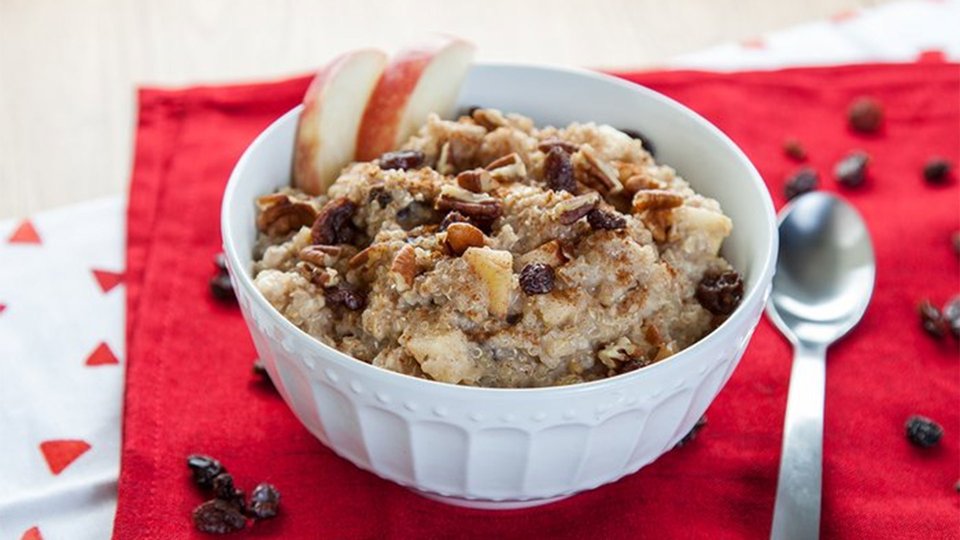 Quinoa and hearty steel-cut oats team up to raise the ante on breakfast oatmeal. Apple and warming spices make it taste extra comforting. By soaking the grains overnight, the cooking time in the morning is significantly shortened. For extra protein, you can stir in some protein powder or serve it alongside your favorite omelet.
Ingredients
½ cup quinoa, cooked
½ cup steel-cut oats
¾ cup skim milk
1 apple, grated or chopped
⅓ cup raisins
1 tsp cinnamon
½ tsp ginger, powdered
¼ tsp nutmeg
⅓ cup pecans, chopped
4 tsp maple syrup
Directions
In a medium saucepan, bring the quinoa, oats, a pinch of salt, and 3 cups water to a slight simmer. Immediately turn off the heat, cover the pan, and let it sit overnight.
In the morning, stir in the milk, apple, raisins, cinnamon, ginger powder, and nutmeg. Heat over medium-low for 10 minutes, stirring occasionally. Serve topped with pecans and maple syrup.